CIO roles split between innovators and housekeepers
The common characteristics of innovative CIOs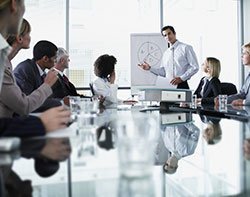 Outsourcing brings flexibility to CIOs' budgets and resources
CIOs will need to develop COO skills in the future
Salaries for CIOs rising as economy recovers from recession
CIOs' growing influence and responsibility
Top priorities for CIOs in 2011
Video: Harvey Nash CIO survey 2011
Download the Harvey Nash CIO survey 2011
CIO roles split between innovators and housekeepers
CIOs are emerging from the downturn with more responsibility and a louder voice in their organisations.
But the role of the CIO is becoming increasingly differentiated between those who see their job as driving innovation and those who focus on keeping the business running.
The divergence of "innovation CIOs" and "utility CIOs" is one of the key trends to emerge in an international survey of 2,500 CIOs and IT leaders by recruitment company, Harvey Nash and PA Consulting.
---
Download the Harvey Nash CIO survey 2011 (requires registration) >>
---
Almost three quarters of CIOs believe that, if they don't innovate, their company will lose market share. And 35% believe the CIO is ultimately responsible for the success of innovation in their organisations.
Yet the research shows a sharp divide between industries where the CIO can act as an innovator, and those where IT is more about keeping the lights on.
For CIOs in the City, retail, financial services, information technology and transport and logistics, innovation is fundamental to competitiveness.
IT in engineering, construction, government, pharmaceuticals and advertising is much more of a utility, attracting CIOs who specialise in keeping the systems running.
"For every ambitious CIO who wants to run Twitter or a smart phone company, there is a CIO who is wiser, more experienced, who knows the utility side is more important to the business, "says Albert Ellis, CEO of Harvey Nash. "They are back to basics, conservative CIOs, for whom IT is the utility that keeps the show on the road."
He points to Nippon Glass, where the role of IT is to make sure the glass-making systems always function at top efficiency. And to a financial services company where reporting on prices accurately, tens of times per second, is top priority.
The common characteristics of innovative CIOs
Innovative CIOs share some common characteristics, the research reveals. They tend to love their jobs, invest heavily in training their teams, and often have aspirations to become CEO. They use innovation as a source of competitive advantage rather than focusing on costs.
Having a seat on the board, and the ear of the CEO is crucial.
It's a virtuous circle, says Albert Ellis, where having a seat on the board brings a greater prominence to IT, higher budgets and a more strategic role for technology.
"If you are not on the board you haven't got a chance. It's about being in the right place at the right time, and making sure you are visible and your voice is heard," he said.
Mobile technology and cloud services are the technologies used most widely to drive innovation. Some 22% of CIOs already use them in their core business. A third are piloting social networking in niche areas. But, with security in mind, they are universally cautious about adopting the public cloud.
Outsourcing brings flexibility to CIOs' budgets and resources
CIOs are treading a difficult line between cutting costs and growing the business. Most have not seen their budgets increase between 2010 and 2011. They are cautious about the future, with 36% of them predicting little change in their budgets.
Many are freeing up cash and resources for innovative projects by turning to outsourcing, however.
Some 45% of CIOs plan to increase their spending on outsourcing during the course of the year. And one in ten plan to spend more than half their budgets on IT.
They are forming partnerships with a larger number of small specialist suppliers, who are able to deliver innovative social media, mobile commerce and cloud technologies.
The trend is allowing CIOs to transform their IT departments into flexible organisations with a smaller full-time workforce.
And it frees CIOs from worrying about skills shortages, allowing them to focus on developing the business, says Ellis.
"Most of the CIOs who have outsourced have found the skills shortage was not their problem," he says. "By using their outsourcing partners, they can drag people into the project."
CIOs will need to develop COO skills in the future
In turn CIOs and their IT teams will need new skills in the future. They will need to be customer-facing, have the ability to manage partners, and be credible on the board of directors.
Ellis sees the IT role evolving with new types of CIOs emerging and more of them making it making it up the ranks to CEO.
He sees an IT equivalent of the Chief Operating Officer, a board member who focuses on the operational side of the business developing.
"I increasingly believe that the Chief Operating Officer (COO) is going to be the role model for the CIO, " he said. "I see CIOs becoming the CEO through the COO. But it will be a slow evolution."
"We have been saying for the past decade that you have to develop your leadership skills, soft skills and emotional intelligence. You need to have a brand, be presentable and articulate.
You need to understand marketing and be able to persuade investors to invest in the company," he said.
CIO Salaries
Salaries for many CIOs are rising again as the economy recovers from the recession, a survey of 2,500 international CIOs reveals.
Nearly 40% of CIOs have reported salary increases in the past year, bringing the average base salary to just under $200,000, according to research by recruitment company Harvey Nash and PA Consulting.
But the base salaries of half of CIOs were frozen last year, in what could be the beginning of a two-track career path for IT chiefs.
Most CIOs received a bonus worth up to 30% of their base salary, while around 3% received bonuses worth 100% or more.
Some 83% of CIOs said they were fulfilled in their current position, up from 72% last year.
However CIOs were marginally more dissatisfied with their salary packages, with 28% expressing dissatisfaction, compared to 25% last year.
Just under a quarter of CIOs hope to be in a new role in the next 12 months, while a similar proportion plan to be in new roles in two years.
Fewer CIOs believe salaries should be restrained until the economy recovers, with only 51% calling for pay restraint in 2011, compared to 59% in 2010.
CIOs' growing influence and responsibility
50% of CIOs sit on the board or executive management team, up 8% from 2010.
69% of CIOs report having more strategic responsibility, the highest proportion so far.
37% of CIOs have a global role, up by 5% from 2010.
32% of CIOs report to the CEO, up from 3% in 2010.
18% of CIOs report to the senior finance executive.
Top priorities for CIOs in 2011
1 Saving costs
67%
2 Increasing operations efficiencies
65%
3 Delivering consistent and stable IT performance
64%
4 Improving business processes
63%
5 Enabling business change
44%
6 Developing innovative products and services
42%
7 Delivering business intelligence
39%
8 Delivering revenue growth
37%
9 Managing operational risk and compliance
34%
10 Better engagement with customers
29%
---
Download the Harvey Nash CIO survey 2011 (requires registration) >>
Email Alerts
Register now to receive ComputerWeekly.com IT-related news, guides and more, delivered to your inbox.
By submitting your personal information, you agree to receive emails regarding relevant products and special offers from TechTarget and its partners. You also agree that your personal information may be transferred and processed in the United States, and that you have read and agree to the
Terms of Use
and the
Privacy Policy
.