Many companies may have e-mail, virus scanning or CRM running as a service over the internet, but most organisations are only just starting out when it comes to cloud computing, according to Microsoft.
The software giant's lists ways the nascent cloud market will change in the next few years.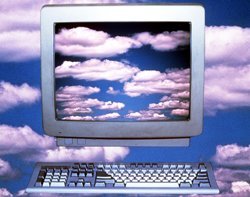 Cloud-centric hardware
Servers, microprocessors and client devices will evolve as purpose-built systems to address the new paradigm of cloud computing. For example, diskless laptops that store data in the cloud could be used as an alternative to fully-fledged laptops, while server and storage companies revamp their offerings.
Partnering in the cloud
Traditional web hosting companies are likely to start wholesaling and then reselling cloud services from the global players as a way of building their businesses without building out physical infrastructure. Service providers, resellers or other agents will deal with multiple cloud providers, acting as central points for single sign-on, customer care and billing.
Benchmarking
Measuring cloud performance will be difficult because of the complexity wrought by multitenant infrastructures, but metrics will emerge to identify and resolve issues that effect speed and provide ways to assess how well cloud services are running.
Platform-as-a-service
While the main benefit of cloud migration currently tends to focus on cost savings, the long-term advantages in discovering the possibilities of applying infinite computing resources to meet enterprise challenges. Such scenarios are best made possible with Platform as a service (PaaS) models, a cloud-based platform for development and deployment of application software.
Systems management tools
The consoles familiar from enterprise IT will evolve to provide views of multi-mode IT operations where, for example, some assets are maintained behind the firewall while the cloud is used for "burst-mode" activities such as running a complex business intelligence query. IT will need to enable this through management and middleware tools.
Best practices
As organisations get to grips with cloud computing examples of governance, security, budgeting, testing and provisioning will emerge.
Standards and interoperability
As customers begin to seriously look at public or hosted clouds for business critical workloads, their requirements will go beyond data sovereignty. They will look for assurance that the suppliers have scale, stability and commitment to standards and will want switch suppliers without having to rewrite applications or reconstitute data. They will also want to switch workloads from an on-premise private cloud or traditional infrastructure to public cloud in an efficient, cost-effective way.
Email Alerts
Register now to receive ComputerWeekly.com IT-related news, guides and more, delivered to your inbox.
By submitting your personal information, you agree to receive emails regarding relevant products and special offers from TechTarget and its partners. You also agree that your personal information may be transferred and processed in the United States, and that you have read and agree to the
Terms of Use
and the
Privacy Policy
.