This Content Component encountered an error
This Article Covers
RELATED TOPICS
This Content Component encountered an error
This Content Component encountered an error
How do you get to the top if you work in healthcare IT? Technology might not have taken the central role in healthcare that it has in industries such as finance and retail, but it is increasingly permeating the sector and playing a vital part in providing care. So how do IT and informatics staff influence senior management, or become senior themselves?

Download this free guide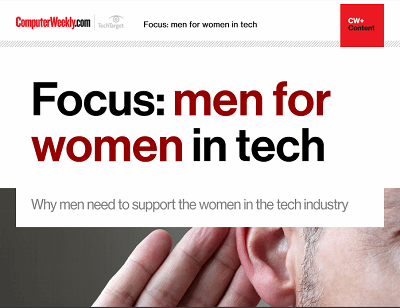 Men for women in tech
This guide showcases some of the men who are helping women to progress in the technology industry and the methods they are using to do so.
By submitting your personal information, you agree that TechTarget and its partners may contact you regarding relevant content, products and special offers.
You also agree that your personal information may be transferred and processed in the United States, and that you have read and agree to the Terms of Use and the Privacy Policy.
Unfortunately, timing is against today's staff. Brian James, CEO at the Rotherham NHS Foundation Trust who has a background in IT, said at the BCS Health Informatics conference, "We're moving into a very difficult financial situation and the next few years will be extremely damaging. It's not the best time to be asking for £30m for a new ERP system."
The main request of IT deployments will be that they cut costs, with chief executives expecting to see budgets shrink by between 15% and 20%. The important part, said James, was to "understand the business".
"We are not interested in systems, but we do want to talk about saving money, quality of care and improving the patient experience."
Rotherham left the National Programme for IT three years ago, deciding to go its own way. James advised IT staff not to wait for the systems, saying, "Whatever it delivers will be too little, too late. The world has moved on since 2001 when this was originally conceived of, and I think the programme has put back the contribution of IT by 10 years. There's a real opportunity for IT staff to step into this space and establish a way forward for an NHS trust using vision and imagination."
He said this didn't have to mean bringing in new technology, but using what was already there properly - even the humble telephone was not always used to its full potential. "We have a lot of technology in the NHS, but we don't necessarily use it very well," he added.
James was not the only CEO to point out that coming up with great ideas is the way to the top, or at least to get the attention of people already there. Heather Tierney-Moore, CEO at the Lancashire Care NHS Foundation Trust, said the important thing for IT experts was to know their CEO, know what was worrying them, and to come up with answers to their problems. "We need major transformation, and the potential that technology gives for that is considerable," she said.
"It is your job to inspire chief executives. Clinicians don't have the knowledge and the awareness of technology, so there's a real role for the informatics community to lead this innovation using your awareness of what the technology can do."
Tierney-Moore said there was no room for a "victim mentality" over the next few years, and stressed that CIOs or IT directors did not need to be on the board to bring about change in an organisation.
"I'm not sure what the added benefits are of being on the board," she said. "Relatively few decisions are actually made at a board meeting. People who aren't on the board think all the decisions are made on it, but they're not."
James said IT did not yet have the stature in healthcare that it did in other industries, but this would change over the coming years. "IT is not yet fundamental to what healthcare does. It could be and will be, I believe, but we are light years behind where the banks are, for example, because without technology, they can't function."
When IT became ubiquitous in the NHS, technology staff would start to move into higher positions, he said. But at the moment, technology was a relatively small part of a hospital's toolkit.
But he added, "If you are capable of influencing senior management, you are just as capable of doing it outside the board as you are on it."
This Content Component encountered an error