Blackberry CRM app frees Ridgid sales staff from laptops
Ridgid, a division of the $22bn diversified US manufacturing group Emerson, has developed a Blackberry-based...
This Article Covers
RELATED TOPICS
Ridgid, a division of the $22bn diversified US manufacturing group Emerson, has developed a Blackberry-based customer relationship management system that frees its sales force from the tyranny of laptops on the road.

Download this free guide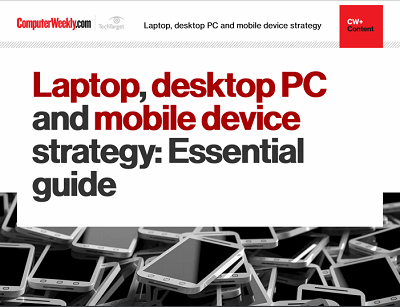 The great debate - to PC or not to PC
IT leaders have greater choice in end-user devices than ever before. The age of PC-only users is over and we have entered the multiple device era. In this guide, you can find best practice, analysis of the latest trends, and expert advice on formulating enterprise strategy in laptops, desktop PCs and mobile devices.
By submitting your personal information, you agree that TechTarget and its partners may contact you regarding relevant content, products and special offers.
You also agree that your personal information may be transferred and processed in the United States, and that you have read and agree to the Terms of Use and the Privacy Policy.
Justin Daw, Ridgid's project manager for the system, said only about 10% of the sales force used the old laptop-based system, and then under duress.
"We asked them what they wanted to see in a CRM system, and used that to build the system," he said. As a result 90% of the salespeople now use the Blackberry system.
Ridgid makes and sells hand and power tools and video inspection devices for a range of users that include municipalities and US retailer The Home Depot.
The application, RidgidConnect, is a digital platform for professionals such as plumbers, HVAC (heating, ventilation and air-conditioning) technicians and facilities managers to store job site photos and videos, job reports and histories, maintenance records, customer lists, and other files needed for record keeping. The online tool lets subscribers share information with customers, other contractors and third parties.
The system was developed in less than two months starting in November 2009, and is now rolling out in Europe after being translated into seven languages.
The short lead time was due to the firm's experience in systems that use web services and Java programming, Daw said.
The application combines cached information with customer account information that is pushed to salespeople as well as pulled by them when they make sales calls.
Cached information is information that changes little but used often, such as addresses contact people. Pushed information includes, for example, details about open sales leads and other customers in the vicinity, while pulled information includes data on customer credit limits, last orders and so on, Daw said.
The application uses the Blackberry's GPS and maps to identify customers in the proximity, or when the company receives a high priority lead. "This is useful when a salesman completes a call early and wants to minimise his downtime," he said.
The application does not include a sales order entry facility because of the way Ridgid manages its sales. But with Ridgid setting up to market the application, this is something that could be added, Daw said.
In fact, says Daw, he is talking to Oracle about integrating the app with the firm's database and other applications. This followed earlier talks with Oracle and Salesforce.com to integrate the GPS location facility.
"They all thought that GPS and mobility were great and said they had it in their (product development) roadmaps, but we couldn't wait," Daw said.
Read more on Mobile hardware