Anti-Digital Economy Bill campaign gains momentum
Civil rights campaigners 38 Degrees and Open Rights Group (ORG) have raised...
Civil rights campaigners 38 Degrees and Open Rights Group (ORG) have raised nearly £12,000 to fund an initiative aimed at persuading MPs to oppose the Digital Economy Bill's controversial disconnection clauses becoming law without being debated.

Download this free guide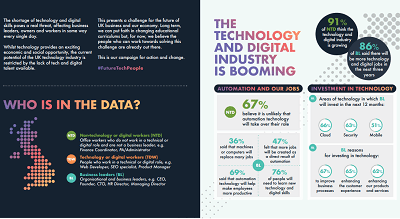 Infographic: Future-proofing UK technology
The current potential of the UK technology industry is restricted by the lack of tech and digital talent available. Read through this challenge for the future of UK business and our economy.
A letter-writing campaign targeting MPs has already generated 18,000 letters and last week more than 100 people protested outside Parliament against the passage of the bill, said ORG executive director Jim Killock. "People were now putting their money where their mouths are," he said.
The Digital Economy Bill will receive a second reading on 6 April, the same day the General Election is expected to be called. Traditionally, the government and opposition front benches negotiate on the bills that will be passed before Parliament is dissolved in a process known as the "wash-up". This means MPs do not debate them in full.
The CEOs of internet companies such as Google and eBay, and network operators such as BT and TalkTalk, have also expressed their reservations. They say Clause 18 could lead to ISPs blocking websites and disconnecting customers merely accused of sharing files illegally.
Killock said that if the bill was passed as it currently stands, the next Parliament would have to address the issues again. "MPs need to listen to the people who vote for them. People are really upset that democracy could be bypassed, and punishments like disconnection enabled without scrutiny."