Red Hat wades in to Bilski software patent fight
Open source software specialist Red Hat has submitted a legal brief...
Open source software specialist Red Hat has submitted a legal brief which it hopes will influence the US Supreme Court's decision in the closing chapter of what has been dubbed the most important software patenting case in half a century.

Download this free guide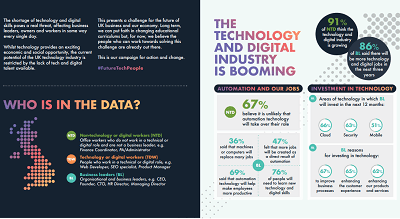 Infographic: Future-proofing UK technology
The current potential of the UK technology industry is restricted by the lack of tech and digital talent available. Read through this challenge for the future of UK business and our economy.
By submitting your personal information, you agree that TechTarget and its partners may contact you regarding relevant content, products and special offers.
You also agree that your personal information may be transferred and processed in the United States, and that you have read and agree to the Terms of Use and the Privacy Policy.
Red Hat fears that the Bilski case, which will come under the scrutiny of the US courts in November, could re-open the flood gates to widespread software patenting, exposing the software industry to unnecessary complexity and costs.
"The Supreme Court's decision on patentable subject matter is of huge importance to the future of software development, including open source. The court's ruling on Bilski could clarify the law and lessen the risks that innovation will be hindered by patents," Red Hat said in an amicus curiae application submitted to the court.
The Bilski ruling had dramatic implications for the software industry when last October the US Court of Appeals for the Federal Circuit rejected a 2007 patent application by Pittsburgh inventors Bernard L Bilski and Rand A Warsaw. The Court of Appeal decided to limit innovations eligible to patenting to those "tied to a particular machine or apparatus" or transforming "a particular article into a different state or thing".
The decision narrowed the scope for patent applications across many industries, ending more than a decade of frenetic patenting, during which software developers and companies filed several hundred thousand software patents.
But the Bilski case will go back to court following a decision by the Lower Court on 1 June this year to grant Bilski and Warsaw the right to appeal. Oral arguments begin on 9 November.
Rob Tiller, vice-president and assistant general counsel at Red Hat, said, "It is certainly the case that for many software developers and companies the patenting system [pre-Bilski] was a complete encumbrance and it didn't pay its own way."
Some software organisations are hoping that Bilski is successful and that only minimal restrictions are placed on the patenting of software.
The Business Software Alliance, which boasts Microsoft among its members, argues strenuously that software should be patentable as this would serve to stimulate innovation in the industry.
It is unclear which side the court will take, or whether it may adopt a position somewhere in between.