Government covers up Valuation Office security failures
The government has restricted circulation of an auditor's report into information security failures at the Valuation Office...
The government has restricted circulation of an auditor's report into information security failures at the Valuation Office Agency (VOA), the body that assesses property values for tax purposes.

Download this free guide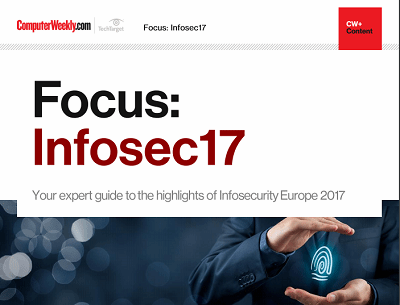 From forensic cyber to encryption: InfoSec17
Security technologist Bruce Schneier's insights and warnings around the regulation of IoT security and forensic cyber psychologist Mary Aiken's comments around the tensions between encryption and state security were the top highlights of the keynote presentations at Infosecurity Europe 2017 in London.
By submitting your personal information, you agree that TechTarget and its partners may contact you regarding relevant content, products and special offers.
You also agree that your personal information may be transferred and processed in the United States, and that you have read and agree to the Terms of Use and the Privacy Policy.
The assessment by Deloitte found that the VOA fell below the minimum standards for securing information in all six measures of the government's security policy framework, the minimum mandatory measures, and ISO 27001, the industry standard for information security compliance.
Responding to a parliamentary question from Conservative MP Philip Dunne, Treasury minister Ian Pearson said the report had been classified "restricted". He said redaction (censorship of sensitive material) would render publication of the report "meaningless".
In a written reply, Pearson said "The Deloitte report assesses the Valuation Office Agency's (VOA) security maturity and identifies the areas for improvement to enable full compliance with the Poynter review, with the HMG Security Policy Framework and Minimum Mandatory Measures and ISO 27001."
Pearson said Deloitte had found that the Valuation Office's arrangements for information security were deficient with respect to leadership and governance, training, education and awareness, information risk management, "through-life information assurance", assured information sharing, and compliance.
According to information released by the Conservative Party, the database held images of 1.1 milion businesses.
It also stored 834,000 digital photos of people's homes. This included images of 777,000 conservatories, 38,000 quiet, leafy roads and 183,000 homes with balconies. It also had 15,300 images of roof terraces and 2,300 photos of penthouses.
Shadow local government minister, Conservative Party MP Carol Spellman, described the database as "a burglar's charter". She said the VOA was part of HM Revenue & Customs, the same government agency that in 2007 lost two compact discs with the names of 8 million families who receive child benefit support.
The VOA is due to publish proposals on Wednesday that are expected to see huge increases in the ratable value of homes, offices and factories. This is because the valuations are based on property values averaged over the past five years, adjusted for improvements.
According to National Statistics, the average price of a British house rose 183% between 2003 and December 2008 to £205,398. The value of the average house between 1998 and 2003 was £112,095.
Read more on IT risk management