Security experts air concerns over hackers using AI and machine learning for phishing attacks
Security experts share views on risk of artificial intelligence being re-purposed by hackers for phishing attacks
The next 12 to18 months will see an acceleration in the adoption of machine learning by hackers in an attempt to carry out increasingly sophisticated phishing attacks, it is claimed.
Anup Ghosh, chief strategist for next-generation endpoint at Sophos, made the prediction during a panel session at the NetEvent's Press and Analyst Summit on 28 September, where he outlined the potential for machine learning to help craft compelling content for phishing campaigns.
"You can use machine learning to craft really good campaigns, whether it's for Twitter, Facebook or email, to get humans to click on links. The evidence is out there that machine learning is far better at crafting emails and tweets that get humans to click on these," he said.
In order for enterprises and security suppliers to remain on the front foot with hackers, they will also need to incorporate machine learning and artificial intelligence (AI) into their cyber security strategies, creating what Ghosh terms an "AI on AI" situation.
"Security companies that fight these bad guys will also have to adopt machine learning. Now you have an AI on AI scenario, and it will propel us forward to adopt machine learning for real time," he said.
Where the technology comes into its own for enterprises is in the detection of cyber threats, he said. "The volume of data that's available on certain types of threats like malware is effectively infinite," he added.
"The problem with sticking humans on a malware detection problem is that it's not a good fit. Humans are good at making decisions, and machine learning is very good at crunching very large data sets and recognising patterns."
Fellow panel participant Oliver Tavakoli, CTO at AI threat detection and response firm Vectra, said getting humans to try to make sense of this data is often inefficient and impractical.
"It becomes impractical at a certain point to have a user stare at this data, squint at it, and try to find patterns in it," he said.
"Machine learning can unlock patterns in large swathes of data, express it in a compact form and then hopefully allow you, in real time, to efficiently apply it to detecting something and making a decision."
Content Continues Below

Download this free guide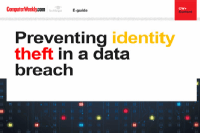 Preventing identity theft in a data breach
In this e-guide, we will explore the links between ransomware attacks, data breaches and identity theft. First, Nicholas Fearn investigates the phenomenon of the double extortion attack, and shares some insider advice on how to stop them, while we'll explore the top five ways data backups can protect against ransomware in the first place.