Javier Castro - Fotolia
Government considers use cases for blockchain
A government Select Committee met with industry experts to discuss the potential for using blockchain in and outside of the UK government
During a government Select Committee hearing on blockchain in July 2016, the committee addressed the question of whether the government could use blockchain in the future.

Download this free guide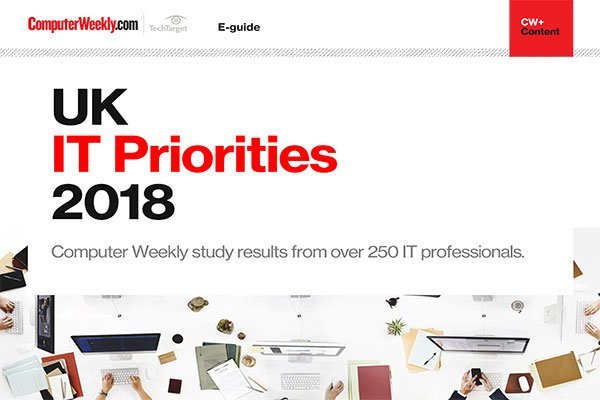 2018 UK IT Priorities survey results
IT organisations in the UK and across Europe are starting to accelerate the move to the cloud. Read more about the key areas in which senior IT managers are planning to invest in over the next 12 months.
Government officials met with industry professionals to address whether the government could utilise blockchain throughout the UK, and what the most appropriate uses for the distributed ledger technology could be.
Patrick Spens, transformation and assurance director at PricewaterhouseCoopers (PwC), claimed that healthcare, national identity and more efficient government services are areas blockchain could be used.
Spens said blockchain technology is going to become more important if the UK is to be fully automated in the future, including delivery fulfilment and increased proliferation of the internet of things.
"There's a whole variety of things that can be built with these ledgers," he said.
"We need to have ledgers for all of these things if we're going to live in an automated world."
Blockchain for efficiency and identity
There are currently billions of people worldwide who are living without a legal identity, making it difficult to monitor births, deaths, work, taxation and migration for those individuals.
Spens proposed that blockchain technology could be used as a ledger for keeping track of people and issuing them with a digital ID. "Blockchain as a technology might help digital legal identity and help those billions of people into society," he said.
But, in reality, Spens said the advantage of blockchain for government would be in the efficiency benefits. "Blockchain is industry agnostic and it just replaces business process. [By using blockchain] governments could become a lot more efficient across a number of different departments."
Since distributed ledgers can act as a replacement of some backend processes, it can consolidate some existing systems, such as similar systems in government departments. As updates to the ledger happen instantaneously, there is proof of transactions across all systems without the need for a middle man.
However, as the technology changes "every week", Spens warned the government off rushing to regulate, and he suggested letting the technology play out in other markets as to see its potential.
"Blockchain isn't going to cure everything in the world," he said.
Cost savings vs societal impact
Blockchain technology stores tamper-proof verifications of transactions, and uses a combination of public and private keys to determine who can see details of those entries made.
Catherine Mulligan, associate director at Imperial College Centre for Cryptocurrency Research, Imperial College London, said this could be used in the NHS and healthcare industry to track a "patient's journey through hospital", with patient movements stored in a ledger as a transaction.
But there are instances where ledgers could negatively affect some of the population, with Mulligan using the example of insurers using blockchain entries about hospital visits to determine whether or not someone should be issued with health insurance.
Mulligan said although use of distributed ledgers could provide cost savings and efficiency for local and wider government organisations, the government should think about how its application of blockchain will affect society.
She challenged the government to "think deeply about the sort of economy and society we want" when taking into account its applications of blockchain, and urged for collaboration between departments and industries to ensure the balance is right.
Michael Mainelli, Emeritus Mercers' School memorial professor of commerce at Gresham College, said the current industries where blockchain technology has been most effective in collaborative industries that do not have an established "central monopoly", such as healthcare, media or banking.
In the future, Mainelli said the government might find the best use for blockchain in anti-money laundering or immigration, and emphasised keeping track of current uses of distributed ledgers to find the best applications for the technology.
Mainelli used the example of Bitcoin transactions as a test environment for the blockchain's potential, saying that while Bitcoin is an "interesting experiment", it remains to be seen if it is "a successful experiment".
Blockchain and the Bank of England
The finance sector is investing heavily in blockchain technology for utilising services such as bitcoin and settlement and clearing.
Ben Broadbent, deputy governor of monetary policy at the Bank of England, discussed the positives and negatives of applying blockchain technology in the Bank of England.
Broadbent suggested that if currency was to move away from physical currency into the digital space, people would be more likely to trust the digital currency if there is a central bank involved. This would create a central banking system with digital currency, which would be supported by distributed ledgers.
However, Broadbent suggested there would be a number of barriers in place that would prevent an overhaul of the current system.
"We need to think about what would be involved technically in placing central bank money on some kind of distributed ledger," he said.
"That's not simply a question of the technology, that would also be a matter for the shape of the financial system. It would not just be tech barriers we would be worried about."
It would also pose the risk of creating a monopoly in the financial sector after initial competition to adopt and provide the technology died down.
"It is entirely to be expected that for a period of time you would have competition," said Broadbent.
Bitcoin unsuited for a central banking system
Creating a centralised banking ledger fuelling digital cash would also mean getting rid of cash, which people are not prepared to do, and it would be difficult to implement.
"It's the abolition of cash that matters, not the existence of digital alternative," said Broadbent.
Broadbent said the tech would work best for clearing and settlement to keep track of financial transactions, but before wider uses are considered, the Bank of England will keep an eye on how the technology develops.
"This is a technology very much in its infancy and it's implications are far from clear at the moment – no more clear I imagine than the potential use of the internet was in 1990," he said.
"We welcome the development of these technologies. Technology development is a good thing."
But bitcoin is not a good example of how the technology would be applied to a central banking system, according to Broadbent, as much of bitcoin tech is run in a permissionless environment requiring multiple verifications of a single transaction to ensure it is legitimate.
"Bitcoin has huge deficiencies as a currency, if you think of what the definition of money is meant to be," he said. "Bitcoin is not the right parallel, because I can't imagine we will be using permissionless systems."
Read more about blockchain
A panel of financial services experts discuss adoption of blockchain technologies at the Innovate Finance 2016 Summit.
Nordic payments technology firms work together on blockchain proof-of-concept developments.
Read more on IT for financial services