Profits perk up at HP
Hewlett-Packard's troubled enterprise storage and servers group bounced back to profitability and the company as a whole saw...
Hewlett-Packard's troubled enterprise storage and servers group bounced back to profitability and the company as a whole saw turnover rise 8% to $21.4bn (£11.5bn) in its last financial quarter, the company reported yesterday.

Download this free guide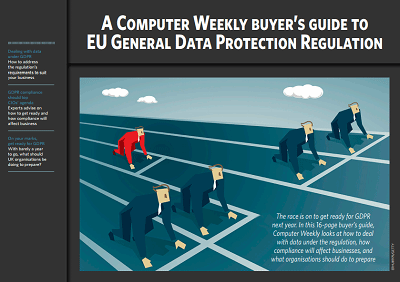 Computer Weekly's Buyer's Guide to GDPR
The race is on to get ready for GDPR next year. Computer Weekly looks at how to deal with data under the regulation, how compliance will affect businesses, and what organisations should do to prepare.
HP's net profit for its fourth fiscal quarter, which included $136m in after-tax adjustments, were $1.2bn, exceeding analyst expectations. HP's total turnover was also slightly ahead of analysts' estimates.
The enterprise storage and servers group reported an operating profit of $107m and a 7% increase in turnover. Several key executives in the group were fired following a botched order processing system migration. The group recorded $4.1bn in turnover for the quarter.
Carly Fiorina, HP's chairman and chief executive, said the problems with the order processing system, which had hurt sales of HP's ProLiant servers, had been resolved. HP shipped a record number of ProLiant servers during the quarter, with unit shipments up 18% on the fourth quarter of 2003.
HP reversed a decline in sales of its NonStop fault-tolerant systems, but sales of Alpha servers, which HP is phasing out of the market, dropped. Fourth-quarter turnover from NonStop servers was up 13% and up 8% for HP-UX systems compared with last year.
Sales of the company's Itanium-based Integrity servers now make up 16% of HP's high-end "business-critical" server turnover, up from 5% a year ago.
Managed services continued to grow fast, up by 35% on a year ago, fuelled by $1.1bn in services deals signed with Nokia, Starwood Hotels & Resorts and WestLB.
"They have nailed down some pretty impressive outsourcing and managed services contracts," said Terry Shannon, the publisher of a HP-focused newsletter. "They're strongest in services and printing and imaging right now."
HP Services reported a profit of $367m, with turnover up 13% from the previous year to $3.7bn.
The company's imaging and printing group reported a profit of $1.1bn on turnover of $6.5bn, up 5% from the fourth quarter of 2003.
HP's storage division continued to struggle. Networked storage turnover was down 9% compared with last year's fourth quarter, despite the introduction of a number of new storage products. "Storage is a business with long sales lead times and it will take more than a quarter or two for us to achieve the results we expect," said Fiorina.
HP's personal systems group, which sells desktop systems and notebooks, eked out an operating profit of $78m on sales of $6.5bn during the quarter, its strongest performance since 2000.
Both the enterprise and personal systems groups have yet to live up to HP's expectations. "We are not yet to our target levels of profitability in either one," said Fiorina. "We continue to plan for and expect profit improvement in both."
And while the enterprise market showed signs of "strengthening" during the fourth quarter, Fiorina appear to hold little hope that the holiday season would dramatically change affairs in personal systems. "From what we can tell, and obviously it's early going here, our current reading of the consumer season is that it's not bad but not spectacular," said Fiorina.
Robert McMillan writes for IDG News Service
Read more on Server hardware