Massachusetts settles its first antispam case
A Florida man and his company must pay a $25,000 (£14,000) fine to settle a spam case that was filed against him earlier this...
A Florida man and his company must pay a $25,000 (£14,000) fine to settle a spam case that was filed against him earlier this year by the Massachusetts attorney general's office.

Download this free guide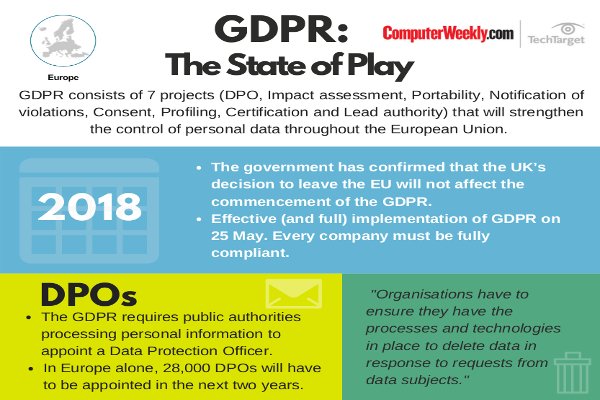 Infographic: GDPR - The State of Play
Get the latest information on how GDPR is going to affect your business and how to avoid any unwanted fines with this simple infographic.
By submitting your personal information, you agree that TechTarget and its partners may contact you regarding relevant content, products and special offers.
You also agree that your personal information may be transferred and processed in the United States, and that you have read and agree to the Terms of Use and the Privacy Policy.
Massachusetts attorney general Tom Reilly said William C Carson and his business, DC Enterprises, agreed to pay the fine and to stop sending thousands of unsolicited e-mails. The settlement was filed in Suffolk Superior Court in Massachusetts and is the first lawsuit to be actioned under the Can-Spam Act (Controlling the Assault of Non-Solicited Pornography and Marketing) .
Carson and his company allegedly sent thousands of commercial e-mails from a business address Massachusetts.
The allegations were outlined in a June lawsuit brought by Reilly, which described how the company's actions violated the Massachusetts Consumer Protection Act and the federal Can-SpamAct, which came into effect on 1 January.
"Internet marketers should note that Massachusetts takes seriously federal and state laws meant to protect against unwanted and misleading e-mails," Reilly said. "These messages are the type of unwanted and annoying solicitations that have become the scourge of internet users and threaten the credibility of companies using e-mail for legitimate purposes."
Carson and his company were sued after the business allegedly sent thousands of messages to consumers without providing ways for them to opt out of getting future e-mails. The complaint alleged that the e-mails offered "preapproved mortgage rates even with bad credit" to consumers in Massachusetts and other states.
Carson allegedly used an invalid business address in Massachusetts in his messages, which violates antispam laws.
The complaint also said he allegedly failed to clearly identify messages as advertisements and used a non-functioning sender address, all of which violate federal and state antispam laws.
Todd R Weiss writes for Computerworld
Read more on IT legislation and regulation