IBM adds EMC support to storage controller
IBM has taken the extraordinary step of supporting its main rival's storage products in an effort to pull back defecting...
IBM has taken the extraordinary step of supporting its main rival's storage products in an effort to pull back defecting customers.
Its San Volume Controller (SVC) includes support for EMC's Symmetrix and Clariion disc arrays so all can be included in a single virtualised pool of storage. This makes IBM's product more appealing to those that have shifted allegiance to EMC and should enable greater overall use of disc arrays - up to double the average of 30%.

Download this free guide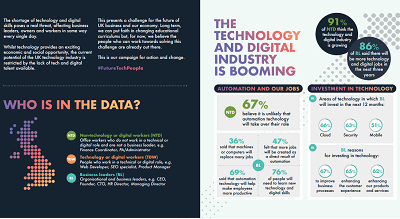 Infographic: How to future-proof UK technology
There is no doubt that the technology industry is booming right now, bringing with it exciting social and economic opportunities. However, there is a real fear that the UK industry may be stunted due to the lack of talent available. This e-guide helps to break down the future fears and expectations of dozens of business leaders and tech workers.
The SVC is IBM's virtualisation engine inside its overall Storage Tank project.
SVC already supports Hitachi Thunder as well as Hitachi Lightning and some HP EVA arrays.
Customers can now mix and match all the main disc arrays on the market in the same San in the same datacentre.
The latest support is the first fruits of IBM's and EMC's agreement last year to exchange storage APIs last year.
EMC's PowerPath supports EMC and IBM ESS and HDS Lightning drive arrays and hides which data is stored where from accessing servers' points of view. EMC described it as delivering on the promise of disc virtualisation although it is not a virtualisation product.
The release will also support Windows 2003, Red Hat Enterprise Linux Advanced Server 3.0, VMware ESX 2.1 (another EMC product) and Solaris 9.
Any or all of these servers together with IBM's own servers can access stored blocks on the storage arrays controlled through the SVC. It helps to prevent storage supplier lock-in.
EMC has not taken the new product with good grace however, telling the press that using IBM's SVC with its own arrays would lead to substantially degraded performance.
IBM repudiated the suggestion. "We treat any disc as a SCSI device. Almost without exception we've improved disk throughput and performance with SVC, " said Steve Cliff, sales manager for storage software in Europe.
IBM's TotalStorage SAN Volume Controller v1.2 will be available from 30 April. An entry-level price with support for 2TByte of storage is around £40,000.
Chris Mellor writes for Techworld.com