Verizon and Nortel team up in $1bn deal
Verizon Wireless will expand and upgrade its 3G cellular network over the next three and a half years with about $1bn (£635m)...
Verizon Wireless will expand and upgrade its 3G cellular network over the next three and a half years with about $1bn (£635m) worth of equipment from Nortel Networks.

Download this free guide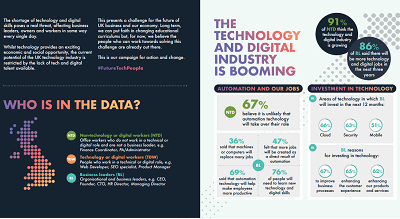 Infographic: How to future-proof UK technology
There is no doubt that the technology industry is booming right now, bringing with it exciting social and economic opportunities. However, there is a real fear that the UK industry may be stunted due to the lack of talent available. This e-guide helps to break down the future fears and expectations of dozens of business leaders and tech workers.
The contract covers expansion of the mobile operator's CDMA2000 1x (Code Division Multiple Access) high-speed data networks in major markets.
Nortel and Verizon also expect the work to include the rollout of CDMA2000 1x EV-DO (evolution-data only), the next generation of the technology, which is undergoing a trial on Nortel equipment.
CDMA2000 1x is a packet-based cellular network for both voice and data. It can carry data at roughly dial-up speed, or about 60Kbps to 80Kbps, said Verizon Wireless spokeswoman Andrea Linskey.
The equipment from Nortel will help the operator increase 1x capacity to serve more customers and extend its coverage to more locations. An EV-DO network can serve data applications at an average of about 600Kbps to 700Kbps.
Verizon also buys equipment from Lucent Technologies and Motorola.
Last year it signed a general purchase agreement with Lucent worth about $5bn over five years. Using Lucent gear, the carrier is working toward an EV-DO rollout later this year.
Under the contract, Nortel will supply Verizon with radio base stations, switching equipment and Nortel Passport IP (Internet Protocol) gateways which will sit between the wired and wireless networks, as well as other products.
Nortel will also provide gateways and other infrastructure that lets customers roam between Verizon's Wi-Fi wireless Lans and cellular network. This prevents Verizon having to install separate record-keeping, customer authentication and billing systems.
However, roaming still requires users to go off one type of network and on to the other. Technology that would allow seamless handoffs between Wi-Fi and cellular, with no discernible break in the call or application, exists but is not yet commercially viable.
Stephen Lawson writes for IDG News Service