OFT system could let rogue traders gain loan licences
The Office of Fair Trading could be issuing consumer credit licences to traders with criminal convictions thanks to a combination...

Download this free guide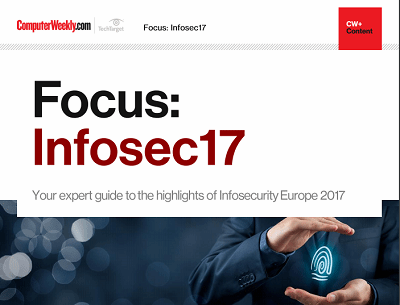 From forensic cyber to encryption: InfoSec17
Security technologist Bruce Schneier's insights and warnings around the regulation of IoT security and forensic cyber psychologist Mary Aiken's comments around the tensions between encryption and state security were the top highlights of the keynote presentations at Infosecurity Europe 2017 in London.

The Office of Fair Trading could be issuing consumer credit licences to traders with criminal convictions thanks to a combination of inadequate IT and red tape, a report from the National Audit Office has warned.

Auditors described the inflexibility of the OFT's 20-year-old computer system as an "obstacle" to checking consumer credit licence applications, which allow organisations to offer loans and hire purchase agreements.

However, plans for a new licensing system have been put on hold while the OFT awaits the outcome of the government's review of consumer credit. It is expected that the review will be completed by autumn this year and new legislation will be enacted in 2005.

Confusion has also surrounded the OFT's efforts to resolve the problem by using data from the Police National Computer and the Criminal Records Bureau.

The Association of Chief Police Officers rejected the OFT's attempt to use the Police National Computer to routinely check applicants' previous convictions on the grounds that it would constitute an "employment check".

However, attempts to obtain this information from the Criminal Records Bureau ran into difficulties because the CRB did not consider the OFT's request to be an employment check. The OFT was therefore unable to register as a user with the CRB.

A spokesman for the CRB said the bureau was limited in what it could disclose by laws such as the Rehabilitation of Offenders Act.

OFT officials considered the CRB's suggestion that licence applicants apply for a "disclosure of convictions"' as impractical given the cost and the number of cases involved.

Even John Bourn, head of the NAO, admitted that the OFT "has been constrained in what it can achieve".

A spokeswoman for the OFT, which has an annual budget of £51.2m, confirmed that it is awaiting the outcome of the Department of Trade & Industry's consumer credit review before updating its systems. However, she added that the OFT is currently undertaking other checks on traders.

"Any trader that applies is checked against our own database, which highlights any adverse data about businesses. We also check all applications with the appropriate local trading standards department," she said.
Read more on IT risk management