UK national ID card cloned in 12 minutes
The prospective national ID card was broken and cloned in 12 minutes, the Daily Mail revealed this morning.
The prospective national ID card was broken and cloned in 12 minutes, the Daily Mail revealed this morning.
The newspaper hired computer expert Adam Laurie to test the security that protects the information embedded in the chip on the card.
Using a Nokia mobile phone and a laptop computer, Laurie was able to copy the data on a card that is being issued to foreign nationals in minutes.
He then created a cloned card, and with help from another technology expert, changed all the data on the new card. This included the physical details of the bearer, name, fingerprints and other information.
He then rewrote data on the card, reversing the bearer's status from "not entitled to benefits" to "entitled to benefits".
He then added fresh content that would be visible to any police officer or security official who scanned the card, saying, "I am a terrorist - shoot on sight."
According to the paper, Home Office officials said the foreign nationals card uses the same technology as the UK citizens card that will be issued from 2012.
Guy Herbert, general secretary of privacy lobby group NO2ID, said it was a mistake to assume that the Home Office cared about the card, or identity theft or citizens' benefit.
He said the Home Office wanted the central database to record citizens' personal details in one place for official convenience.
"It is that database which will deliver unprecedented power over our lives to Whitehall and make the Home Office king in Whitehall. The card is an excuse to build the database. If the card is cancelled it already intends to use passports as a secondary excuse," he said.
Home Office officials said they were working on a response to the story, and would issue a statement later today.
For more information on the National ID Card scheme
More on National ID cards from ComputerWeekly
Content Continues Below

Download this free guide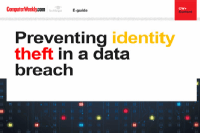 Preventing identity theft in a data breach
In this e-guide, we will explore the links between ransomware attacks, data breaches and identity theft. First, Nicholas Fearn investigates the phenomenon of the double extortion attack, and shares some insider advice on how to stop them, while we'll explore the top five ways data backups can protect against ransomware in the first place.