In Depth :

Laptops and notebooks
Wireless networking technology is heading out of the office and the living room, and on to the factory floor. We explore the trend Continue Reading

Investigative journalist and documentary maker James Bamford was among the first to uncover the secrets of the US National Security Agency and its global surveillance Continue Reading

There's no reversing the widespread BYOD trend, so IT must adopt new ways of delivering applications to employees Continue Reading
View All In Depth

Download this free guide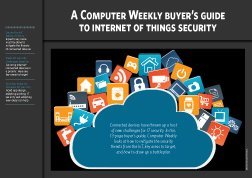 A Computer Weekly buyer's guide to internet of things security
Connected devices have thrown up a host of new challenges for IT security. In this 13-page buyer's guide, Computer Weekly looks at how to mitigate the security threats from the IoT, key areas to target, and how to draw up a battle plan.
Opinion :

Laptops and notebooks
Research into a new generation of transistors could end a decade of stagnation in computing speed and deliver a step-change in processing power, says the National Physical Laboratory's Mark Stewart Continue Reading

Device proliferation and loss of control over at least some end-user equipment drives a need to centralise key aspects of IT delivery Continue Reading

This autumn, it seems that mobile payments are finally taking off Continue Reading
View All Opinion
Videos :

Laptops and notebooks
In this CW500 Club video, Christoph Burtscher, CEO, Be2Change Consultancy, talks to Computer Weekly editor in chief Bryan Glick about the challenges of IT governance in an era of shadow IT.

In this CW500 club video, Alex Kwiatkowski, Head of Financial Insights Europe, IDC discusses regulatory compliance and BYOD in the finance sector, as well as the challenges and benefits of managing mobility.

In this CW500 Security Club video, Ray Cabrera, Security and Compliance Manager, Lebara Mobile, talks about the emerging challenges of endpoint security and how organisations can ensure data is safe.
View All Videos