Why in-sourcing ERP support makes good business sense
Most companies use ERP systems to run part of their operations, often covering the back-office functions such as finance, HR and procurement, and many go even further, using ERP to run the core operational systems specific to their business.
ERP support - is in-sourcing the new outsourcing?
Most companies use ERP systems to run part of their operations, often covering the back-office functions such as finance, HR and procurement, and many go even further, using ERP to run the core operational systems specific to their business, writes Ian Anderson, director at DNAStream.

Download this free guide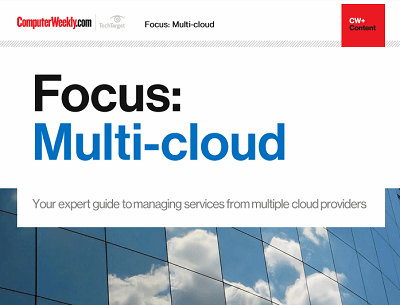 Mixing and matching your cloud options
Many IT leaders are increasingly coming round to the idea that sourcing services from one or more providers might be the best way to go. From a cost and resiliency perspective, some workloads might work better in one cloud over another. Or a certain provider might boast some functionality that suits a particular process the enterprise is looking to implement, but falls short in other areas, prompting the company to adopt a mix-and-match procurement strategy. Join us as Computer Weekly takes a closer look at the multi-cloud approach and what providers are doing to capitalise on the trend.
By submitting your personal information, you agree that TechTarget and its partners may contact you regarding relevant content, products and special offers.
You also agree that your personal information may be transferred and processed in the United States, and that you have read and agree to the Terms of Use and the Privacy Policy.
The use of ERP software really took off in the mid to late 1990s partly through the fear of potential failures in legacy Y2K systems but also because of the logical benefits of running one integrated software package over a wide area of the business.
The combination of a lack of resource with knowledge and expertise in ERP systems and the continually developing functionality within the earlier versions of the software meant that companies installing ERP systems often had to rely on external consultancy bodies to help them achieve this.
This was further complicated by a trend at the time for customers to simultaneously undertake business process re-engineering (BPR) exercises and so the outcome was often a lack of internal ERP skills and knowledge, with a reliance on external consultants to help operate and support the ERP systems.
With the growth of cheaper, off-shore ERP resources there was also the emergence of a good cost-saving business case for outsourcing the ongoing support of the ERP system to an external consulting partner.
Reasons for change
Fifteen years later a number of things have changed, which now means that many companies are re-assessing their ERP support models and looking to move to a more in-sourced model as opposed to an outsourced one. Some of the reasons for this include:
ERP systems are now mature and very stable. This is particularly true for the back-office and core business functions where the software has comprehensive functionality and is unlikely to require any significant change in the foreseeable future. Many companies are running much the same ERP functionality as they have been for the previous five to 10 years.
Resources with ERP knowledge and skills have grown significantly, as you would expect, over the past 10 years and many of these resources now work internally for the companies running ERP systems as opposed to large consultancies. This is again particularly so for the ERP back-office and other core solutions.
Many organisations have realised that, by adopting an outsourced approach they have given away a significant degree of control over managing business change and associated IT change, and wish to re-establish this control to provide increased flexibility and responsiveness to changing business needs.
This means that companies are now considering the option of supporting their own ERP systems which, if done efficiently, can result in a number of benefits. First, there is better internal control with companies more in charge of their own IT landscape and systems. It is possible to align ERP support with other IT applications to deliver overall cost savings.
Next is increased flexibility and responsiveness in the provision of ERP support and ongoing business and IT developments. The ERP support function also becomes more focused, with greater knowledge of the company's business, helping IT to become a better business partner.
Finally, insourcing ERP support leads to better motivated internal staff who are highly valued and respected for their skills and contribution to the success of the business.
So what do you have to do to achieve a successful transition to an internal ERP support function? These will be explored further in the next article in this series which looks at what you need to consider, and the approach you should take, when developing the best internal ERP support model for your particular organisation.
---
In-sourcing ERP support - key considerations
Setting up a support organisation and governance model and processes
Obtaining suitably skilled ERP resources
Support helpdesk and knowledge management processes
Creating and maintaining business process and system documentation
Agreeing SLAs with the business functions
Developing a relationship with the ERP organisation's support facility
Read more on IT outsourcing