As kick-off for the 2010 World Cup looms, security measures are ramping up. Earlier this month South African police released images of its police units in armoured uniform to deter crime and send a message to potential football hooligans that violence will not be tolerated.
In the UK, a number of potential trouble-makers have had their passports confiscated to prevent them from travelling. However, it has been noted that some may have slipped through the net and already be on their way. This concern is reinforced by the recent news that British police officers have been dispatched to South Africa to act as police "spotters", as part of the crackdown on hooligans.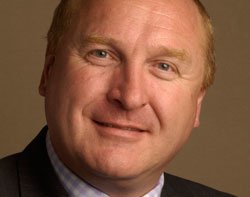 Aside from these measures, how can we prevent people from slipping under the radar?
Events like the World Cup attract thousands of attendees from around the world. The mass adoption of online services, such as the ability to book flights and apply for visas online, has led to a huge increase in the amount of information and data that is exchanged and stored online. If accessed and pieced together in the right ways, government organisations and border control can create a clear picture of who is entering and exiting a country - while at the same time respecting citizens' privacy.
For events such as this year's World Cup, border control is top of the agenda for public service and government organisations. It is essential that the right technology is implemented in support of effective enforcement. Complex Event Processing (CEP) is one solution that can enable organisations to detect, correlate, analyse and respond to data-driven events in real-time. Combined with data integration, this enables organisations to be more responsive, adaptable and agile as they harness information to provide insight and intelligence.
A further solution, identity resolution, enables organisations to search, find, match and group identity data by allowing organisations to connect disparate data sources in order to identify matches as well as relationships across multiple data sources. With the ability to pinpoint this, they can effectively arm themselves against threats to public safety that groups such as football hooligans pose.
Identity resolution and CEP technology could work together to provide border control with real-time operational intelligence from multiple data sources, highlighting who is coming into the country, taking into account who they are travelling with, whether they are on any current "watch lists" and what routes they have taken to get there. Though relatively meaningless on their own, this information may paint a very different picture when analysed in one single view, enabling the right people to take the required action at the right time.
John Poulter is senior vice-president, EMEA at Informatica
Email Alerts
Register now to receive ComputerWeekly.com IT-related news, guides and more, delivered to your inbox.
By submitting your personal information, you agree to receive emails regarding relevant products and special offers from TechTarget and its partners. You also agree that your personal information may be transferred and processed in the United States, and that you have read and agree to the
Terms of Use
and the
Privacy Policy
.
This was first published in June 2010