Insurer Irish Life has migrated 97% of its mainframe workload onto a Windows server environment to save costs and help expand its business.
Irish Life has used an IBM mainframe for 40 years but found that overnight batch processing was taking too long.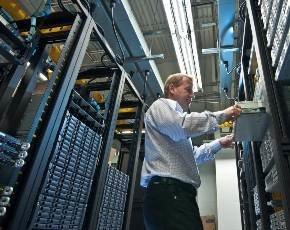 Barry Ryan, chief technical architect at Irish Life, said: "We faced restrictions, because batch was single threaded so we needed a bigger mainframe engine."
But an upgrade would have been extremely costly. 
Ryan said: "We looked at how to reduce cost and felt we could get an 80% cost saving in operational expenditure by moving out of the mainframe environment."
Irish Life ran a request for proposals process and, following a proof of concept application, it became clear that Unix and mainframe systems could be moved to the Windows platform, Ryan said.
In 2010 Ryan presented a mainframe migration strategy to the board: "We were happy with the proof of concept. We could lift out [the core system] from the mainframe to Windows and use CICs interface with Microsoft C# and SQl Server," he said.
Read more about mainframes
The migration has involved migrating 250Mips from its 300Mips mainframe onto three 12-core servers from HP, costing around £30,000 each. The HP hardware runs two database servers and three application servers in an active-active set up.
Ryan said there was no need to alter the front-end systems, which had been developed in Java.
"We did not change front-end. We pointed it to the new back-end servers," he said. The front end uses .Net and Microsoft IIS to support 200,000 transactions per day.
Some of the key batch jobs used to take 8-10 hours. Ryan said: "We now run batch jobs four times faster. The capacity of the new system has meant Irish Life was able to acquire two significant businesses, trebling the number of customers, without needing to expand the hardware platform."
Overall he said, 97% of the business has moved off the mainframe onto Windows. "We project we'll save £1.5m a year."
Dave Cooper, retail IT architect at Irish Life, said: "We use Microsoft Visual Studio for everything we do in different programming languages. We chose Micro Focus because in our research, the company came up again and again as the platform of choice for business application management, offering excellent legacy Cobol systems compatibility."
Email Alerts
Register now to receive ComputerWeekly.com IT-related news, guides and more, delivered to your inbox.
By submitting your personal information, you agree to receive emails regarding relevant products and special offers from TechTarget and its partners. You also agree that your personal information may be transferred and processed in the United States, and that you have read and agree to the
Terms of Use
and the
Privacy Policy
.