SAP innovation has the potential to massively simplify the IT landscapes of its customers, according to Vishal Sikka, chief technology officer at SAP.
"These innovations will renew every SAP and partner product," he told attendees of the SAP customer and partner conference Sapphire Now in Madrid.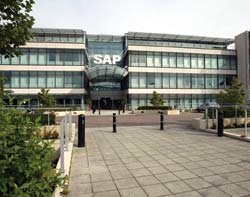 This innovation and renewal is also taking place without disruption, he said, because SAP owns the entire stack and is able to continually evolve products in a coherent, non-disruptive way.
Avoiding disruption is the underlying principle of SAP's innovation strategy for mobile, cloud and in-memory computing, he said.
Sikka used his keynote to highlight SAP's innovation around in-memory computing, represented by SAP's high-performance analytic appliance (Hana) and related software.
A growing number of businesses are achieving huge improvements in data processing and analysis, he said, citing several examples.
Hana has enabled a 1,000 times performance improvement for Colgate Palmolive, a 13,000 times improvement for India's Essar Group, and a 14,000 times improvement for SAP itself.
Japanese retailer Yodobashi Camera is currently one of the highest achievers, said Sikka, achieving a 129,000 times improvement.
Calculating what rewards the retailer's five million customer loyalty club members should receive as rewards previously took three days using an Oracle database. With Hana, the process now takes two seconds and can be done while the customer is still in store.
"SAP is bringing a grand change in the way organisations do business," he said.
Look at what Yodobashi and other organisations have done using Hana, he said, and take the 100k club challenge on the Hana Experience web site.
"SAP is so confident it can enable all innovation without disruption that it has extended maintenance for the Business Suite 7 [from 2016] until 2020," said Sikka.
Simplifying the IT landscape through innovation that will be applied to every product, SAP is enabling users to do things that have not been possible before, he said.
Sikka challenged SAP customers not to wait, but to embrace the value of innovation and empower their users to do new things. "It is what the times are telling us," he said.
Email Alerts
Register now to receive ComputerWeekly.com IT-related news, guides and more, delivered to your inbox.
By submitting your personal information, you agree to receive emails regarding relevant products and special offers from TechTarget and its partners. You also agree that your personal information may be transferred and processed in the United States, and that you have read and agree to the
Terms of Use
and the
Privacy Policy
.