Pentagon turns to Linux for high-end battle simulations
The US Department of Defense is now relying on two 256-processor Linux Networx Evolocity cluster supercomputers to improve on...
The US Department of Defense is now relying on two 256-processor Linux Networx Evolocity cluster supercomputers to improve on complex computerised battlefield simulations.

Download this free guide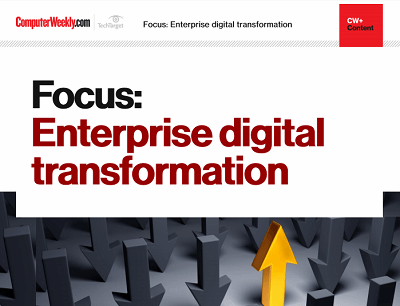 Are you digital to the transformation?
Digital transformation - the buzzword that we can't get away from. Enterprises need to accelerate their digital transformation journeys to avoid being left behind in an increasingly digital world. It's not an easy feat, but one that can be costly to get wrong. Join us as Computer Weekly takes a look at how businesses can stay on track through collaboration, innovation, and listening to user needs.
By submitting your personal information, you agree that TechTarget and its partners may contact you regarding relevant content, products and special offers.
You also agree that your personal information may be transferred and processed in the United States, and that you have read and agree to the Terms of Use and the Privacy Policy.
The machines are part of the Pentagon's continuing technology update programme, which is bringing in powerful hardware to help expand the US' military research and development capabilities.
Linux Networx said each of the clusters was delivered and installed at defence department high-performance computing centres in Hawaii and Ohio.
Kevin Benedict, programme manager at the US Air Force Maui High Performance Computing Centre, said the new machines replaced a three-year-old, 512-processor cluster that was not powerful enough to conduct the more complicated military simulations now being done by the agency.
The other 256-processor cluster was installed at the Aeronautical Systems Centre at the Wright-Patterson Air Force Base in Dayton, Ohio.
The military simulations can create a battle between US forces and an enemy that involves a combination of about 1 million troops, tanks, vehicles, and weapons such as mortars and ground artillery, ships and aircraft. The new supercomputer allows military personnel to conduct simulations involving far more personnel and weapons than ever before, Benedict said.
The Linux clusters were chosen because the defense department's procurement programme found that they provided the best price/performance ratio for the project.
Each of the Linux Networx clusters includes 256 dual Intel Xeon 3.06-GHz processors, disc storage from DataDirect Technologies, Gigabit Ethernet technology, and the Clusterworx and Icebox management tools from Linux Networx.
The clusters are part of a larger contract Linux Networx won with the defense agency earlier this year to deliver a total of six cluster computer systems, including a 2,132-processor system Linux Networx is now building for the Army Research Laboratory.
Todd R Weiss writes for Computerworld
Read more on Operating systems software