Virtual Server 2005 nears release
Microsoft has made available a Release Candidate 1 (RC1) version of Virtual Server 2005, getting a step closer to final release...
This Article Covers
RELATED TOPICS
Microsoft has made available a Release Candidate 1 (RC1) version of Virtual Server 2005, getting a step closer to final release of the delayed product.

Download this free guide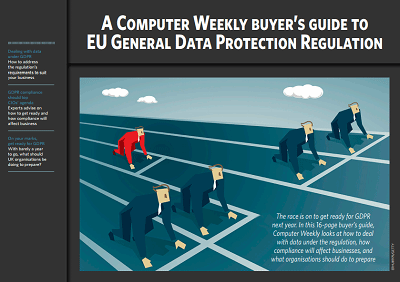 Computer Weekly's Buyer's Guide to GDPR
The race is on to get ready for GDPR next year. Computer Weekly looks at how to deal with data under the regulation, how compliance will affect businesses, and what organisations should do to prepare.
By submitting your personal information, you agree that TechTarget and its partners may contact you regarding relevant content, products and special offers.
You also agree that your personal information may be transferred and processed in the United States, and that you have read and agree to the Terms of Use and the Privacy Policy.
Virtual Server is a server-based application that allows users to run different operating systems on a single hardware server.
The application itself runs only on Windows Server 2003, but it can host a range of x86-based operating systems, including Windows NT, Linux, Unix and OS/2.
Virtual Server 2005 will be released in two editions: Enterprise and Standard. Features across the two are the same; scalability is the only difference. Standard Edition will support up to four processors and Enterprise Edition up to 32 processors, Microsoft said.
Microsoft pitches Virtual Machine as a way to help users migrate from older versions of Windows, specifically Windows NT 4.0, to the latest version of its server operating system, Windows Server 2003. With Virtual Server, users will be able to run NT 4.0 on Windows Server 2003 and continue using applications developed for that older operating system.
Another use is to help customers migrate legacy applications and assist in consolidating applications onto fewer servers.
Virtual Server 2005 was originally planned for release at the end of 2003, but Microsoft delayed the product until mid-2004.
The company said both editions of Virtual Server 2005 will be out "sometime this year", adding that there is no plan for a Release Candidate 2, unless feedback from RC1 shows there is a need, a Microsoft spokeswoman said.
Microsoft acquired Virtual Server along with two desktop virtualisation products in February 2003 from Connectix. Since the Connectix technology acquisition, Microsoft put Virtual Server through a security review and has added new features and functionality. Virtual PC 2004 and Virtual PC for Mac were released last year.
The RC1 release of Virtual Server 2005 is the Standard Edition of the product.
It is available only in English and can be used until 1 January 2005.
Joris Evers writes for IDG News Service
Read more on Server hardware