The parts of the Comprehensive Spending Review that could be relevant to the technology industry:
Cuts of 28% in local government were confirmed, at a rate of 7% a year until 2013-14.
Around 490,000 jobs will go over the four year period, with much of this coming from natural turnover. The rate of turnover in the public sector is 8%, so there will be redundancies. It is impossible to say where the cuts will be as the final decisions will be down to individual employers.

Download this free guide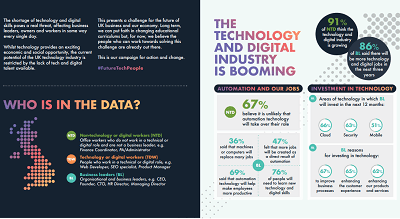 Infographic: Future-proofing UK technology
The current potential of the UK technology industry is restricted by the lack of tech and digital talent available. Read through this challenge for the future of UK business and our economy.
By submitting your personal information, you agree that TechTarget and its partners may contact you regarding relevant content, products and special offers.
You also agree that your personal information may be transferred and processed in the United States, and that you have read and agree to the Terms of Use and the Privacy Policy.
Total public spending will be £702bn next year and £740bn by 2014-15. Much of this is down to increased interest payments on government debt. The £109bn structural budget deficit is the largest in Europe and costs £120m a day in interest.
The BBC licence fee will be frozen for six years, which is the equivalent to a 16% cut. The BBC will reduce online spend and stop growing its local news operations. As previously announced, it will contribute to superfast broadband roll-out in rural areas. There are pilots in the Highlands, Cumbria, North Yorkshire and Herefordshire. Chancellor George Osborne said this will be a "key part of the new economy we are seeking to build".
Welfare cuts will be around £7bn, but the Department for Work and Pensions will also be making some savings by increasing the use of digital forms and applications. This ties in with what Jane Frost from HM revenue & Customs (HMRC) said at the Socitm Conference. She named the development of intelligent forms as a priority, because of the high level of costly errors people make in filling out tax forms.
HMRC is expected to find savings of 15% through, among other things, better IT contracts.
The police will need to find 16% savings in the back office by 2013-14.
Labour's Building Schools for the Future programme is being phased out, but £15.8bn will be spent in this period on maintaining schools and rebuilding and refurbishing 600 schools. The overall schools budget will rise over the next four years from £35bn to £39bn. Health spending is also protected, with the NHS budget rising from £104bn this year to £114bn in four years' time.
Administration costs in the Department of Business, Innovation and Skills will be cut by £400m and 24 quangos will go. There will, however, be investment in apprenticeships. There will be 75,000 new apprentices a year by the end of this four-year spending period.
The Department of Energy and Climate Change will see cuts of 5% a year, but there will be some capital spending - up to £1bn on a carbon capture project and £200m on wind technology.
The science budget will be frozen at £4.6bn a year, but £324m savings will be found through "efficiencies".
Counter-terrorism will be prioritised in the Home Office budget, which will be cut by 6% a year over the four-year period.
The Ministry of Justice budget will be cut by 6% a year, dropping to £7bn by 2014.
There will be a £1.3bn capital injection for maintaining prisons.