Business secretary Lord Mandelson has announced new IT courses for adults to build online skills.
The announcement came after Baroness Estelle Morris's Review of ICT User Skills, published in July last year, which recommended support for 11.6 million adults in England who lack basic IT skills.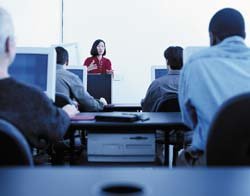 The short courses are free of charge and can be done at home or at a local UK online centre. Anyone taking the course needs to log on to the Online Basics website.
Mandelson, announcing the classes at the Learning and Technology World Forum, said being able to use the internet is increasingly vital.
He said, "Everyone should be a confident user of the internet if they are to participate fully in today's digital society. Being online brings a range of personal benefits, including financial savings, educational attainment, improved salary prospects and independent living for older people.
"Online Basics will mean more people accessing vital IT skills, enhancing their working lives and making digital literacy as important a skill as basic literacy and numeracy. We are also investing £30m extra in UK online centres to support digital participation, with the aim of getting more than one million people online in the next three years."