easyJet to use Microsoft Azure for mobile passenger services
Budget airline easyJet is planning to use Microsoft...
This Article Covers
RELATED TOPICS
Budget airline easyJet is planning to use Microsoft Azure to allow its ground staff to upgrade customers' seats or pay for excess baggage from mobile terminals.

Download this free guide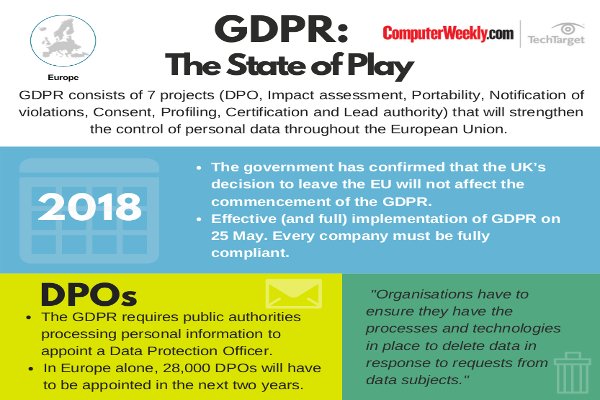 Infographic: GDPR - The State of Play
Get the latest information on how GDPR is going to affect your business and how to avoid any unwanted fines with this simple infographic.
By submitting your personal information, you agree that TechTarget and its partners may contact you regarding relevant content, products and special offers.
You also agree that your personal information may be transferred and processed in the United States, and that you have read and agree to the Terms of Use and the Privacy Policy.
The airline aims to reduce the number of fixed airport desks it needs to operate.
Airport operators charge airlines for each desk, such as the ticketing desk and the check-in desk, each of which requires a separate mainframe terminal. Each desk means a new queue.
The programme, dubbed Halo, will use a virtual private network based on 3G or Wi-Fi to plug mobile devices into the Azure cloud on the internet.
The airline's ground crew will be able to connect directly to easyJet's core business applications to provide additional services for customers, without the need for queues.
In Phase 1a, due to start in October 2009, ground staff equipped with mobile devices will be provided with applications that support aircraft boarding processes and payment processing.
Phase 1b, expected in January/February 2010, will extend the application suite to include check-in and, shortly thereafter, retail functions such as buying tickets and customer services like last-minute amendments.
"Ultimately we aim for a full suite of operational, retail and CRM applications," said Bert Craven, enterprise architect at easyJet.
Azure provides the link from the internet into the datacentre. Craven said, "Azure will provide a thin but very important tier in the overall architecture.
"Azure will make our services visible to devices scattered across Europe in a secure, reliable and cost-effective way."
Azure will simplify rolling out new application services and a revamp version of easyJet.com, due to go live in the next month.
"The great benefit Azure provides us is that we can take these services and expose them on the Azure Service Bus with little more than a configuration change. We won't have to build a new high-availability service platform in our DMZ, or make firewall configuration changes or deploy lots of new servers," said Craven.
Read more on E-commerce technology