You get what you pay for
Hewlett-Packard plans to pay about $20bn for Compaq. Joy Macknight describes what this will buy.
This Article Covers
RELATED TOPICS

Download this free guide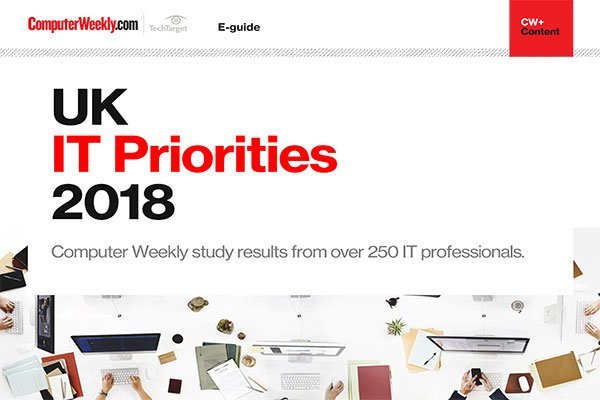 UK IT Priorities 2018 survey results
Download this e-guide to discover the results of our 2018 UK IT Priorities survey, where IT leaders shared with us what they are going to be investing in over the coming 12 months.

By submitting your personal information, you agree that TechTarget and its partners may contact you regarding relevant content, products and special offers.

You also agree that your personal information may be transferred and processed in the United States, and that you have read and agree to the Terms of Use and the Privacy Policy.

Hewlett-Packard plans to pay about $20bn for Compaq. Joy Macknight describes what this will buy.



It may have been touted as a friendly merger, but be under no illusions, the recently announced Hewlett-Packard (HP) and Compaq tie-up is a take-over. And Compaq is most definitely the one being taken. The $20bn deal is aimed at creating a giant in the IT world with the potential to rival IBM. Both companies have seen Big Blue take the service sector by storm over the last five years, and with Compaq's recent decision to create its own global services division, and HP's attempted purchase of PriceWaterhouseCoopers, at least one of the reasons behind the purchase is obvious. But what exactly will HP be getting for its money?

Compaq Computer Corporation had a very humble beginning. Founded in 1982 by Rod Canion, Jim Harris and Bill Murto, three senior managers who left Texas Instruments and invested $1,000 each to form their own company. 'Sketched on a paper place mat in a Houston pie shop', the first product was a portable personal computer able to run all of the software being developed then for the IBM PC. All the makings of the American Dream, with a venture capitalist, Ben Rosen, to back it up.

Since then, Compaq has expanded its offices and manufacturing facilities worldwide, with its products being supported and sold in 140 countries through a network of 100,000 marketing partners. Compaq designs, develops, manufactures and markets hardware, software, solutions, and services. Up until the beginning of this year, Compaq employed approximately 5,500 employees in the UK and 71,300 worldwide. At the end of 2000, which it regarded as a year of significant progress, revenue was up 10 per cent; almost $4bn over 1999.

However, even before the take-over plans were announced, Compaq was experiencing change. The company's profits fell by 82 per cent in its second quarter of this year; a net loss of $279m. It has been scrambling to diversify and streamline its business in order to compete in today's highly competitive market. In June, the company began an 180-day plan to change its focus. Even prior to the announcement, Compaq had made 5,100 of 8,500 planned job cuts, about 12 per cent of the workforce.

Turning point
Traditionally seen only as a box maker, and still the second largest computer producer in the world, Compaq has turned to services to see it through the slowdown in the hardware market. Andy Brown, senior analyst at IDC, commented: 'The whole hardware industry is suffering in the market. The downturn started in the US and is now spreading to Europe. It doesn't matter what you are doing, the hardware market has reached a turning point. The PC market has been hit really bad, which is a big area of Compaq's business. The profit margin on PCs is becoming smaller and smaller. Now Compaq is looking to high margin makers, like services.'

Globally, revenue from services grew by three per cent to 23 per cent of the total revenue, which is still a long way from the one-third target that ceo Mike Capellas set in June. Robert Fedder, director of strategy in the UK and Ireland, claimed: 'It is already 30 per cent in the UK, due to the unique combination of industry knowledge, technical expertise and partnerships.'

Compaq is also streamlining its traditional arena, taking hints from competitors. Dell, which has taken over the global lead in the PC market from Compaq, has had a distinct advantage, because it deals with few intermediaries and handles more direct sales, and , therefore, is already more streamlined. Dell has been fighting to get more market share and was willing to wage a price war to get it.

'Compaq wasn't ready to follow Dell right down. But now it is making cuts in the large number of channel dealers it deals through,' said Brown.

'It is doing what the industry demands; lowering costs and streamlining the business. It must treat PC product lines as a commodity line, which has little effect on customers, but is very tough on the channels, which are trying to convince producers that they add value. There is increasing consolidation in the PC market and whoever remains next year will be the ones that can squeeze the most costs out and secure long-term service agreements. You can't make money on the box and that is what Compaq has discovered.'

Along with restructuring within the business, there has been a reshuffle in management. In July 2000, Joe McNally, managing director of Compaq UK and Ireland since its inception in 1984, handed over the reins of command to Rene Schuster, a KPMG recruit. The Holway Report claimed his departure was due to a tightening of the reins by Compaq US (especially with regard to channel management), leaving little room for local country managers to manoeuvre. Schuster is reported to have a greater interest in the services side of the business than McNally.

These are part of a 'number of actions to improve its business model' that the company is undertaking, but is it too little too late? The Holway Report seems to think so. 'Ever since Compaq acquired the services arm of Digital Equipment Corporation (Dec), back in January 1998, they have allowed Dec's well regarded infrastructures services business to languish while they concentrated on trying to make decent profits flogging tin. Well, that plan didn't work, so now they want to try to emulate IBM's services success, but have not got off to a very good start, eg. losing out to Dimension Data in the race to acquire US based e-commerce consultancy Proxicom a couple of months ago.'

Weathering the storm
Prior to the HP deal, some analysts believed Compaq would be in a better position to recover than other companies when the market takes off again. Ranjit Atwal, industry analyst at Gartner, said: 'Compaq is a market leader and is doing what market leaders do; investing and looking to the future. Most companies are just trying to survive. It's an incredibly competitive market out there, but Compaq will be able to weather the storm because it has a more strategic outlook.'

Which Compaq's Fedder supported: 'It is important to concentrate on value to customers. That is our primary focus. We must deliver value to our customers, and effective and efficient value shareholders. We will be in a strong position whether there is an upturn or downturn in the market. We are working on a strategic level and operational level day in and day out.'

It's not that we have a product catalogue. We are more in the business of determining where customers are coming from and then providing them with a complete solution,' said Fedder.

As to whether the combined HP and Compaq will provide the new company with muscle of merely extra flab, remains to be seen. As with any purchaser, the caveat emptor applies to HP. But, unlike the average shopper, returning the goods if faulty will not be an option.

Profile - Compaq Computer

World Headquarters: Houston, Texas
UK Headquarters: Reading
Chairman and chief executive officer: Michael Capellas
CE and vice president UK and Ireland: Rene Schuster

Main Product Lines:
The Enterprise Business Group is responsible for supplying industry standard (non-proprietary) application servers, file and print servers, communication products (including networking) and system management software.

The Access Business Group incorporates all business and consumer market product solutions, including desktop PCs, handheld computer and portable PCs.

Corporate Culture:

So-called inspiration technology: inspiring staff and customers to make their work/business better through innovative technology and a clear vision.


Flexitime: Compaq is big on the work/life balance stuff, and has programmes in place to help its employees achieve this.
Read more on Data centre hardware