UnitedLinux could kill off Unix
The move to create a standard version of Linux for the enterprise could boost the prospects of the free, open source operating...

Download this free guide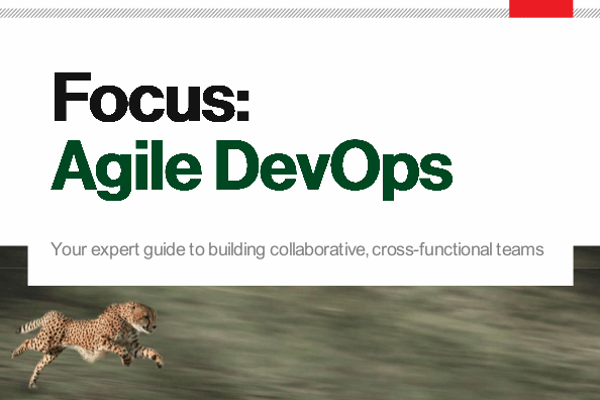 How can your business benefit from DevOps?
Let's take a look at six of the development practices that Disciplined Agile Delivery recommends for disciplined DevOps teams.
By submitting your personal information, you agree that TechTarget and its partners may contact you regarding relevant content, products and special offers.
You also agree that your personal information may be transferred and processed in the United States, and that you have read and agree to the Terms of Use and the Privacy Policy.

The move to create a standard version of Linux for the enterprise could boost the prospects of the free, open source operating system ultimately supplanting Unix in the data centre.



Some industry experts see the first step towards this goal is last week's announcement of the UnitedLinux partnership, which centres around Caldera, Conectiva, SuSE Linux and Turbolinux. This aims to promote and develop a standard distribution for Linux. It promises better support on hardware platforms and easier installation and administration. Analysts predict that if it succeeds, UnitedLinux may kill off proprietary Unix operating systems.

Ovum analyst Gary Barnett believes UnitedLinux will provide the impetus for software developers to create applications on the Linux platform, instead of proprietary Unix systems. "UnitedLinux will accelerate the consolidation of Unix into Linux," he said.

"With Linux, IBM has a common programming model across all its platforms," he added.

This means application developers can write software that can scale from a PC server architecture on to a z-series mainframe, without having to alter the application code. In time, Barnett predicted, IBM and HP would move away from their proprietary Unix operating systems.

While Unix and Linux are technically similar, the prospect of UnitedLinux as a Unix killer is some way off. IBM, HP and Sun still see the benefit of selling their own proprietary Unix operating systems. And technically, compared with existing Linux distributions, Unix is tuned for enterprise deployments and backed by global service organisations.

UnitedLinux promises a number of improvements to Linux which, in time, could extend its reach into enterprises as a replacement for Unix.

Greater collaboration
Eddie Bleasdale, who heads a project for secure desktop computing based on Linux, said that one of the most immediate impacts of the UnitedLinux partnership is that it provides greater collaboration between the companies involved. The result will be easier administration, he said. "Users will have a standard way to manage Linux."

Standard configuration
Jasmin Ul-Haque, commercial director at SuSE Linux, said the four companies would work together to ensure the base software of their respective distributions of UnitedLinux contained the same core software.

"Users will have a more professional solution," she said. While Linux distributions previously standardised on the core kernel, suppliers differentiated their products by offering different installation and configuration tools.

Such features will be common to UnitedLinux. Ul-Haque said, "We will now differentiate our products on pricing, the add-on packages included in the distribution, documentation and services."

For instance, she said, the UnitedLinux distribution of SuSE Linux, which is due to ship in the autumn, would offer server administration and optimisation tools on top of the basic package.

A global Linux
Nick Davis, Emea Linux solution marketing manager at IBM, said, "It is more efficient for software and hardware manufacturers to support a few Linux [distributions] than the 158 out there today."

The benefit to users is that application software will be made available to users quicker, he added.

Previously, IBM had to support Red Hat, Caldera, SuSE Linux and Turbo Linux separately for its z-, i-, p- and x-series computer families. These are now available through the UnitedLinux platform, Davis said.

One of the big benefits for users that Davis sees is in greater international support for Linux. "Previously users would not have been able to get support around the world from a single Linux distribution," he said.

Another benefit Davis sees is in the Spanish-speaking Linux community. Thanks to Connectiva joining the UnitedLinux effort, Davis said Spanish-speaking users could now run a version of Linux supported on all IBM hardware platforms.

Organisations supporting UnitedLinux
AMD
Borland
Caldera
Computer Associates
Conectiva
Free Standards Group
Fujitsu
Fujitsu Siemens Computers
HP
IBM
Linux International
Open Forum Europe
NEC
Progress Software
SAP
SuSE Linux AG
Turbolinux
Read more on Operating systems software