UPS uses GPRS for instant delivery alerts
A 2.5G network delivers competitive advantage at global courier firm UPS UPS uses GPRS for instant delivery alerts
A 2.5G network delivers competitive advantage at global courier firm UPS UPS uses GPRS for instant delivery alerts.

Next generation mobile technologies such as GPRS were supposed to revolutionise the way companies do business. But despite the hype from suppliers, IT directors have been largely unenthusiastic.

Now though, there are promising signs that GPRS - wireless technology that gives mobile devices always-on, high-speed access to the internet - is not dead as a corporate application.

Delivery company UPS has revealed to Computer Weekly how GPRS-enabled barcode scanners are allowing customers to see delivery confirmation immediately after the package has been signed for.

UPS, which delivers 13.6 million documents and packages every day, recently rolled out a new GPRS-based version of its delivery information acquisition device (Diad) to drivers across its UK and German operations.

The Diads, which were designed by a subsidiary research and development company at UPS, are based on Motorola processors with Symbol scanner units and LCD screens fromHitachi.

Running the devices over the GPRS network, which is operated by Vodafone for UPS in the UK, has made the transfer of information much faster. Graham Nugent, European strategic information services manager at UPS, said this is a key differentiator for a courier firm.

"We want to roll out GPRS in every country it is available because it is much more flexible than mobile messaging over a modem," he said. "With the new devices, drivers scan the barcode on the package as soon as it is signed, and the message is immediately transferred to our mainframe. This means the customer (the package sender) sees confirmation on our website straight away."

Rival logistics firm FedEx recently announced it would be rolling out 40,000 GPRS-enabled devices across its US operation in an attempt to save $20m (£13m) a year, predominantly by cutting paper costs.

However, while the rest of the delivery services market is catching up, UPS remains ahead of the game, according to Nugent.

"This is now our third generation of Diad, which will allow us to become even more customer-focused and gain competitive advantage," he said. "We believe our driver technology is still a market leader - they are virtually automated in every way."

GPRS services are charged by the packet - the volume of information sent - rather than by the time spent online. This has discouraged many businesses because they feel they cannot accurately predict data volume.

The volume of data sent over the Diads is relatively small, which makes the GPRS service cost-effective for UPS. "The packet is small, so it is cheaper. Also, we drove a hard bargain with Vodafone on the cost per packet," Nugent said.

UPS is now investigating whether to roll out GPRS-enabled mobile phones to its field-based sales force.

Nugent said, "Our sales force currently use laptops which they connect to the network with a modem at the end of the day. But, of course, they all have mobile phones, so when the technology becomes cheaper we will look at giving them GPRS devices."

Nugent said UPS may also be interested in using 3G mobile technology in the future, provided it is cost-effective.

"One potential use of 3G is that when drivers are confronted with a package they are not sure about, they can send an image in real time to managers who will be able to say whether the package is suitable or not," he said.

Another next generation technology UPS is looking at is radio frequency identification tagging (RFID), which allows goods to be tracked along a company's supply chain via electronic tags.

Nugent said, "It is not cost-effective to use tags on small packages at the moment, but we will be conducting trials with pallet tags within about six months."

UPS, which has an annual IT budget of $1bn, is currently involved in a number of other major IT projects, including a Microsoft Windows 2000 roll-out to its 12,000 desktop users, and the implementation of People-Soft 7.5 in its human resources department.

"The Windows 2000 roll-out, which started in 1999, is due to be completed in July this year," Nugent said. "It has been a challenge but we see it as being worthwhile."



UPS technology

Download this free guide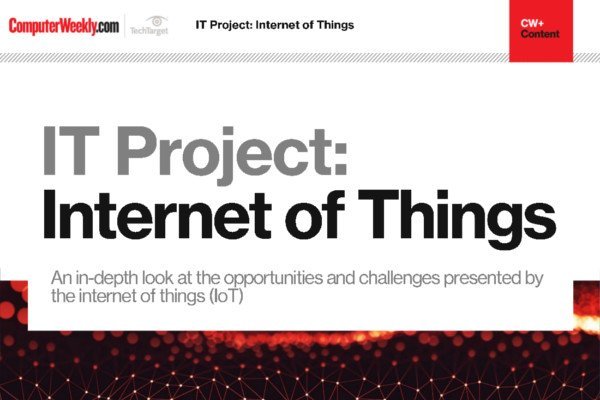 IT Project: Internet of Things
Have an in-depth look at the opportunities and challenges presented by the internet of things
By submitting your personal information, you agree that TechTarget and its partners may contact you regarding relevant content, products and special offers.
You also agree that your personal information may be transferred and processed in the United States, and that you have read and agree to the Terms of Use and the Privacy Policy.
IBM DB2 database (at 18.41Tbytes, one of the largest known databases in the world)

Relay network, with different suppliers in each country

Microsoft Windows 2000 desktop and server software

Mobile devices based on technology from Motorola, Symbol and Hitachi. GPRS network run by Vodafone

PeopleSoft 7.5 human resources application

Messaging based on Edifact, Asci and XML standards.
Read more on Wireless networking