Trial date set for Ramubus' patent suit against Infineon
A trial date has been set for Rambus' patent infringement lawsuit against Infineon Technologies.
A trial date has been set for Rambus' patent infringement lawsuit against Infineon Technologies.
The two companies have been embroiled in litigation for several years over charges that Infineon and other makers of DRam (dynamic RAM) chips are infringing upon patents held by Rambus.

Download this free guide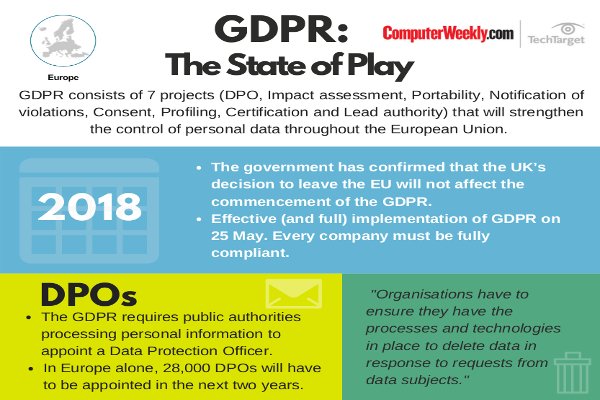 Infographic: GDPR - The State of Play
Get the latest information on how GDPR is going to affect your business and how to avoid any unwanted fines with this simple infographic.
By submitting your personal information, you agree that TechTarget and its partners may contact you regarding relevant content, products and special offers.
You also agree that your personal information may be transferred and processed in the United States, and that you have read and agree to the Terms of Use and the Privacy Policy.
Infineon and other DRam companies, such as Micron Technology and Hynix Semiconductor, contend that Rambus deceived a standards-setting body into adopting technology patented by Rambus for the DRam standard.
Rambus had been convicted of fraud by a jury in an earlier trial, but that decision was overturned on appeal last year, and the US Supreme Court refused to hear any further appeal.
This has cleared the way for Rambus to proceed with patent infringement lawsuits against the DRam suppliers.
The Federal Trade Commission is in the middle of an effort to determine whether Rambus is guilty of unfair competition, and that process is expected to continue for several more weeks.
The US District Court for the Eastern District of Virginia, where the patent infringement trial is to take place, decided that the two cases are separate and that the FTC's decision would not have an impact on the patent infringement case.
However, the Virginia court also decided to limit the scope of Rambus' patent claims to four specific claims, culled from 50 patent claims Rambus had submitted in its lawsuit. Information regarding the nature of the specific claims was not immediately available.
Lawyers for Rambus would try to submit as many claims as possible when pursuing their case, said Erach Desai, an analyst with American Technology Research. But the key areas in which Rambus alleges the DRam suppliers are infringing on its patents probably are covered in the four remaining claims, he said.
Tom Krazit writes for IDG News Service
Read more on IT legislation and regulation