Top five virtualisation case studies of 2011
Our recap of 2011's most popular case studies shows how other IT users conducted their virtualisation projects and all about their challenges and the efficiencies they achieved.
Despite tighter budgets, many European virtualisation professionals built a business case to launch a virtualisation project in 2011. Here are the top five case studies that allowed IT pros to learn the details of each project, how they gained stakeholders support, what lessons they learnt in the process and how beneficial the projects were to their organisations.

Download this free guide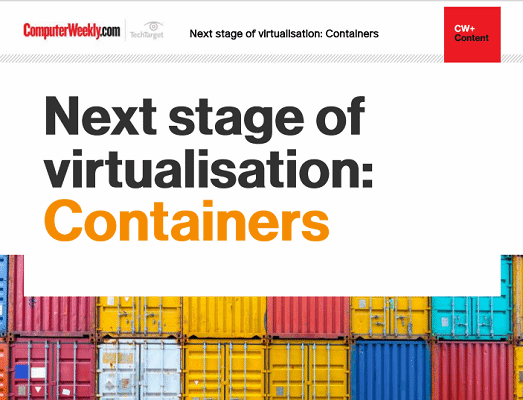 Next stage of virtualisation: Containers
Who doesn't love building blocks? Following the burst of cloud computing, containers are becoming a necessity for all organisational transformation and development. Follow us as we go through the technologies that complement and enhance their use, and outline a first-hand insight into the impact.
By submitting your personal information, you agree that TechTarget and its partners may contact you regarding relevant content, products and special offers.
You also agree that your personal information may be transferred and processed in the United States, and that you have read and agree to the Terms of Use and the Privacy Policy.

Financial services company's data backup and recovery software project
A financial services company wanted cost-effective backup and recovery software amid tighter data retention regulations in the UK. See the benefits it reaped after it completed the project.
VDI project: How JRC IPTS achieved infrastructure flexibility, user satisfaction and energy savings
Get inspired! The IT team at the Institute for Prospective Technological Studies, DG Joint Research Centre (JRC IPTS), European Commission took an innovative approach to desktop virtualisation. The VDI project helped the IT team provide better support to its researchers working on socio-economic policies.
UK law firm upgrades server, storage and network infrastructure
A 138-year-old law firm overhauled its storage and network infrastructure and achieved a stable, scalable data centre that can support future growth. Learn how it upgraded and replaced the server and storage infrastructure strategically.
Flybe's disaster recovery strategy brings data centre efficiency
IT pros at UK airline Flybe found that the company's native backup and replication software wasn't supporting its key business operations. Learn how the airline's disaster recovery project improved its ability to react quickly to business changes.
A journey from in-house IT to third-party hosting services
A building materials supplier decided to move from an in-house IT infrastructure to third-party hosting services after facing power and flooding issues in its in-house arrangement. Learn how it secured the advantages of third-party services for scalability and flexibility but chose to host the backup hardware and software in its facility in-house to save costs.
For more case studies, check out all the winners of SearchVirtualDataCentre.co.UK's Best of VMworld Europe 2011 user awards and their virtualisation projects.
Archana Venkatraman is the Site Editor for SearchVirtualDataCentre.co.UK. Write to her at avenkatraman@techtarget.com
Read more on Virtualisation management strategy