Thought for the day: CIOs at the crossroads
Will you sit tight in the downturn or take the initiative? It's your choice, says David Harrison.
Will you sit tight in the downturn or take the initiative? It's your choice, says David Harrison.

By any measure, 2002 was the IT industry's annus horribilis, with many companies' investment levels either at a standstill or worse, falling.

It has been tough for chief information officers to adjust to the new environment. According to analyst firm Gartner, business leaders now grudgingly regard their IT peers with something between scepticism and acceptance - certainly not with trust or respect.

So can hard-pressed chief information officers look forward to brighter times in 2003?

CIOs face a simple choice: They can switch into defensive mode, sit tight and wait hopefully for recovery. Or they can set out on new initiatives that deliver demonstrable bottom-line benefits to the business as a whole - initiatives that will, not overnight but over time, rebuild the CIO's reputation and credibility.

In IT terms, this means examining the installed base. Ask where improvements can be made, what technology is redundant and what can be consolidated or discarded.

This kind of cost-focused discipline can generate quick wins for the CIO that make a positive impact on the bottom line - the kind of impact the board likes.

CIOs also need to be looking at the longer term. Cost reductions are welcome, but when times are hard, IT is just one of many functions trying to justify its existence in a company. To make an effective case, CIOs need to show how IT is supporting the business and adding value.

There are two ways to do this. The most obvious is for CIOs to do their jobs well. Introducing innovations that bring immediate business benefits is another good way to showcase IT's value.

So it is up to you. You can sit tight and wait - and put yourself at the mercy of circumstances. Or you can take control. A tall order, maybe, but given the realities of the IT macroclimate, do you really have a choice?

Download this free guide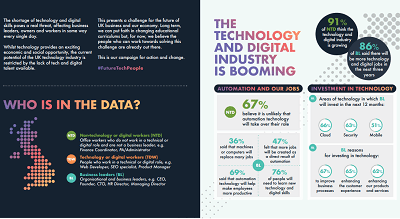 Infographic: Future-proofing UK technology
The shortage of technology and digital skills poses a real threat, affecting business leaders, owners and workers in some way every single day. Whilst technology provides an exciting economic and social opportunity, the current potential of the UK technology industry is restricted by the lack of tech and digital talent available. This presents a challenge for the future of UK business and our economy. Long term, we can put faith in changing educational curriculum but, for now, we believe the people who can work towards solving this challenge are already out there.
By submitting your personal information, you agree that TechTarget and its partners may contact you regarding relevant content, products and special offers.
You also agree that your personal information may be transferred and processed in the United States, and that you have read and agree to the Terms of Use and the Privacy Policy.
What do you think?
Which option has your company taken? Tell us in an e-mail >> ComputerWeekly.com reserves the right to edit and publish answers on the website. Please state if your answer is not for publication.

David Harrison is UK managing director and vice-president EMEA at Mercury Interactive