The verdict on Windows XP
This week sees the launch of Windows XP, the latest version of Microsoft's flagship operating system. Microsoft sees XP as its...

Download this free guide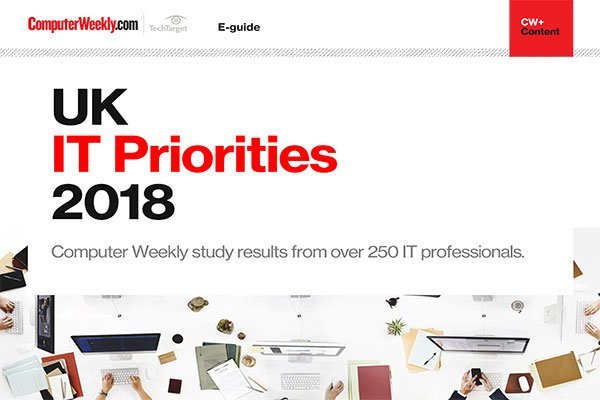 UK IT Priorities 2018 survey results
Download this e-guide to discover the results of our 2018 UK IT Priorities survey, where IT leaders shared with us what they are going to be investing in over the coming 12 months.

By submitting your personal information, you agree that TechTarget and its partners may contact you regarding relevant content, products and special offers.

You also agree that your personal information may be transferred and processed in the United States, and that you have read and agree to the Terms of Use and the Privacy Policy.

This week sees the launch of Windows XP, the latest version of Microsoft's flagship operating system. Microsoft sees XP as its most significant release since Windows 95. But what do users and analysts think?



There seems little doubt among UK users that Windows XP packs some valuable technical enhancements. But these may not be enough to convince them of the need to upgrade their desktops for a while yet.

The general consensus is that the release of the new operating system has come too soon after Windows 2000, which many companies have just implemented or are in the process of rolling out.

"The big challenge for Microsoft is to convince users they need to upgrade," said John Handby, chief executive of IT directors forum CIO Connect. "Chief information officers have put a lot of effort into switching to Windows 2000 and the launch of Windows XP has made many IT managers feel like they are on a rack."

Microsoft needs to engage in more dialogue with user organisations to demonstrate why companies should upgrade and what the value would be, Handby added.

Mike Loveless, head of the IT Standards Unit at Staffordshire Council, said he could not see a "compelling business reason" to upgrade to XP yet, as the council is only just migrating its desktops to Windows 2000 from 95.

"Operating systems in themselves are not very exciting," he said. "They really only matter where applications require them, or the usability of the systems is somehow compromised, for example, where you need to use security features."
But others in the public sector said they would consider buying XP. Jack Hamilton, ICT technical strategy manager at Lewisham Council, welcomed the improved stability, performance and manageability of XP over previous versions of Windows.

However, Hamilton said any decision would have to be balanced against the cost of the desktop software and any necessary upgrades.

"We must also bear in mind the possibility of delivering desktop services by a combination of XP and other means," he said.

Implementations
While most businesses are not planning to roll out Windows XP at this stage, a select number of organisations have decided to take the plunge.

Online bank Egg has upgraded 800 desktops in its sales centres to the new system, to provide a platform for its Web-based Mortgage Calculator service. The desktops were previously running a mix of Windows 95 and 2000.

The service, launched to coincide with the XP release, uses the remote assistance tool in XP to provide customers with instant online support. Egg sales staff will be able to take control of a machine remotely, should a customer using the service to enquire about a mortgage have any problems, said Dana Cuffe, Egg's chief information officer.

"Customers are accustomed to using online services, such as applying for credit cards, without any assistance, but mortgages are a much more complex matter," he explained.

Cuffe said Egg shared Microsoft's .net vision - supplying software as a service via the Web - and explained this was a prime factor behind the decision to roll out XP immediately.

Egg plans to roll out Windows XP to all 2,000 of its desktops over the coming months and will make more use of XP's customer alert technology. The bank has also signed up to Microsoft's Passport service for user authentication.

A number of smaller companies have joined Egg in rolling out XP on release, including bottle supplier Stride Group, accountancy consultancy Shorthouse & Martin and lens distributor Firstsight Vision.

Meanwhile, Cornwall County Council said it will have upgraded the whole authority to both Windows XP and Office XP, Microsoft's office productivity suite, by the end of the month.

Public sector organisations are rarely early adopters of new technology, but Cornwall Council has agreed a deal with Microsoft for the council to be used as a "national public sector reference site" in return for preferential rates for the software.

The council will pay Microsoft a one-off sum of £1.2m to upgrade the whole authority. This will save it an estimated £2.6m over the next three years. Stuart Pryor, head of IT at Cornwall, said replacing the council's obsolete Windows 95 and Office 95 software was a priority.

Analysts
Windows XP is more robust, reliable and manageable than its predecessors, but there is not enough in the new operating system to encourage widespread early adoption, analysts said.

Tony Lock, senior analyst at Bloor Research, said the overall resilience of the platform - built on the Windows NT/2000 kernel - is greatly enhanced compared with NT. But, he added, companies will not change their upgrade cycles simply because a new operating system has been released. "It is more likely that organisations will evaluate the platform and, where appropriate, include it in their next corporate upgrade cycle," he said.

Dan Kusnetzky, vice-president of system software at IDC, agreed that companies are unlikely to upgrade to XP for the sake of it. He said only companies that view IT as a competitive weapon - less than 50% of firms according to IDC figures - should consider testing XP to see if it fits into their IT infrastructure.

Microsoft has faced a barrage of criticism over its controversial licensing regime and the analysts agreed this could have an adverse effect on the take-up of XP.
Kusnetzky said IDC surveys show that most respondents do not understand the new licensing regime or have not had time to determine its impact on their organisation.

"The adoption of Windows XP and other Microsoft software will be delayed until people understand the new rules of the game," he said. "Many will play the new game once they understand it. Others will choose not to."

Four things to know about Windows XP:


Better compatibility
Upgrading from Windows 2000 is straightforward because the program code that drives Windows XP is basically the same as that of the earlier system. The Windows 95, 98 and ME desktop operating systems are based on a different code base and software written for these systems is incompatible. But XP has an emulation mode which automatically recognises these applications. Unfortunately, this does not apply to all programs and some may not run.



Basic configuration
PCs that are more than two years old will not run Windows XP without hardware upgrades, because the minimum requirement is a 300MHz Pentium-class processor and 128Mbytes of memory.

If you only have 64Mbytes of Ram the machine will crawl along. To get the best results the processor speed should be at least 600MHz.



Power-up speed
Lab results from eTesting Labs show that XP will load and run applications faster than any previous version of Windows. However, Computer Weekly's experience is that boot-up is slower than Windows 98.



Training
A new interface means additional training costs, but Windows XP can be made to look similar to previous versions. When staff are confident with XP, machines can be switched to the XP interface.
Additional reporting by CW360.com
Read more on Operating systems software