The personal price of liquidation
The failure of boo.com in May this year was well publicised. Huge set-up costs, changes in market conditions, technological...
The failure of boo.com in May this year was well publicised. Huge set-up costs, changes in market conditions, technological problems and an inexperienced management team have all been blamed for the company's failure.
No doubt, directors of other dotcom companies will have sought to learn their own lessons from the affair and, hopefully, will not find themselves in the same predicament.

Download this free guide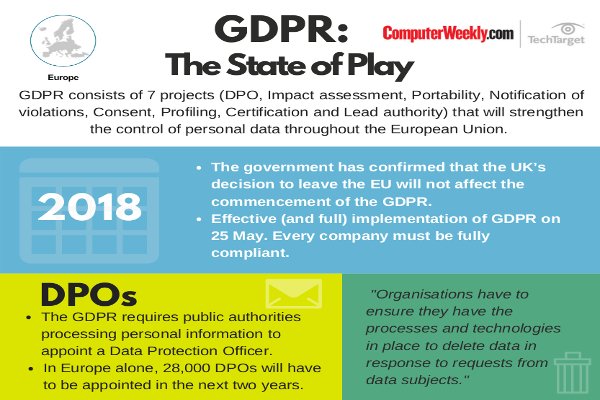 Infographic: GDPR - The State of Play
Get the latest information on how GDPR is going to affect your business and how to avoid any unwanted fines with this simple infographic.
By submitting your personal information, you agree that TechTarget and its partners may contact you regarding relevant content, products and special offers.
You also agree that your personal information may be transferred and processed in the United States, and that you have read and agree to the Terms of Use and the Privacy Policy.
However, the dotcom market is a volatile one and it is likely that a number of Internet companies, especially at the consumer end, will run into financial difficulty. If this happens the directors must make an early decision on whether the business should cease trading. Failure to do so may result in the directors having to contribute personally to the company's losses.
Under UK insolvency legislation, if a company goes into insolvent liquidation, a director will be liable for wrongful trading (and liable to contribute personally to the company's losses) if, at some time before the commencement of the winding up, the director knew or, perhaps more significantly, ought to have concluded that there was no reasonable prospect that the company would avoid going into insolvent liquidation but continued to trade in any event.
The test applies to each individual director and so a director of a dotcom which is facing financial difficulty should ensure that he is satisfied (from both an objective and subjective point of view) that there is a reasonable prospect that the company will avoid insolvent liquidation before being party to any decision to trade on. A shadow director may also be liable for wrongful trading.
Clearly the decision as to whether or not to continue trading is a huge dilemma. The directors of a dotcom in financial difficulty must not be over-optimistic in assessing the chance of survival, yet they should not be unduly pessimistic. The board of directors should ensure that they meet regularly with the benefit of accurate and up to date accounting information, keep detailed records of the discussions taking place at these meetings, and ensure that any decision to continue trading is reviewed on a very frequent basis. Expert advice should be sought if the viability of the business is in doubt.
The directors may escape liability for wrongful trading if they can establish that any step taken after it became apparent that the company was not going to avoid insolvent liquidation was taken with a view to minimising loss to creditors.
The directors of any failed company will find themselves under scrutiny. The dotcom industry has particularly grabbed the public's interest. Those at boo.com have found themselves in the media spotlight for allegedly indulging in luxury perks, which could undoubtedly constitute breach of their directors' duties.
If the case against them is established then these directors may find themselves liable either to repay the sums spent or to contribute to the company's assets by way of compensation. Disqualification proceedings may be brought against directors who are in breach of their directors' duties.
For further information please contact Sally Rich, Associate in DLA's Business Support & Restructuring group on 020-7796 6675.
Read more on IT legislation and regulation