The new Nokia 9300 smartphone reviewed
John Shepler takes a look at the new Nokia 9300 smartphone
To the uninitiated, the Nokia 9300 Communicator looks like a high-tech styling of the candy bar phone format, with a 128 x 128 pixel color display. Slip this silver communicator out of your jacket and you'll look like you're in touch with the upper echelon of business and technology. Ah, but they'll only realize the half of it. This smartphone has a hidden second life.

Download this free guide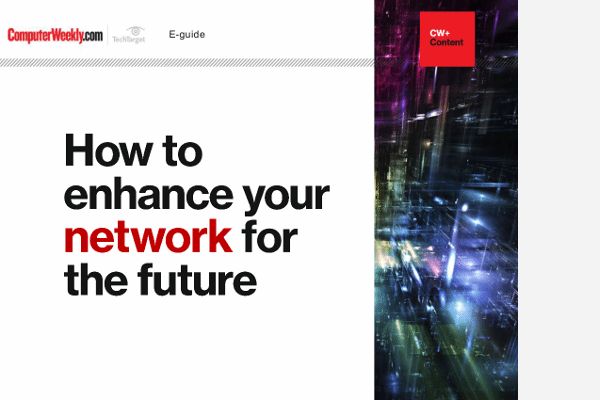 How to enhance your network for the future
Latest on networking developments and directions: NFV, self-optimising networks and IoT enabled smart cities
By submitting your email address, you agree to receive emails regarding relevant topic offers from TechTarget and its partners. You can withdraw your consent at any time. Contact TechTarget at 275 Grove Street, Newton, MA.
You also agree that your personal information may be transferred and processed in the United States, and that you have read and agree to the Terms of Use and the Privacy Policy.

Turn your 9300 sideways and flip it open along the lengthwise hinges. Wait a second. This is no ordinary cell phone. There's a computer in here. Indeed, the Nokia 9300 sports a full QWERTY keyboard with nice big keys and a long, rectangular color main display measuring 640 x 200 pixels. Wasn't so long ago that was half the resolution of a laptop computer. This entire foldable smartphone is hand size, 5.2 x 2 x 0.83 inches.

To be a truly mobile computer, you have to communicate. That's where the Communicator gets its name. This device runs on Cingular's GSM network with three bands for voice and data access via the EDGE protocol. EDGE provides up to 144 Kbps, near broadband and plenty for Internet access on this diminutive device. The built-in web browser supports both WAP 2.0 and full HTML 4.0 with Flash, so you can view web pages that are not optimized for mobile browsing, as well as those that are.

Email is also fully featured, with support for POP3, IMAP4, SMTP, SSL and Push Email OMA. You have the ability to view, edit and send Microsoft Word, Excel and PowerPoint documents. It's enough to make you smile, even SMIL. You use SMIL Synchronized Multimedia Integration Language for sending and receiving interactive audiovisual presentation slideshows. Standard SMS text messaging is also supported, of course, as is instant messaging.

An unusual feature, but one a mobile professional may well find handy is the ability to send and receive faxes directly from the phone.

Other niceties include an adjustable display brightness control, 8 application shortcut keys, an infrared port, voice driven menus, streaming multimedia support using RealPlayer and MPEG4 formats, an MP3 player that supports Real Audio, MP3 and AAC music formats, and a two-handed gaming experience for those "off duty" times.

The Nokia 9300 is also a cutting edge cell phone in its own right. As much as you might like to show it off, there are times when it's best to have your hands free. For those times, you can switch on the built-in speakerphone or clip a wireless Bluetooth headset on your ear. You also have hands-free dialing available.

The computer on this smartphone runs the Symbian 7.0 series 80 operating system. Built-in memory is a generous 80 Mb, and is expandable using MMC format cards.

You might think that all this voice and data processing power would suck a mobile battery dry in a matter of minutes. Oh, but not so on this advanced design. Talk time is up to 420 minutes, which is 7 full hours. Standby time is up to 192 hours or 8 days away from the charger.

Is this the mobile communication device you've been looking for? Learn more about ordering your corporate Nokia 9300 with Cingular Wireless service today. Or if you would prefer another model wireless device or prefer another carrier, you'll find more information at Cell Phone Plans Finder.

T1 Rex's Business Telecom Explainer offers easy to understand information about complex telecommunications and networking technology. T1 Rex explains how T1 lines work, VoIP telephone, PBX, virtual private networks, digital audio transport, Wi-Fi & WiMax, fiber optic carriers and other business telecom services.

John Shepler has been a published writer for over 30 years. With a background in electronics engineering technology, he has worked in a variety of industries including radio broadcast, aerospace and manufacturing. Involved in telecommunications since 1998, he combines his interests in writing and technology with T1Rex.com and T1 Rex's Business Telecom Explainer.
Copyright 2003 - 2006 by John E. Shepler
Contact John at John@T1Rex.com
Read more on Wireless networking