The best in the IT business start the countdown to the BCS awards
A roll-call of the finalists in the IT Professional Awards.
The winners of the BCS IT Professional Awards will finally be announced and the 19 awards presented on Wednesday 24 September at the Hilton Park Lane Hotel in London.

Download this free guide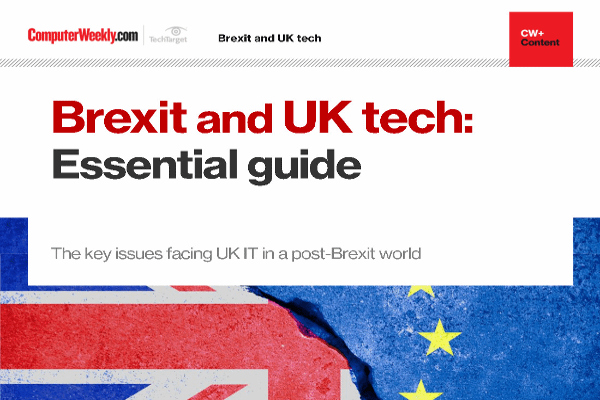 How to lead your organisation through Brexit
Find your way in the post-Brexit world and establish priorities in the face of uncertainty
By submitting your personal information, you agree that TechTarget and its partners may contact you regarding relevant content, products and special offers.
You also agree that your personal information may be transferred and processed in the United States, and that you have read and agree to the Terms of Use and the Privacy Policy.

THe ceremony, which will take place before an audience of more than 700 IT professionals, will be hosted by leading technology broadcaster Angela Lamont, and VIP guests will include Stephen Timms MP, minister of state for e-commerce and competitiveness.

The BCS has been recognising outstanding achievement in IT for more than 30 years, but this year, for the first time, it has combined its two existing award programmes into the IT Professional Awards.

The thinking behind the move is to raise the profile of the awards themselves and to attract more attention to the UK IT industry and the role the BCS plays as its leading professional body.

BCS chief executive David Clarke said, "Recognition is critical to the credibility and maturity of any profession. There is an awful lot of cynicism about the IT sector right now and we feel strongly that these awards offer UK IT professionals a platform to publicise their successes and earn the acknowledgment of their peers."

The message is clear: despite hard times in the IT sector, there is still an impressive body of good work, both at individual and enterprise level.

If the UK is to sustain its global reputation for innovation and ingenuity at the level it has always enjoyed, there is a need to inspire and recruit the best talent. And that means celebrating IT successes, both by individuals and teams, whether in the public or private sector.

The finalists come from all over the UK and represent major corporations such as Bacs, BT, Royal Bank of Scotland and Virgin, as well as public sector bodies such as Sunderland and Hampshire councils.

But it is not just the bigger names that dominate, with smaller business and organisations well-represented in the Individual Excellence categories.

All the finalists have undergone a rigorous selection process, including panel interviews and site visits. But there is one category where there is no indication who might win: the Lifetime Achievement Award, where the winner will be chosen by the BCS.

For more information about the awards, contact Nisha Mukhey

nisha.mukhey@quest-media.com

www.bcs.org/awards/professional
Finalists in the BCS IT Professional Awards
Business Achievement Awards, sponsored by Network Associates
Financial and Related Services, sponsored by Computacenter
Royal Bank of Scotland
Bradford and Bingley
Public Sector and Not for Profit Awards, sponsored by Canon
DTI
Virgin Trains
Commercial and Industrial Awards, sponsored by Microsoft
Marks & Spencer
O2
Eclipse Internet
Technology Awards, sponsored by PricewaterhouseCoopers
Applications, sponsored by BT Exact
Prophet, by Speed-Trap
Chemical COSHH Management System, by Sypol
IBM Websphere UDDI Registry Development, by IBM UK Laboratories
Isys Software for the Outdoors, by Isys Computers
Systems Awards, sponsored by IBM
Flyphones, by BT Exact
Erica, by BT Exact
Pixology Iriss, by Pixology
Social Contribution
River pollution diagnostic system, by Staffordshire University
Trinity and Mobile Location Gateway, by BT
Congestion charging scheme, by Capita Group
Social inclusion through ICT, by the City of Sunderland Council
Services, sponsored by Siemens Communications
Hampshire public services network, by Hampshire County Council
Integration testing programme, by Royal Bank of Scotland
Bacstel-IP, by Bacs
Individual Excellence Awards
Young IT Practitioner of the Year Award, sponsored by Brodeur Worldwide
James Bailey, Eclipse Internet
Richard Clayton, B Mason & Sons
Steven Henderson, Royal Bank of Scotland Group
David Hewitt, James Hamilton Group
IT Trainer of the Year Award
Alastair Hill, SIA
David Wheeler, QA
Jit Parmar, Informatics Group UK
Dominic Betts, Parity Training
IT Consultant of the Year Award
Colin Butcher, XDelta
Graham Oakes, Sapient
Gill Hunt, Hunt Lancaster
Rob Willetts, Retail Assist
IT Director of the Year Award, in association with the Institute of Directors and sponsored by Robert Walters
David Ebbitt, PremierLine Direct
Keith Nicholson, MacRoberts Solicitors
Karl North, Hilton UK and Ireland
John White, Royal Bank of Scotland
Quality Manager of the Year Award, sponsored by Mercury Interactive
Nick Mundy, Zurich Financial Services
Kevin Martin, IX Europe
Business Analyst of the Year Award
Mark Jessop, McDonalds Restaurants
Ian Milburn, Royal Bank of Scotland
Alex Black, Royal Bank of Scotland
IT Developer of the Year Award - Applications, sponsored by the DTI
Paul Shepherd, Buro Happold
Trevor Ward, DLogical
Juan Herrero, Arup
James Heydon, Zurich Financial Services
IT Developer of the Year Award - Infrastructure, sponsored by InterSystems
Ken Boyd, Royal Bank of Scotland Group
Paul McBrierty, Royal Bank of Scotland Group
Mark Orford, Liverpool Direct
Nigel Reed, IBM UK
Marval IT Service Manager of the Year Award
Ann Davies, Zurich Financial Services
Brendan McDermott, Liverpool Direct
Graham Downes, Royal Bank of Scotland Group
Roger Bannister, Retail Assist
Lifetime Achievement Award, sponsored by Syntegra
The winner will be announced on the night of the awards
E-Handbook

E-Handbook

E-Handbook
Read more on Managing IT and business issues