The World Cup at work
Warning: the daily grind could seriously damage your enjoyment of World Cup 2002. To make sure that none of you miss out, Mark...

Download this free guide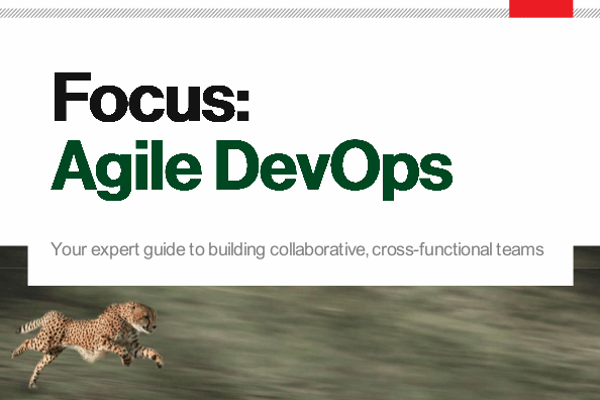 How can your business benefit from DevOps?
Let's take a look at six of the development practices that Disciplined Agile Delivery recommends for disciplined DevOps teams.
By submitting your personal information, you agree that TechTarget and its partners may contact you regarding relevant content, products and special offers.
You also agree that your personal information may be transferred and processed in the United States, and that you have read and agree to the Terms of Use and the Privacy Policy.

Warning: the daily grind could seriously damage your enjoyment of World Cup 2002. To make sure that none of you miss out, Mark Lewis offers this essential guide to keeping up with the action while shackled to your desk.



When the 2002 World Cup begins on 31 May there will be no excuse for confusing your Beckhams with your Batistutas, or your Keanes with your Kanus. Where once we had to rely on TV and radio to keep up with the action, now we can surf the Internet - and pull off a passable impression of being hard at work as we do so.

Watching live online scorecards ticking over can never match the thrill of watching a game on television with a beer in your hand and the dulcet tones of Motty in your ears. That said, soccer-related Internet offerings are becoming ever more sophisticated, informative and imaginative. Come June, you will be able to follow every diving save, every scything tackle and every blinding goal as it happens half a world away.

Technology doom-mongers are predicting that corporate networks across the UK will buckle as users start to log on to football sites in droves. But, hey, that's something for your network team and its telecoms supplier to worry about. This is World Cup year, after all, and one has to get one's priorities right.

We have pulled together a selection of amusing and informative Web sites that will guide you through the action. So sit back, log on and enjoy the spectacle of the world's greatest sporting event from the comfort of your ergonomically designed chair - but remember to adopt the furrowed brow of a workaholic when the boss walks by.

Wallpaper and wallcharts
www.worldcupwallchart.com
Download the excellent Fibonacci World Cup wall chart, and you can organise an office sweepstake through your intranet.
www.soccer-desktop.com/frontpage.asp
Offers a wide choice of football-related screensavers, wallpaper and hotbars.
www.worldstadiums.com
Wallpaper your desktop with images of Seoul's Sang-Am WC Stadium, the Dome Stadium in Sapporo and other match venues.

A taste of the Orient
If you cannot be in Japan or Korea, at least you can see what you are missing by visiting these sites:
www.jnto.go.jp/eng
Tour the Japanese tourist board's site for long enough and you will swear you can smell cherry blossom and taste sushi.
http://zish.tour2korea.com
The Hahoe Mask Dance Drama explained in more detail than is healthy, plus great images of Korea.
www.sumo.or.jp/eng/index.php
What could make for better onscreen wallpaper than a fat bloke in a nappy?
www.asahibeer.co.uk
Japanese food, philosophy and fun, along with UK stockists of the nation's finest brew.

One-nil to the Eng-erlund!
Short of rousing the whole IT department into a chorus of "here we go, here we go here we go!", the following sites could prove your only means of generating some aural atmosphere come the start of the tournament.
www.bbc.co.uk/fivelive/football606_topten.shtml
Features the Anfield Rap and other footie-related musical atrocities.
www.mobiletones.com/soccertonessonglist.php3?team=0
When someone calls you, your phone plays the Match of the Day theme tune. Magic!
www.the-fa.org
Wow your colleagues with the downloadable preview of Ant and Dec's official World Cup song.

Fancy a flutter?
No need to traipse down to the bookies - get the form online. At the time of writing, bet365.com was offering 12/1 on an England win, and 66/1 for a Republic of Ireland victory. Totalbet.com, meanwhile, was offering 11/1 for Michael Owen to be the competition's top scorer.
www.ws1.willhill.com
www.ladbrokes.com
www.totalbet.com
www.sportingodds.com
www.paddypower.com
www.bluesq.com
www.bet365.com

It's a funny old game
Humour can be a great antidote to pre-match nerves. The following sites are guaranteed to raise a smile.
www.footballjokes.co.uk
Check out the anagrams of famous players such as "A livid gonad" (David Ginola) and "He'd shag dirty men" (Teddy Sheringham).
www.sports-quotes.com/soccer
"Our fans have been branded with the same brush," "Football's football, if that weren't the case it wouldn't be the game that it is," and other gigglesome Colemanballs.
www.uglyfootballers.com
Cruel but funny rogues' gallery of mullets, injuries, streakers and downright ugly blokes.
http://news.bbc.co.uk/sport/hi/english/funny_old_game/default.stm
The World Cup bra and other tales from football's Far Side.
www.laughfc.co.uk
An Aladdin's cave of jokes, quotes and chants.

Glory, glory hallelujah!
Should your interest in the competition dwindle long before cup final night, there are always past glories to fall back on.
www.the-english-football-archivecom/england/world_cup_1966.htm
The story and the stats of the 1966 World Cup.
www.bobbymooreonline.co.uk
Make a beeline for the "1966 and all that" section.

They think it's all over
But there's always the next World Cup! Check out www.dfb2006.de
to see how preparations are progressing for Germany 2006.

Football facts at your fingertips
Most of the following sites will offer SMS and e-mail alerts plus team news and live scorecards.
www.fai.ie
The Republic of Ireland's official site. The Fan Diary could make interesting reading.
www.the-fa.org
Exclusive video coverage from the England camp on this, the official FA site.
www.fifaworldcup.com
The official site of the 2002 tournament. It will be hard to beat for real-time information, and will offer video highlights.
http://bunkoff.umbro.com
A "Boss Alert" function could be a job-saver.
http://news.bbc.co.uk/sport3/worldcup2002
Plans to stream Match of the Day punditry.
http://football.guardian.co.uk/worldcup2002
Authoritative and big on bandwidth.
www.football365.com
Danny Kelly rants and much, much more.
www.soccernet.com/worldcup
The World Cup countdown on the homepage alone is enough to get footie fans salivating.
www.sportinglife.com
The daddy of UK sports journalism.

Television and radio coverage via your PC
There will be no live streaming of this year's World Cup, so fans wanting to watch the 2002 tournament online will have to make do with four-minute paid-for highlights packages that will be posted on the Fifa site several hours after each match's final whistle. A flat fee of $19.95 (£14) will buy fans access to highlights of all matches in the tournament.

Meanwhile, the BBC will stream its in-studio Match of the Day experts after every England and Republic of Ireland match.

On radio over the Internet, Radio 5 Live will be covering some of the games and bringing match reports and news throughout the World Cup.

Alternatively, TalkSport will not only have match reports but also has a betting section where you can have a flutter on your favourites.

Further information
http://fifaworldcup.yahoo.com/en/pr/spl.html
http://news.bbc.co.uk/sport3/worldcup2002bsp/tv_and_radio/default.stm
www.bbc.co.uk/fivelive/worldcup
www.talksport.net
Read more on Operating systems software