Tape is tops - the Quantum theory
Despite the advances in disk technology, tape still has a future in the storage market according to one of its leading advocates.
This Article Covers
RELATED TOPICS

Download this free guide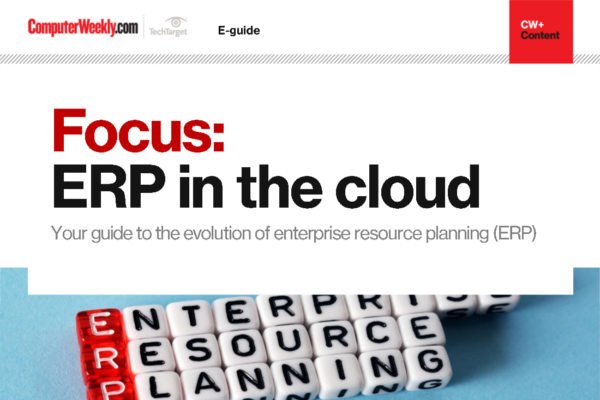 Are you keeping up with the ERP evolution?
Read about the new best practices for the ERP systems and how to tackle the growth of ERP integrations.
By submitting your personal information, you agree that TechTarget and its partners may contact you regarding relevant content, products and special offers.
You also agree that your personal information may be transferred and processed in the United States, and that you have read and agree to the Terms of Use and the Privacy Policy.

Despite the advances in disk technology, tape still has a future in the storage market according to one of its leading advocates.



Richard Collins, managing director for Quantum ATL Emea, said at the launch of his company's new enterprise tape libraries, that the driving forces behind storage decisions are not just technological capabilities. 'The big issue is that, whilst we have falling cost of data, we have a very expanding demand of volume data. It is so vast, that the overall cost is actually increasing.'

Quantum ATL is launching two new tape libraries claiming they provide the highest density enterprise offering on the market. The P4000 and P7000 both scale up to 64 drives, and over 500 Terabyte capacity from 2,500 slots. The entry level P4000 (US price $65,000) starts at 10 drives and 322 cartridges with up to 70 Terabyte capacity and a claimed one TB/hour performance. The P7000, priced at $90,000, is said to operate at 1.7 TB/hour and starts at 16 drives, with 679 cartridges and a 149 Tbyte capacity. Both systems support DLT 8000, Super DLT, or LTO Ultrium tape drives and have connectivity options for SCSI, Fibre Channel, Gigabit Ethernet or mixed interface environment.

And having all the tape drive technologies included is something which Collins claims is increasingly important. He said the issue is not just one of reducing complexity, but also addressing connectivity issues. But despite the advances in storage technology, he still sees a future for tape.

'If someone had asked me 12 months ago, I may have been concerned that the cost of storage could have posed a threat to the tape world. Whilst in time that may happen, the cost differential continues to be there and recent experience in the US shows the worth of having tape backups kept off site. There are also restrictions on the movement of data from one disk subsystem to another. We are still in a world where cost is important and the benefits of tape in terms of capacity, flexibility, and where they are used as secondary storage, continues. Tapes have got a way to go before they outlive their usefulness, but our business is about data protection and we are continuing to look at new forms of secondary storage and near line alternatives. But tape still has a significant future.'

IT_snippets
1. Sites using Sun Microsystems HighGround storage management software are the targets for an addition to its capabilities. Sun says it can now offer software, as part of Storage Resource Manager (SRM) v5.0, which can monitor data usage on Oracle and Sybase databases, and assist with capacity planning and the like. 'Storage capacity shortages are one of the leading causes of unplanned downtime,' commented Oracle vice president Doug Kennedy. Sun claims the SRM software can identify storage under utilisation, help identify databases that may be suitable for storage area network migration, and provide consolidation information.
www.sun.com

2. Tape champion StorageTek plans to boost its tape library range with the addition of the L700e, which it believes will appeal to those installations which face rising demand, and shrinking budgets. This is achievable, it says, through the addition of a Pass Through Port (PTP) which will be available for the L700e in the first quarter of next year. This will allow increased capacity , claims STK, through the connection of two tape libraries via a PTP. Price for the L700e is £61,798.
www.storagetek.com

3. Should you be a storage buff with a taste for wurst then International Data Corporation's (IDC) might prove tempting. Due to be held in Frankfurt on October 23 It will feature the theme 'Storage Vision' and will attempt to predict the development of storage products and related issues over the coming years. Big rollers from the likes of IBM and Veritas will perform, as will IDC's leading storage gurus. If you fancy the trip details are on the web site.
http://emea.idc.com/forms/esv01.htm

4. IBM has given the scaleable linear recording (SLR) technology a boost by shipping SLR 100 Gbyte and 10 Gbyte tape cartridges. The technology is provided, to IBM, on an OEM basis by Imation which developed the SLR technology with Norwegian company Tandberg. Imation executive director Dave Ferraresi hopes the move will see iSeries and AS/400 sites taking up SLR devices as its 'reliable and backward-compatible'. Imation has also announced the availability of its Black Watch tape cartridges in Europe. These feature network data processing, back-up and archive applications, and capacities of 20, 60, 100 and 200 Gbytes.
www.imation.com

5. Storage networks specialist McData has given details of a joint development with Hewlett-Packard to give the Open View systems management suite more interoperability. This takes the form of the HP Surestore FC-64 switch. This will allow, claims McData, the management of of a 'heterogenous' storage area network from a centrally managed single console.
www.mcdata.com

6. Hard drive company Maxtor is now shipping its 40 gbytes per platter DiamondMax Plus D740X drive. This is a 7,200 rpm drive which comes with a traditional ball bearing motor, or a quiter fluid dynamic bearing. The recommended retail price is £188.10.
www.maxtor.com
Read more on Business applications