Sun integrates Gnome into Solaris
Sun has announced it has integrate its Solaris operating system with the open source Gnome (GNU Object Model Environment)...
Sun has announced it has integrate its Solaris operating system with the open-source Gnome (GNU Object Model Environment) desktop.
The latest version of Solaris, version 9 8/03, which will begin shipping on Sun's systems on 13 August, will offer users the choice of running Solaris with the look and feel of the Gnome 2.0 desktop, instead of booting up with the more traditional Common Desktop Environment user interface.

Download this free guide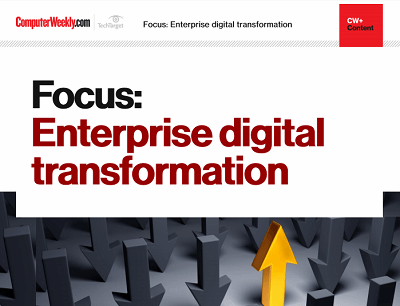 Are you digital to the transformation?
Digital transformation - the buzzword that we can't get away from. Enterprises need to accelerate their digital transformation journeys to avoid being left behind in an increasingly digital world. It's not an easy feat, but one that can be costly to get wrong. Join us as Computer Weekly takes a look at how businesses can stay on track through collaboration, innovation, and listening to user needs.
By submitting your personal information, you agree that TechTarget and its partners may contact you regarding relevant content, products and special offers.
You also agree that your personal information may be transferred and processed in the United States, and that you have read and agree to the Terms of Use and the Privacy Policy.
"Now Gnome is actually integrated as a part of Solaris 9," said Solaris product management group manager Bill Moffitt. "We will take bug reports against it and we'll promise a fix."
Previously, Gnome was bundled with Solaris, but only as an add-on CD that was not supported by Sun.
The Gnome project is an collection of open-source software, founded by developer Miguel de Icaza in 1997. It is made up of hundreds of desktop applications, from file managers to calculators to games as well as a number of software development tools, and, along with the K Desktop Environment, is one of the most popular desktop environments for Linux.
Sun announced plans to support Gnome within Solaris in August 2000. Since then, Gnome has been working its way through the slow process of not only being ported to Sun's version of Unix, Solaris, but also of being approved by Sun's various architectural review and product approval committees. "We have a fairly long development cycle in Solaris," Moffitt said.
Sun will also extend Solaris's Unix filesystem to support 16Tbytes of data, and it will have a speedier version of its Live Upgrade software that will let users upgrade the operating system in less time.
Sun is also enhancing its Solaris Volume Manager software so that it will be able to convert storage devices formatted by the Veritas Volume Manager into the Solaris Volume Manager format.
Robert McMillian writes for IDG News Service
Read more on Operating systems software