Source code causes havoc to globalisation strategies
Failure to approach the internationalisation of your IT infrastructure systematically could significantly delay your time to the...
This Article Covers
RELATED TOPICS

Download this free guide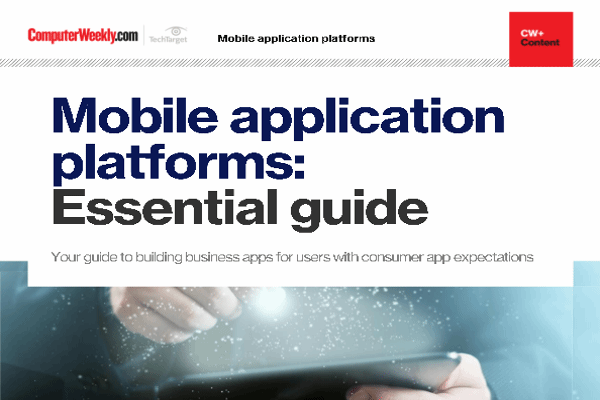 Time to take control of mobile applications
Expert tips on how to deal with mobile application platforms

By submitting your personal information, you agree that TechTarget and its partners may contact you regarding relevant content, products and special offers.

You also agree that your personal information may be transferred and processed in the United States, and that you have read and agree to the Terms of Use and the Privacy Policy.

Failure to approach the internationalisation of your IT infrastructure systematically could significantly delay your time to the global market.



Globalisation was the word on everyone's lips last week as demonstrators took to the streets to protest against the side-effects of the increasingly consolidated nature of world business.

Yet, while an increasing number of civil groups express their dissatisfaction with the forces of corporate expansion, globalisation is posing rather different challenges to IT managers in fast-growing multinationals.

A global presence requires common IT standards to sell goods and services to consumers in multiple languages whether over the Web or through other channels such as call centres.

One aspect of this process is the internationalisation of IT systems which poses huge challenges, at both micro and macro level. The micro challenge involves re-writing English-based source code to support applications running on foreign characters. The macro one revolves around ensuring that various applications can talk to each other.

Research firm IDC forecasts that by 2005, more than 65% of Internet users in the world will not speak English as their first language. By this time, research firm Allied Business Intelligence estimates that the globalisation services market will be worth $22.7bn (£15.1bn).

Fiona O'Carroll, vice-president of operations at globalisation service provider Uniscape, said the internationalisation of a company's existing architecture was just one of the technical barriers to the implementation of a globalisation strategy.

"From a technology point of view, the issue that companies face in going global is the 'internationalisation' of their source code. When companies develop their own source code, they assume everyone speaks English and they don't think about issues of language or culture when they're developing lines of code. Internationalisation of your code means you've built your software to be culturally independent," O'Carroll said.

The problem with source code is that the 26-character English language is supported by an Ascii format, but in Europe other languages have an extended character set, she explained.

In Asia, the problem is even more complex as Asian characters are built with a completely different, double-byte format. So applications based around English-based Ascii cannot just be transplanted to run in non-English speaking countries.

But in the rush to market, turning a blind eye to the complexities of international coding can play havoc with a company's expansion plans by delaying the time it takes to launch operations in a new country.

"If a company codes its applications from the beginning in English, and then decides to launch into Japan, it could face a delay of up to nine months in order to change its systems," O'Carroll warned.

One of Uniscape's clients is a software supplier which found this out the hard way when it tried to move into the Asian marketplace.

The company didn't want to roll out to all the Asian markets at once, so it took a staggered approach, moving first into Korea, then, six months later, into Japan.

"It did it in-house and ended up with the [Web] site half in English and half in Korean because the system was only half internationalised," O'Carroll claimed. "[Before coming to us] it had not understood the problems involved. The company thought that once the marketing was ready, it could just go into the market, but the marketing side was totally at odds with the technology."

The complexities of re-coding the corporate systems should not be underestimated. It involves not only re-coding but the integration of existing systems, such as content management systems or databases, into the overall globalisation process.

"It's a huge task. You have a database layer, an applications layer, e-commerce systems, and a front end," O'Carroll said. "It may be that your database is not able to communicate with your front end, or your middleware, so it has to be interfaced."

Running the process in-house involves having the software developer, who has hard-coded the strings of text, create separate language files. This leaves one code base capable of supporting different languages, which also makes it easier to maintain.

"The code is talking to the different language folders, meaning you run off one code base, otherwise you will be running off a number of different ones. That would mean that if you had to change anything, such as applying a patch or updating or adding new functionality, you would have to do it on each site," O'Carroll said.

"By internationalising your systems you save both the cost of maintaining all your different code bases and the time to market."

Although it is in the interests of globalisation services providers to emphasise the IT challenges of internationalising company systems, industry analysts have also stressed the need for companies to take the technology implications of global expansion seriously.

"Internationalising your software is a one-time, enabling process which means creating the necessary platform for you to be localised in different countries. It's really about engineering changes at source code level and it is a very important step towards globalising your organisation," said Alexander Motsenigos, senior analyst for IDC's e-globalisation and localisation services research programme.

"You create a French application that is only relevant in France, then you create another application which works for Germany, and another for Korea - there's a lot of duplication that takes place which is very expensive and takes a lot of time."

Not having an understanding of the complexity of global system issues can also put a company at competitive disadvantage, O'Carroll warned. "Companies tend to assume that English is the language of the Web, but if you want to sell overseas, you will be at a competitive disadvantage if you don't speak their language.

"From a cultural perspective, if you want to interact over the Web and collect certain kinds of data it is likely you will want to do so in the local language, but if you've not built in the capability, you won't be able to cope with that," O'Carroll added.

The forces of globalisation have posed formidable challenges to IT departments. To sell common services across the world many systems will need to overhauled from the source code up.

English-based source code is not universal and companies risk having their foreign expansion delayed because applications can't interact. It is a nightmare scenario that IT managers around the globe will be keen to avoid.

Internationalisation checklist


Page encoding: all HTML pages need to be tagged with the correct page encoding to deal with international text
Dimensions, weights and measurements: local conventions should be considered
Dynamic content: can your database support international characters? Are error responses hard-coded to respond in English?
E-mail: the system should be optimised to handle international text for user interaction
Search engine: should be able to handle international character sets and determine what type of output to return

Source: Uniscape

Ascii code explained
Ascii is the most common format for text files in computers and on the Internet. Each letter or number is represented with a seven-digit binary number. But only 128 possible characters are defined. All Unix and Dos-based operating systems use Ascii for text files, but Windows NT uses Unicode. Conversion programs allow different operating systems to change a file from one code to another.

Unicode is a system for the exchanging, processing, and displaying texts in the principal written languages of the world. Currently, the standard contains 34,168 distinct, coded characters derived from 24 supported language scripts.

Hazel Ward
hazel.ward@rbi.co.uk
Read more on Business applications