Smaller firms struggle to find IT all-rounders
Anomalies in the jobs market have been revealed in research for Computer Weekly, writes Bill Goodwin. The findings highlight the...

Download this free guide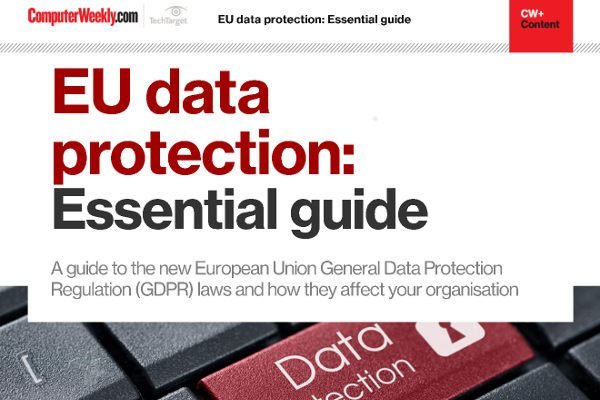 EU data protection: Essential guide
Access this guide to aid you in facing the challenges, opportunities and key actions need to consider in preparing your organisation for GDPR.
By submitting your personal information, you agree that TechTarget and its partners may contact you regarding relevant content, products and special offers.
You also agree that your personal information may be transferred and processed in the United States, and that you have read and agree to the Terms of Use and the Privacy Policy.

Anomalies in the jobs market have been revealed in research for Computer Weekly, writes Bill Goodwin. The findings highlight the need to look at what training is offered to young people and career IT workers



Serious questions are being asked about the training provision for staff employed by small firms, as evidence begins to emerge that, in the midst of the worst economic slowdown in IT for a decade, many are struggling to fill IT vacancies.

Research compiled for Computer Weekly by E-Skills UK, the national public-private sector partnership for IT and communications training, shows the IT jobs market running at two speeds, with large firms laying off contractors and freezing recruitment while small firms are unable to find appropriate IT staff.

By re-analysing data from a survey of 800 firms in February, E-Skills UK has found that small companies were reporting significant shortages of people with systems support and development skills during the trough of the IT jobs market slump. More smaller firms were planning to increase their IT staff than larger companies, and fewer expected to cut staff.

Nearly 20% of firms employing 50 people or less said they could not find enough staff with systems administration and support skills, whereas only 6% of firms employing 500 or more staff had the same problem. Similarly, while 10% of small firms reported shortages of IT development staff, only 5% of larger firms did. The discrepancy explains the conflicting picture given by recent IT jobs market reports which, until now, have appeared to be contradictory.

At first sight, the optimistic view of taken by the E-Skills UK research is difficult to reconcile with the gloomy analysis of the Computer Weekly/SSP Quarterly Survey of Appointments Data and Trends, but take into account the difficulties of small firms and the discrepancies disappear.

For IT professionals struggling to find work, the revelation that smaller firms are crying out for staff will come as welcome news, but it can be difficult to reach the people they need. They can rarely afford to advertise in the national press, and they tend to prefer advertising in the local media to listing vacancies on the Internet.

Small firms may not be able to match the salaries offered by their larger competitors, but they do offer IT workers other benefits, said Dave Bishop, deputy head of press and Parliament at the Federation of Small Businesses. "Clearly, highly skilled IT specialists demand a large salary and packages of benefits and small firms sometimes find it difficult to compete. But we do find where IT people look beneath the surface, they see the greater challenges and responsibilities that small businesses offer, and small businesses can be more appealing," he says.

In practice, the IT professionals small firms are looking for are likely to have quite different skills to those sought by larger companies. Staff in large firms are often specialists but smaller companies need people who can turn their hand to anything.

Philip Virgo, strategic advisor at the Institute for the Management of Information Systems (Imis), said small firms need good all-rounders, who can set up a network, install software and programme spreadsheets and databases. And, with most small firms having to multi-task, they need people with good business skills who can take part in other activities.

Steve Gilroy, vice-president of Comptia, the IT and communication companies' association, agreed. "A small business does not need a network administrator and a helpdesk person, they need a Jack-of-all-trades," he said.

Yet colleges, universities and private sector training organisations are failing to turn out professionals with all-round skills. The Federation of Small Businesses said the provision of suitable courses in further education colleges is "patchy".

Experts believe the solution may be the creation of bite-sized training courses that will enable IT staff in small firms to learn the skills they need, when they need them, without having to enrol on vocational courses. Few small firms can afford to release staff for any length of time, and few have the resources to pay for training.

All of this should precipitate a re-evaluation of training and spending priorities and further research to develop a clearer picture of small businesses' needs.

E-Skills UK is expected to look more closely at discrepancies between the skills requirements of companies of different sizes in the future and the two-speed economy will be the subject of a study by Imis which will be released over the next few weeks.

E-Skills UK's findings are supported by new research from Comptia and analyst firm IDC which found that the UK has a shortfall of 200,000 skilled IT professionals. It forecast this number will grow to 300,000 by 2005. Many of these vacancies will occur among smaller firms.

Further confirmation comes from the Computer Weekly/SSP Survey, which showed that demand for PC support staff, one of the IT skills favoured by small businesses, is still holding despite a dramatic slowdown in demand for most other IT skills.

A deeper analysis is expected to bring to light strong regional variations in the level of IT skills shortages in small firms, with London and the South East faring better than the regions.

Jobs totals hit 10-year low
The UK is in the midst of its biggest downturn in IT the jobs market for 10 years. IT suppliers have reduced their recruitment efforts steadily for the past three years. Large employers have also cut back staff, though less dramatically, with only the public sector and small businesses stepping up their hiring efforts.

Research by the Institute for the Management of Information Systems suggests that the IT industry is experiencing a shakeout that will follow the pattern of that experienced by the motor industry after its first 50 years. Although the sales volumes of cars increased steadily throughout the depression of the 1920s and 1930s, many famous names vanished, and it was 20 years before the share price of the surviving car manufacturers recovered. Similarly, many famous IT suppliers may not survive the downturn. The current wave of viruses and denial of service attacks is leading to a consolidation of Internet service providers, and there may need to be major changes to the infrastructure before growth in the use of the Internet reaches its next phase.

The high-tech recession will mean that many suppliers will have to take another look at what their customers actually want. There is a growing realisation that users want simplicity, reliability, and fast response times rather than a profusion of features.

The timing and scale of the recovery will depend on the ready availability of broadband for businesses and consumers. ADSL is not fast enough to eliminate the bottlenecks experienced by IT user organisations looking to integrate their supply chains.

Source: Imis research Philip Virgo
E-Handbook

E-Handbook

E-Zine
Read more on IT for small and medium-sized enterprises (SME)