Sleight of hand
Although they're still waiting for 3G to boost the handheld market, consumer and business suppliers have several cunning PDA...

Download this free guide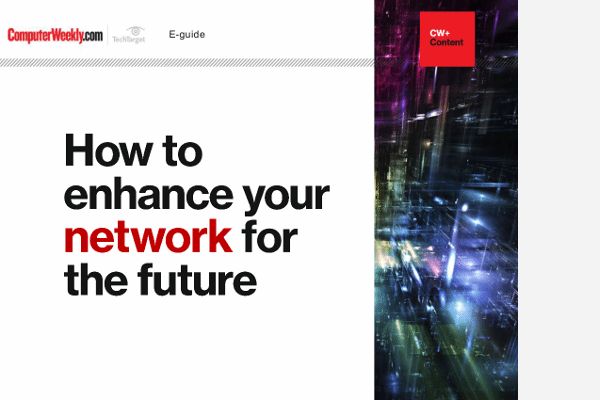 How to enhance your network for the future
Latest on networking developments and directions: NFV, self-optimising networks and IoT enabled smart cities
By submitting your email address, you agree to receive emails regarding relevant topic offers from TechTarget and its partners. You can withdraw your consent at any time. Contact TechTarget at 275 Grove Street, Newton, MA.
You also agree that your personal information may be transferred and processed in the United States, and that you have read and agree to the Terms of Use and the Privacy Policy.

Although they're still waiting for 3G to boost the handheld market, consumer and business suppliers have several cunning PDA tricks up their sleeves.



There have been major shifts in the market for mobile devices. The convergence of handheld devices and wireless phones has produced a more competitive market, in which IT vendors, electronics suppliers and mobile phone manufacturers are all fighting.

One of the signs of change came in July 2001, when Psion pulled out of the market. There was a great deal of hype surrounding handhelds in 2000 - in 2001, that changed as the market began to consolidate. This year, further consolidation and convergence are going to be the hallmarks as personal digital assistants (PDAs) get closer to mobile phones. But Mark Klein, product marketing manager of handhelds at Sharp, says this doesn't mean the hype is over; in fact, he argues, we are going to see much more noise about this section of the market.

"The hype has hardly begun," he claims. "With handhelds, there has been a focus on personal business users, but the appeal to that customer base is over and we are pushing into a new phase, looking at handhelds in terms of consumer electronics and entertainment. The numbers in this sector are still ramping up."

Sharp certainly hopes this is the case - the manufacturer, Japan's leading PDA supplier, is launching a Linux/Java PDA in April that it is hoping will position Sharp as a major player in handhelds in the UK.

In product terms, Klein says there are two major technical advances making PDAs more feasible for greater professional use and as consumer entertainment devices - better, prolonged power capabilities and access to faster wireless networks.

Testing the water
General Packet Radio Service (GPRS) is the technology on which the next generation of mobile data networking is based. It provides a stepping stone from today's systems - which are fine for voice, but not robust or fast enough for mobile data - into the third generation (3G), which will provide true broadband services at 2Mbps.

These faster networks provide the always-on capability that is regarded as vital in enhancing mobile data access, as well as greater bandwidth and improved connection speeds, particularly in the development of 'push' services, where information is sent out to mobile devices as an alert or text message rather than users having to dial a Website.

"One aspect we don't see yet that will be important for consumers is broadband access," emphasises Klein. "But the content and applications are coming round now. Until recently, a PDA has been seen as purely for hobbyists, but now major ISVs are looking seriously at applications for PDAs and how to extend their existing software out onto these devices."

Chris Gee, general manager at Ideal Hardware, agrees with Klein. "There are a lot of PDAs out there, but no one is doing anything with them," he argues. "Even if they are synchronised with a desktop machine, it's usually only for e-mail and calendar functions, which is very limited." Ideal has partnered with Airlan Data to produce an out-of-the-box handheld system, which includes a Nokia device with an Orange airtime contract. "The customer just pays once and can then do anything he or she would do on a notebook," explains Gee.

The system has not been heavily promoted by Ideal, partly because, like everyone else in the handheld market, the company is waiting for faster networks to really drive forward demand. "We have held off a while because we feel some people are reluctant to buy handhelds now because they feel GPRS is better and cheaper," says Gee. Ideal's system runs at 28Mbps, which he claims is "pretty fast" for wireless, but can be expensive at 20p a minute, plus a charge of £10 a month.

"Actually getting to this point where we can sell the airtime contract, hardware and software has been quite difficult," he admits. "Everyone who has seen the demo of this has been very impressed with its speed and capability, but we certainly have not gone to town in pushing it. It's more a case of testing the water, because this is an emerging market and we don't know which way it is going to go."

There have been several twists and turns in the path towards developing a single mobile wireless device that provides voice and data capabilities. From the phone side, there has been the development of WAP phones, which so far have failed to set the world alight, although there are some more optimistic forecasts about sales - again once 2.5G and 3G networks are more readily available.

The latest figures from telecoms watchdog Oftel show that WAP phones are owned by only ten per cent of the UK population, although this figure has risen from seven per cent in the previous quarter. In comparison, Oftel says there were just under 44m UK mobile phone subscribers in September 2001.

From the IT side, the development has been led by manufacturers like Palm and Compaq, with the battle focused more on operating systems and on providing synchronisation functionality, so users can use handhelds as extensions of their desktop machines.

There are one or two other devices that attempt to marry up corporate computing and wireless connectivity, such as the RIM Blackberry, which provides always-on access to corporate e-mail and basic personal information via GPRS. Quite a few organisations have shown interest in the Blackberry because it provides cost effective two-way mobile data, but its big drawback is that it doesn't provide voice communication.

Pumatech is a leading provider of software synchronisation with its Intellisync technology and is rolling out its Mobile Application Platform to develop personalised content for mobile devices. The interesting thing about it is that Pumatech has not tried to second guess which way the market may go, but has developed the software for as wide a range of devices as possible, including WAP phones, mobile phones with SMS, Palm handhelds and pocket PC devices.

Not just a fancy diary
Where does all this development leave the channel? Sharp's Klein says resellers have to start thinking about handhelds as more than just standalone bits of hardware. "They need to see this as a networking opportunity within the enterprise," he comments. "It's about how to extend what they already do - but resellers have to be clear on what they have to offer as part of that."

The basics of this approach would be about providing software, network configuration and management of portable devices. Keeping PDAs secure is a particular challenge facing IT managers, but Klein thinks no one yet knows just how handhelds are going to develop. "We are interested in the social aspect and how people may end up using these devices," he argues.

He also warns that more general resellers may find it tough to get into the market. "We sell mainly through specialist PDA resellers and it will be a challenge for more general resellers to compete, because it can be hard to understand some of the technical aspects," he claims. "Handhelds are complicated."

On the other hand, Prash Vadgama, European sales and marketing manager at GPS manufacturer Navman, says that while software development for handhelds is moving along, there is no need to see the devices as particularly complex. "They are very simple," he says. "These are just devices with a processor and a screen - so in our terms, they are viewers."

To date, reveals Vadgama, most content for handhelds has been pretty basic. Not surprisingly, he sees mapping and location information as the foundation for far more interesting and useful applications. "We want these devices to be used for more than one simple application," he comments. "People can use mapping data and location guidance as an asset. The next stage will be to look at two-way communication devices."

As well as the four existing UK mobile network operators, there are other networking technologies around that can enhance the use of handhelds. Packet-switched wireless data networks, such as Transcomm's Mobitex, provide real-time wireless links between remote users and a central network. These networks do not, however, provide voice communication and are better suited for short, frequent data transmissions, rather than transferring large volumes of data.

Vadgama says the use of handhelds as two-way communication devices with more complex applications will boost the market. One obvious focus is the public sector, particularly the emergency services. Many police forces and ambulance services are already trialling remote devices supposed to provide them with accurate location information, enabling them to reach emergency situations more quickly and feed back information to a control centre or emergency room. "If you see a handheld as a fancy diary, there is probably not much of a market," Vadgama claims. "But viewed from the correct perspective, there is a market." He adds there are many channel opportunities. "There's installation, training, maintenance and upgrade," he suggests. "This is a genuine business model with a genuine role for the reseller."

Navman software runs on both Palm and Pocket PC platforms. In the UK, the company works through distributor Computer 2000 for broad-based consumer sales and A2000 for more specialised sales. "With A2000's niche experience in wireless mobile communication channels and C2000's extensive full sales experience, we are confident that resellers will be fully supported and therefore able to maximise the true market potential for GPS technology," claims Vadgama.

Tough competition
Companies like Navman are banking on the fact that bespoke software development will play a big role in the growth of handheld sectors as companies realise the potential for cross-referencing data and mapping information. "I'd guess the profit on an iPAQ is at best ten per cent, but margins for resellers selling whole systems is more like 25 per cent - and we're not talking 25 per cent on a mouse," Vadgama says. "These are reasonably priced systems."

In fact, the pricing of handhelds was causing concern towards the end of last year. Hardware prices had fallen. By September, there was a glut of products available, particularly at the less expensive end of the market, leading to fears that manufacturers were failing to capture buyers.

Palm replaced its earlier m100 and m105 models with the new entry-level m125 in autumn 2001 at a retail price of £169. At the high end of the market, Palm now has the m515, which competes with Sony's CLIE devices - which also run the Palm operating system - while both companies are competing with an increasing number of handhelds from various manufacturers, including HP, Compaq, Casio, Toshiba, NEC and Fujitsu Siemens.

Market research firm Canalys says that in the final quarter of 2001, shipments of mobile devices in Europe were down 19 per cent on the final quarter of 2000, from 1,086,891 to 884,885 units, despite a rise in sales of 12 per cent for the year as a whole.

With growing competition in the market between hardware manufacturers, prices are still being pushed down.

Further information:
www.canalys.com
www.ideal.co.uk
www.navman.com
www.sharp.co.uk
Read more on Wireless networking