Setting out your stall: e-marketplaces in the spotlight
Mark Vernon presents a 20-point guide to e-marketplaces
This Article Covers
RELATED TOPICS
Mark Vernon presents a 20-point guide to e-marketplaces



E-marketplaces are online hubs that bring together buyers and suppliers to form a trading community. The power of the e-marketplace stems from the connectivity of the Internet.

This enables the effective linking together of many sellers and buyers, sometimes known as the butterfly model. E-marketplaces have arisen because the openness of the Web enables companies to interact in a more flexible way. E-marketplaces have developed in order to exploit this opportunity through disintermediation (eliminating the middleman) where desirable.

Download this free guide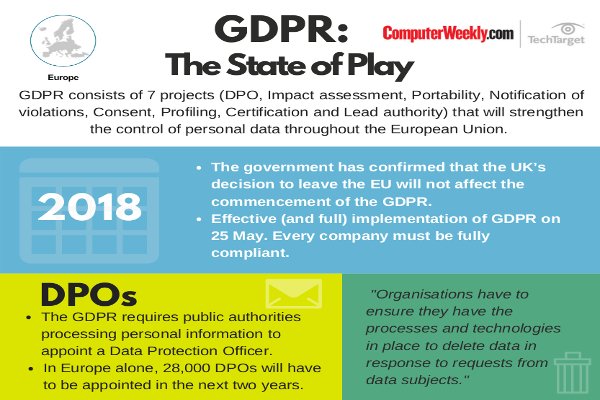 Infographic: GDPR - The State of Play
Get the latest information on how GDPR is going to affect your business and how to avoid any unwanted fines with this simple infographic.
Having answered two questions already, the next 18 provide an introduction and guide to this growing area of e-business.
What different kinds of e-marketplace are there?
The cynic would say those that make money and those that do not. However, they can also be divided into three, not mutually exclusive, types of e-marketplace:
MRO marketplaces are non-sector specific, or horizontal, marketplaces used to systematically source maintenance, repair, and operating goods (MRO).
MRO exchanges are horizontal marketplaces used to spot-source MRO goods that are required to fulfill an immediate need at the lowest possible cost.
Vertical exchanges are sector- or industry-specific marketplaces used to spot-source raw materials or components that go directly into a product or process.

What is the difference between an e-marketplace and an online auction?

The e-marketplace has links and other content, as well as the transaction-specific functionality. In other words, it seeks to take care of all the needs around a particular sale or relationship. An auction is designed to facilitate one-off transactions for one-off needs, with the goods or contracts going to the highest or lowest bidder.

Which e-marketplace models are more successful than others, and why?

Marketplaces that are able to build in value-added services beyond the basic transactions. Also, research shows that marketplaces focused on particular industries or sectors tend to be the most successful, since they can build up a regular customer base that leads to the critical mass required to turn a profit.

Which e-marketplace models are more radical or revolutionary than others and why?

The mark of the radical is where collaboration is the first priority. Here the traditional push and pull of buyer/supplier is mutating into a relationship where the latter becomes a strategic partner of the former, working together to mutual advantage. Competitive pressure is maintained not only by driving down costs but by building up service, which can be achieved more effectively when the supply chain is working well.

With MRO.com, for example, traditional business models failed to provide any competitive edge. But new ways of organising the supply chain have provided more opportunities. MRO.com deals with maintenance and repair services. Buyers and suppliers are now able to collaborate more fully and develop richer business relationships.

Will e-marketplaces change business for ever?

Of all the changes the Web has brought to business methods, e-marketplaces are having the greatest impact to date. This is reflected in terms of growth: Merrill Lynch estimates that the Web-based business-to-business marketplaces will grow to be worth $14bn by 2002. They are so dynamic because they attack the fundamentals of trade, and by influencing cost structure, enabling collaboration and improving sourcing possibilities.

What is the most important commercial reason to get involved in an e-marketplace?

In short, cost savings. Costs are being taken out of the supply chain, new revenue streams are being generated, supplier contracts can be optimised, and quicker response times can be achieved. For example, the Volkswagen online exchange expects to save 50% on supplies through increased efficiency in procurement.

What is the most important impact e-marketplaces are having upon the supply chain?

Fear is probably the biggest user response to e-marketplaces, since suppliers do not understand what is going on. But more positively, e-marketplaces might in a sense be said to perfect the connectivity that electronic data interchange (EDI) and enterprise resource planning (ERP) systems brought to the supply chain. With the connectivity of the former and the knowledge flow of the latter come deeper ways to collaborate - a result of the many models of e-marketplaces, and clearer ways to disintermediate - since e-marketplaces bring transparency.

They are also making the supply chain more flexible - a development that has a number of ramifications. For example, it reduces customer loyalty, which means that sticking to delivery promises is vital. Alternatively, the supply chain has to be efficient in order to enable well-informed decisions.

What is the most important impact e-marketplaces are having upon procurement?

When it comes to the specifics of procurement, e-marketplaces show potential in a number of areas. For example, they give small companies greater buying power since they can club together. Alternatively, automating procurement reduces purchasing costs (research shows that in traditional procurement processes up to 10% of the total cost stems from administration). For example, FreeMarkets enables customers to identify global suppliers and prepare detailed requests for quotes by tapping into its extensive sourcing database. FreeMarkets estimates it has saved customers nearly $1.5bn to date.

When might an auction suit a business's purposes better than an e-marketplace?

Auctions are good for spot-sourcing goods so they are useful if a company needs to make a one-off purchase or when it is buying a new product. For example, Tesco used an online auction as a one-off in August to attract corned beef suppliers. In the space of three hours the supermarket had offers from seven suppliers at lower costs than would normally be expected when its demand was immediate. The auction also meant that Tesco was able to receive offers from an open arena. In an e-marketplace it would have pre-determined suppliers.

How can businesses get involved in an e-marketplace?

A basic but good piece of advice is to try more than one. E-marketplaces are prolific but, as research shows, many will fail. Analysts at UBS Warburg, for example, believe that 80% of existing business-to-business marketplaces will disappear. Trying to back the right horse is therefore worth some effort.

Decisions need to be made on the basis of understanding how a marketplace is going to benefit the business. The best known supplier or a competitor's favourite is not a good measure of the best marketplace. Value and return on investment are.

How can a business work out which one to join?

The vertical segment that the e-market is addressing is one important issue. Generally speaking, those sectors that are ahead in terms of technological sophistication and have undergone some consolidation are likely to make the e-marketplace model work well for them. For example, computer and electronics retailers, the automotive supplier sector, or travel and transport, look good today. E-marketplaces aimed at SMEs, on the other hand, might not fare so well.

The presence of existing customers is also a good indicator, not only since they can act as references, but also because most e-marketplaces depend on reaching a critical mass before economies of scale can be delivered.

Should a business consider developing its own e-marketplace?

If the company can generate the critical mass itself. As a measure of how large that mass might be to really benefit from savings, Boeing, with annual revenues of $58bn, has developed its own marketplace. Even large car manufacturers have decided to club together - Covisint has been formed by Ford, Daimler Chrysler, GM and Renault/Nissan. Another approach is to use a brand to gather the momentum that attracts others to join. This is the case of the retailing marketplace GlobalNetXchange, driven by Sears and now a joint venture with Carrefour and Oracle, which is attracting several smaller players.

What about technology and application platforms?

Interoperability is probably the most important issue. Ask what other marketplaces and suppliers it can work with. Another important element is integration, ensuring, for example, that back-end technology is in place before the marketplace goes live. The point is that any e-marketplace worth its salt should enable real-time intelligent information to be accessed, allowing accurate distribution and delivery promises to be made.

What worries should you have about e-marketplaces?

Many of the fears that firms have of e-marketplaces stem from not being able to answer questions about which marketplace to join, how much it will cost, which will be the best one, or whether it is wise to join more than one.

Another concern stems from the novelty of the whole e-marketplace process. It takes time to achieve a balance between the buyer and sellerinterests.Catalog International, for example, estimates that it takes between one and three years for an equilibrium to be established where both sides gain.

Do e-marketplaces really understand the needs of businesses?

The warning here is that many marketplaces are driven by the technological opportunity, in effect a Web site looking for commerce to happen. Only a small number are based on the boards of large firms insisting that marketplaces deliver on what others boast, cost savings, better sourcing and the like. Generally speaking those marketplaces that operate in niches are likely to understand what they are doing, since their raison d'ˆtreisto exploit a commercial opportunity rather than a new technology.

What kinds of business should steer clear of e-marketplaces?

The common answer to this question is none. All businesses can benefit as long as they operate in the type of marketplace that can meet their needs. A small company looking to buy biros, for example, should opt for the horizontal MRO marketplace, notthevertical exchange dealing in large volumes and established relationships.

When and why should businesses be cautious of auctions?

There is a danger that auctions can conflict with existing supplier relationships with a promise that better ones can be established "on the hoof". For certain products, such as office stationery, that promise might be right. But where a company is getting good service at the right price for raw materials or high volume goods from an established relationship, be it in an e-marketplace or in a more traditional space, it is good advice to stick with it. It is unlikely that an auction will enhance them.

How can you choose an e-marketplace that will last?

Consolidation is the big threat here. business-to-business marketplaces are in "land grab" mode and it is hard to spot those that will last in the long term. The flexibility of the technology that underpins the marketplace is another consideration, since non-proprietary, open standards are likely to be more robust when change comes about. Also certain applications will allow greater freedom to chop and change within marketplaces.

A brief guide to the kind of companies contributing to the business-to-business marketplace revolution

Management tools
i2 Technologies - IT solutions: supply chain optimisation
Peregrine Systems - IT solutions: infrastructure management software
Zygon - IT solutions: product portfolio management/ product data management

Applications
Ariba - IT solutions: e-business, includes Tradex and Trading Dynamics
Commerce One - IT solutions: CommerceBid for auctions
Catalog-International - IT solutions: e-catalogue software for mid-size companies
Webridge - IT solutions: B2B marketplace software
Iona Technologies - IT solutions: enterprise portal
Bluestone Software - IT solutions: one-stop-shop total solutions
Intentia - IT solutions: collaboration applications from ERP suppliers
SpaceWorks - IT solutions: enterprise e-marketplace solutions
InterWorld - IT solutions: enterprise e-marketplace solutions

Services
IBM - IT services: industral solutions and services
Sybase - IT services: database provider
Aptegrity - IT services: e-business application management services
Infogain - IT services: systems integrator specialising in e-business and technical architecture
Compelsolve - IT services: systems integrator specialising in e-business
Brio Technologies
B2X Eservices Builds and delivers business intelligence

Marketplaces
MRO.com - Industrial supplies, MRO marketplace
Achilles - UK utilities e-marketplace
FreeMarkets.com - Real-time bidding for industrial materials
Autolink.com - B2B e-marketplace for automotive dealers
Office.com - Business services for small businessesOnline store for business supplies Business advice. Market analysisOnline community
OilSpot.com - Marketplace for petroleum distributors, manufacturers & refiners
Hyporium - Based in Europe, offers an online exchange for computer hardware Information source
HydrocarbonOnline.com - Marketplace for the oil refining and hydrocarbon processing industry
OneCore - Financial services for small businesses
NestleEZorder - Nestle's business-to-business Web siteDirect order and tracking of Nestle's food and beverage products
PrimeAdvantage.com - B2B demand-aggregation e-marketplace for the industrial manufacturing industry
PaperExchange.com - Online exchange for pulp and paper products. Commision-basedNews, industry calendar
The Intermodal Exchange - Shipping and logistics auction site for ISO marine and domestic containers
RateXchange - Telecommunications Bandwidth exchange Custom auction Lead bulletin
Water2Water.com - Online market for the water industry
Read more on E-commerce technology