Sea and San in Cannes
IBM's San World 2001 event was held in the South of France last month, and IBM seems to be changing its Storage Area Network...
This Article Covers
RELATED TOPICS

Download this free guide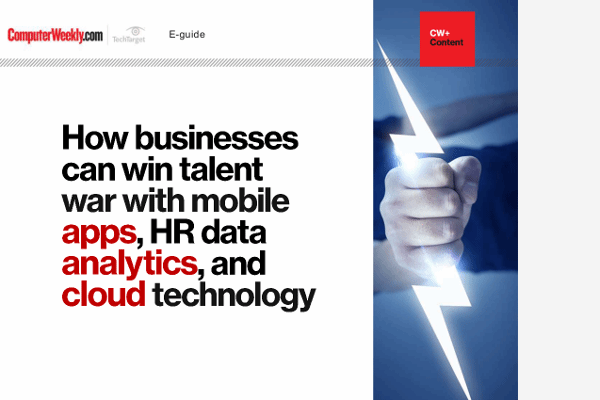 How businesses can win talent war with mobile apps, HR data analytics and cloud technology
Latest articles on HR best practices: mobile apps disrupting the annual staff appraisals; reasons for and against open-source software; and Rolls-Royce case study.
By submitting your email address, you agree to receive emails regarding relevant topic offers from TechTarget and its partners. You can withdraw your consent at any time. Contact TechTarget at 275 Grove Street, Newton, MA.
You also agree that your personal information may be transferred and processed in the United States, and that you have read and agree to the Terms of Use and the Privacy Policy.

IBM's San World 2001 event was held in the South of France last month, and IBM seems to be changing its Storage Area Network tune.



The message that the industry should move beyond the San/Nas debate, was sent out loud and clear by host IBM to its partners and customers at the San World 2001 conference in Cannes April 9-12, 2001. The focus of the conference was storage networking across heterogeneous environments and bridging network infrastructures, such as fibre channel, IP (internet protocol), gigabit Ethernet, and the emerging InfiniBand.

In a tacit admission that true Sans will never work, IBM believes that the answer lies with 'intelligent storage network solutions'. IBM's 'vision' is Storage Tank, where there is a software layer in all the servers that allows them to share the same data, and to have automated storage management systems.

Or, as Dietmar Wendt, vice president, Storage Systems, IBM EMEA, put it in IBM-speak: 'Our answer is that we remove this data from a current distributed information infrastructure to an intelligent storage driven information e-infrastructure, which is central to integrating a pervasive world. We need to move our customers from islands of information to a centralised world of information.'

Big Blue was pushing its vision, calling other suppliers to join the technology drive. The key words at Cannes were interoperability and open standards. 'Data e-storage is up by 100 per cent every year. Interoperability and data sharing is important, because it's about money and reducing costs. You need data sharing and complete interoperability between heterogeneous platforms. What we will see is a change in the competitive environments,' said Wendt.

'Universal data exists, and this is what our customers are demanding. We are expanding the system to much broader source; virtualising not just the box, but the whole storage network. We will implement lifecycle quality management from the highest point in the environment for the open environment. This is an open vendor system solution, not an IBM proprietary solution,' claims Wendt.

IBM claims it is leading the development of open standards for storage, and is inviting others to join in. 'IBM has moved from a simple acknowledgement of the Linux movement by embracing the open source and open standards philosophy into our storage networking solutions,' claims Linda Sanford, senior vice president and group executive, Storage Systems Group. At San World, Dr Ed Grochowski, IBM guru of storage devices at the Almaden Research Centre, confirmed that the standards would be open and published, so that others will be able to meet them. This coincides with an announcement by Intel to release the iSCSI (Small Computer Systems Interface over IP) specification as open-source software.

Time will tell if IBM's storage competitors, EMC and Network Application, join in and develop the storage standards along IBM lines.

Big splash
Flagging network giant and IBM partner, Cisco, made a big splash at Cannes by announcing its move into the storage market. Previously solely in networking, Cisco is now focusing on developing network products that will allow customers to deploy storage applications. It launched, at Cannes, the first product available for the Cisco Storage Networking Initiative, the SN 5420 Storage Router, which is a multi-interface platform that, apparently, allows devices on IP networks to access pools of fibre channel storage. It works together with iSCSI drivers installed in hosts servers, which encapsulate the SCSI data and transports them to the 5420 Router over TCP/IP, which then forwards the data to any fibre channel based storage device on the network.

'The challenges facing the industry are the inherent lack of security and interoperability in fibre channel. San is currently impeding SMEs to provide applications to their customers. The 5420 Router, through iSCSI, solves many of these of those problems,' claimed Chris Huggett, new technology sales, Cisco Systems EMEA. 'Customers who want to connect service provider with storage environments are typically well versed in IP Internet technology. The service provider can utilise the Ethernet plus the security features of IP network; they can share their storage and storage networking resources among different customers while the security is maintained.'

Brocade, a networking switch specialist, announced the Silkworm 12000 Core Fabric Switch, which, it said, expands the capabilities of existing fibre channel storage environments and is extensible to support both IP and InfiniBand networks. 'We have a range of bridging platforms of fixed configurations, modular and high-end platforms, and on top of that we're incorporating a variety of fabric operations - what is called our Fabric OS (operating systems) capabilities,' claimed Paul Trowbridge, Brocade EMEA marketing director. The Fabric OS extensions include advanced fabric services and expanded San management which, apparently, enhances San application capabilities by providing management information.

The standard for switches has been defined, but the ability to mix different switches on the same network will not be available on any product until the second half of this year. Trowbridge does not believe that customers will want to field mixed switch networks just because there is interoperability. 'Customers want to have as few vendors as possible in an open environment. This makes the support easier and the training more simple. What customers want from standards is the ability to change vendors and choose freely who their vendor is. Standards put pressure on the vendors to supply what customers want because if not, they will go somewhere else.'

Joy Macknight
Read more on Business applications