Reflections of the past?
The dotcom boom and bust is nothing new - look back to the 1980s, when a familiar pattern appears. So which suppliers will...

Download this free guide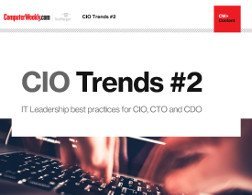 Your exclusive guide to CIO Trends #2
Access the collection of our most popular articles for IT leaders to help you get prepare for post-Brexit world, make use of "bimodal" IT strategy and blockchain technology.
By submitting your personal information, you agree that TechTarget and its partners may contact you regarding relevant content, products and special offers.
You also agree that your personal information may be transferred and processed in the United States, and that you have read and agree to the Terms of Use and the Privacy Policy.

The dotcom boom and bust is nothing new - look back to the 1980s, when a familiar pattern appears. So which suppliers will survive the latest downturn? Jane Dudman reports.



Does the following scenario sound familiar? "A thriving market takes a rapid and precipitous downturn; valuations collapse, access to investment capital dries up and company failures are commonplace. Manufacturers and distributors strain under the weight of declining sales and excessive inventory. Stocks tumble after parades of reports reveal missed corporate earnings; earnings are lowered and there are widespread layoffs as consumer confidence deteriorates. It is a cataclysmic convergence that brings a technology-driven boom to a grinding halt."

Is this the new economy of the new millennium? Actually, it is a description of the technology business circa 1985 - and an illustration of how little things change in the IT industry.

"In an industry that expends so much effort to define the future, there is more than a little irony in the fact that many of us ignore one of the oldest truisms: history repeats itself," comments James Bennet, managing director of the European Technology Forum, which is running a two-day conference in London this week, looking at the present state of the IT market. "The parallels we are drawing is that 1985 was one of those technology blips, where there was a big bubble."

The bubbles of 1985 were chips and PCs, rather than dotcom suppliers, and although both those industries subsequently went through major consolidation, the real lesson Bennet draws from looking back 17 years is the fate of the then dominant mainframe and minicomputer manufacturers. "Our point is that in difficult times, companies have to get stronger, and the heavyweights of 1985 - companies such as Wang, Sperry, Burroughs and DEC - came out much weaker," he says. "They were replaced by more nimble companies."

Victor Basta, co-founder of advisory and investment firm Arma Partners, who at the conference keynote session will be interviewing BT chief executive Ben Verwaayen and Fujitsu Services chief executive Richard Christou, says another lesson from history is that the state of the present market is close to normal in many respects, and we had all better start getting used to it. "There are some abnormal things about the present market, such as the fact that the whole climate for exits - that is, mergers and acquisitions and [initial public offerings] - barely exists today," he comments. "But in most respects, these times are closer to normal than people think."

This idea has several consequences for both suppliers and users in today's IT market. It means the emphasis on return on investment from any IT spending will remain. It will also make it harder for start-ups to muscle into certain market sectors, according to Basta. "If you look back over the past 20 years, most of the value has been created by a handful of companies, such as Cisco and Microsoft," he says. "That polarisation has returned, which means the ability for someone like Amazon to come from nowhere and achieve market leadership will be much more difficult."

Basta believes the present market favours more specialist application and service companies, with good knowledge of an important market, such as insurance. "Companies with a clear domain knowledge have a reason to be around," he says.

Bennet says it will be at least a couple more years before the real winners and losers emerge, but his tip is to watch out for companies that began to struggle before the present downturn. "Companies that had problems because of their own internal challenges, rather than anything to do with the economy have had to get rid of their fat early and may now be well-placed to perform well," he comments. "History shows us that large companies have harder times in hard times, and this time around a lot of suppliers have not reacted quickly enough and will ultimately pay the price."

Further insight into the state of the present market comes from Cap Gemini Ernst & Young, which has commissioned a report that will be presented at the conference by Nick Powell, the consultancy's technology partner. "One of the most interesting findings to have come back from IT users and buyers is that, whereas before doing nothing was not an option, it is now a very positive option," points out Powell. "Users are saying they have enough IT and they are unwilling to make any further major buying decisions."

Another factor is the feeling among users that they want better ways to use the technology they already have, with the emphasis on small-ticket projects, he says. "In the past, IT suppliers have sold the future, but now everyone just wants to catch up to the present."

Nonetheless, Powell draws an upbeat conclusion: "We sense there is still a market for suppliers that can demonstrate a real economic advantage from investing in IT. We are at the beginning of a boom, not the end. A lot of what we were all promised by IT has yet to materialise, and in many ways we are in the early years of what could be a 30-year boom."

Look back at 1985 for pointers to the future
In 1985, the dominant players in the UK IT industry were mainframe and minicomputer manufacturers: IBM, ICL, Sperry, Burroughs, Honeywell, NCR, DEC, Tandem, McDonnell Douglas, Hewlett-Packard, Wang and Nixdorf.

But the writing was on the wall: in 1985 IBM's software income grew by 31%; the following year, that growth dropped to 24%.

New companies were emerging to change the shape of the IT industry. One, in particular, was to have a huge impact. In 1985, Microsoft was 10 years old, with 900 employees. In November, Microsoft shipped Windows 1.0. The following year, it went public, at $21 a share.

In the mid-1980s, the boom industries were chips and PCs. PC manufacturers such as Apricot, Amstrad, Amiga and Commodore were doing well in 1985. By the end of the decade, however, non-IBM compatible manufacturers - apart from Apple - were fading while PC makers Compaq and Dell were booming.

As for the chip market, in 1985, US chip-maker AMD celebrated its 15th year with one of the best sales years in company history. But by 1986, Japanese semiconductor makers had muscled in on the US-dominated memory market and a world slump in demand for chips meant AMD and other chip-makers had to look for new ways to compete. In the first quarter of 1986, AMD's sales were down by 24%, Intel's sales dropped by 25% and National Semiconductor's sales fell by 17%.

The two-day UK Technology Summit began yesterday (Wednesday) in London. www.euro-techforum.com
Read more on IT for small and medium-sized enterprises (SME)