Outsourcing: why do IT yourself?
The computer industry is looking forward to huge revenues from ASPs buying new systems to service this burgeoning outsourcing...

Download this free guide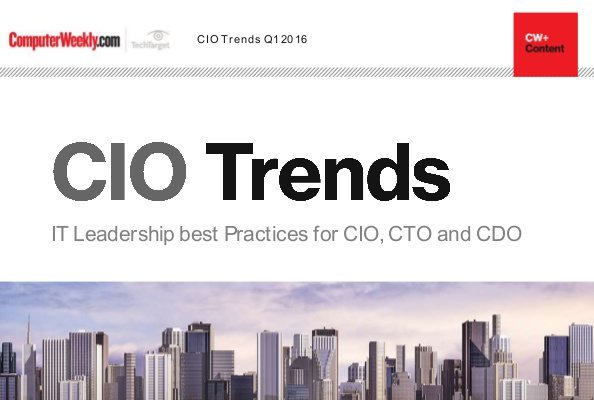 Your exclusive guide to CIO trends
A collection of our most popular articles for IT leaders from the first few months of 2016, including: - Corporate giants recruit digitally-minded outsiders to drive transformation - Analytics platforms to drive strategy in 2016 - Next generation: The changing role of IT leaders.
By submitting your personal information, you agree that TechTarget and its partners may contact you regarding relevant content, products and special offers.
You also agree that your personal information may be transferred and processed in the United States, and that you have read and agree to the Terms of Use and the Privacy Policy.

The computer industry is looking forward to huge revenues from ASPs buying new systems to service this burgeoning outsourcing market, but what are the benefits for the customer?





Introduction

Outsourcing, or managed services, are certainly not new concepts. Electricity, gas and water have always been an outsourced activity for the majority of users. Some services, like telephony have, by its very nature, always required a large organisation to implement and mange. The pressure is now on companies to move computer and information services, usually the domain of the IT department, into an outsourced model. The claims of improved reliability coupled with lower cost seem irresistible, but is outsourcing really the saviour of the over stressed IT manager? According to recent figures by Intel, outsourcing is likely to be a 1.5 trillion-dollar business by the year 2003. The major recipients of this windfall are likely to be ASPs, ISPs and solution integrators. Strangely though, figures showing how many companies are likely to save from outsourcing are much thinner on the ground. The three main areas that managed services are likely to encroach on within IT departments are network management, email messaging and web services including e-commerce. Internet services Out of these areas, web services and e-commerce looks potentially to offer the greatest benefits. Outsourcing websites and e-commerce solutions has been common practice for sometime. The main reason for this was due to the lack of skills and experience within companies, who were traditionally used to telephone ordering or front-end association with shops or the distribution chain. Fearing that the rapid pace of the Internet would leave them behind, many companies chose to outsource, eager to establish an online brand before the competition turned up. The current wave of Internet start-ups have the advantage of being able to buy "net ready" technology as opposed to trying to integrate legacy systems into a web front end. The web model is also popular for outsourcing because of the potential complexity of applications involved. If an e-commerce site needs to be connected to a back office transaction or database system, the development work required to both set-up and manage is time consuming and costly. With the pace of innovation on the web, this skill set is still in short supply. The most compelling reason is always financial. Last year, electronic trading house, Ebay, had several hundred million dollars wiped off its share price and uncountable lost transactions from annoyed customers, after their auction and online buying website had several major blackouts (one for 22 hours). This was due to the alleged failure of its enterprise class server combined with a glitch within the online trading application. Whether this was preventable remains doubtful, but the consequences were bad for both company and the internal IT/IS department. A recent innovation offered by outsourcers is to provide service level agreements combined with an insurance policy that provides financial recompense from the scenario similar to that suffered by Ebay. Not only will these e-insurance policies cover the cost of repairing the system but will also provide a financial safety net against loss of earnings and any advertising required for re-establishing a brand tarnished by system failure. The first of these hosting services to offer this service in Europe is UK based XTML's Server Bank facility. Housed in an ex Bank of England bullion vault, it is described as Europe's most secure server facility outside of the military. Server Bank boasts state-of-the-art security systems including image recognition cameras, EMP shielding from a "near miss" nuclear blast, and self contained air, water and electrical supply. The facility's networking, firewalls and external communications infrastructure is triple redundant and, in some cases, quadruple failsafes are in place. This level of security was essential for the insurance underwriters to offer cover for up to 5000 servers situated within the site. Although the pricing structure of the XTML, "Ensure", insurance policy is done on a bespoke basis, XTML's managing director, John Ridd, claimed that Ensure would cost "several hundred pounds [a month] for millions of pounds of coverage". The insurance element has a maximum coverage of 1.5 billion, which, potentially, could absorb the types of losses that Ebay had due to their system glitches. Ridd also described ServerBank as a world first for "insuring the physical, the digital and the lost of revenue ". Although insurance for computer systems and services has been done before, the idea of insuring a whole facility of this size is at least a first for Europe and possibly the world. This benefit offered by outsourcing is especially viable for Internet solutions. Insurance is just one element. More importantly are the specialist data networks these outsourcers have access too, able to high-speed networking and global points of presence. There are very few downsides in outsourcing e-commerce elements of a business, the main concern is integrating their systems with back office or legacy systems such as order processing, stock control and accounting. Network infrastructure Outsourcing network infrastructure and management is a tempting option for IT managers, but less of a clear-cut decision. Older, more established companies have built valuable skill sets while creating, in some case, a Frankenstein's monster of network infrastructures. IT managers may have strong personal relationships with the suppliers and service engineers helping the network to function while growing in a staged and planned way. The management side does not only spend its time checking that everything is working, but also performs help desk-like functions such as adding users or new devices, analysing the usage and looking for ways to improve performance or reduce headaches. For a company in this situation, outsourcing is not an essential requirement and may cause more problems than it solves. If the IT department is underfunded, understaffed or constantly fire fighting while waiting on call for the unexpected disaster, outsourcing can place some of the emergency call-out work into someone else's hands. This coverage is further backed up by agreements that guarantee service levels and, in some cases, insurance policies. The advantage for a larger, widely distributed company is also clear. Effectively outlying branches can be serviced much more cheaply by having a third party perform the daily maintenance and helpdesk jobs, while the head office has a more proactive and centralised IT role. However, smaller companies and start-ups with a centralised location may spend more on outsourcing and not bring any expertise into the company. Email services Email as a straightforward service is probably easiest facility to provide in-house. This is largely due to the new wave of products that offer an appliance-like architecture for email. Like the telephone, email is becoming an essential item for companies, especially those within the information sector. Where email was traditionally seen as a server-based application, the trend is now heading towards a utility-like functionality similar to electricity. A good example of the email appliance model is the Mirapoint series 1500. The system requires an IP address, which is fed into the turnkey closed box system. The IP address' internal web server can be viewed by any browser attached to the company intranet. The internal web server allows for configuration of user options, assigning email addresses and rights. The unit then transports email to up to 70,000 users around the network and externally via the Internet. Email is not hard to implement, but solution providers are increasingly trying to convince the SME market to outsource. When trying to persuade a company to outsource email, vendors often use the analogy of the telephone network - which requires a large organisation to implement and manage. Most users of email have already invested in a communications infrastructure, so a better analogy would be that of a telephone call. The infrastructure is already in place, so do you actually need a "secretary" to make the call for you? Probably not. Managing the process These three areas are inexorably linked and making these links is the biggest hurdle to successful outsourcing. Companies like IBM and Hewlett Packard can offer a one-hat-fits-all solution for different parts of the networking, e-commerce and email triage. Alternatively, customers can pick from specialist best of breed in each of these categories. There is a problem is with the more complex best of breed solution. Trying to integrate them with one another or legacy systems will probably require a third agency that has some skill in all these dissimilar applications and services - a rare find indeed. Web-based configuration and services make life easier, but all the time saved by outsourcing could potentially be gobbled up in managing and unifying all the outsider services. One potential solution to managing outsourced services is the new breed of network and enterprise management tools starting to appear on the market. The major suites, including Openview, Tivoli and TNG Unicenter are starting to release modules that allow network managers to both view and, to some extent, manage outsourced services. Godfrey Jordan, Product manager for OpenView in the UK agrees that best of breed outsourcing can be more problematic, and says: "We are seeing many companies choose to outsource segments or all of their IT infrastructure. In one recent example, a large financial customer wanted us to provide an outsourced email solution. For the level of delivery they required, we suggested that we also manage their network because even though we could guarantee delivery and availability for mail, the area outside of our control (the internal network) could reduce performance for the end user." The issue of managing multiple outsourced systems is still a problem, which, Jordan says, is now being addressed by the industry. "We are now seeing network management service tools start to be deployed by enterprise. Many of these tools are much more aware of applications like SAP, BAAN, and Notes, and can provide an accurate level of reporting even if from outside of the LAN. When deployed alongside tools that calculate real-time relationships between difference applications and services, we can start to plan for problems as well as look at "what if" scenarios, regarding adding more users or improving services." Outsourcing is still a hot topic and will continue to be until there is a clear-cut advantage to removing companies internal IT departments from the loop. Cost is an important issue, but for some companies, having staff on site who answer only to you and not a SLA is something that outsourcing can't provide. Whether it's fixing problems, making changes or tweaking the system at short notice, managed services still need a layer of management intervention before the needs of a company are met. The Internet start-ups are probably the market segment best able to reap the benefits of outsourcing and, for the agile few, outsourcing will change they way they do business forever. Will Garside
Read more on IT outsourcing