Oracle's new 10g database claims to solve data processing problems
The new version of Oracle's relational database, version 10g, is being touted as the database for grid computing.
This Article Covers
RELATED TOPICS

Download this free guide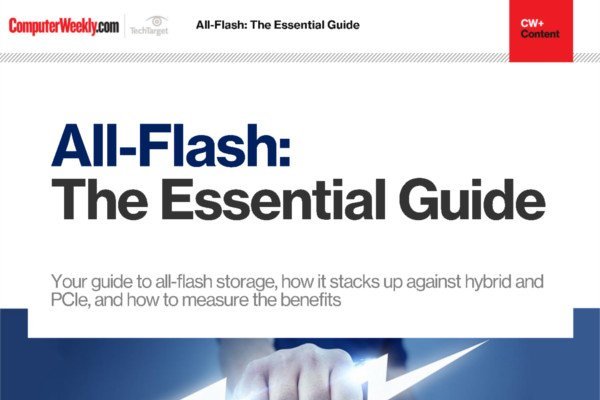 All-Flash: The Essential Guide
Access this guide to learn about all-flash storage, how it stacks up against hybrid and PCIe, and how to measure the benefits.
By submitting your personal information, you agree that TechTarget and its partners may contact you regarding relevant content, products and special offers.
You also agree that your personal information may be transferred and processed in the United States, and that you have read and agree to the Terms of Use and the Privacy Policy.

The new version of Oracle's relational database, version 10g, is being touted as the database for grid computing.

The grid promises to be the next killer application for the internet. It offers a way of using the under-utilised processing power from computers connected to the internet.

Oracle wants to tackle the age-old dilemma of under-utilisation of datacentre computing. By running low-cost, rack-mounted, Intel-powered blade servers running Linux, Oracle hopes to attract users to its vision of the grid.

Tim Payne, senior director for marketing at Oracle, sees the grid as the next disruptive technology in IT after the internet.

Rather than build datacentres based on dedicated computer clusters for running applications, Payne said Oracle's vision is to allow users to build enterprise grids, where multiple applications can run unchanged.

Neil Macehiter, research director at Ovum, believes that while users may be able to obtain as much computing power as they would ever need from the grid, this does not equate to infinite data processing.

"Although you may have a lot of CPU resources, the grid also needs to work for data-centric tasks," he said.

One example of this could be loyalty card schemes. The supermarkets that offer them will need a method of analysing the huge amount of data they collect.

Macehiter believes the current nature of grid computing cannot cope. But he said, "The grid-style architecture is the only way users will be able to solve massive data analysis problems."

Mike Thompson, principal research analyst at Butler Group, believes the grid will boost web services. He said, "At the moment we make connections to servers in order to run a web service. The grid will mean we do not need to know which computer we connect to."

This will mean that a user's application will request a web service, and a computer on the grid will respond.

Phil Dawson, programme director for infrastructure services at Meta Group, said the grid could be used within a metropolitan area to provide applications with greater resilience as there would be no single point of failure.

The grid could become the preferred method for users to access a database.

One issue Oracle has yet to resolve is licensing. "There is no way the model for licensing today can support on-demand computing," Dawson said.

On 7 September Oracle will unveil its vision of grid computing through Oracle 10g.

For more information on the release of 10g, see: www.oracle.com/oracleworld
Read more on Server hardware