Not-very-mobile-commerce
Mobile commerce is a dream coming true, say the telcos. Well they would, wouldn't they? Simon Quicke reports
Mobile commerce is a dream coming true, say the telcos. Well they would, wouldn't they? Simon Quicke reports
Over the next 18 months, you'll be hearing a lot about the need for your business to have a mobile commerce strategy. The telcos that have spent billions on securing 3G licences want to get their money back. For that to happen, they need businesses to develop, deploy and make use of m-commerce services.

Download this free guide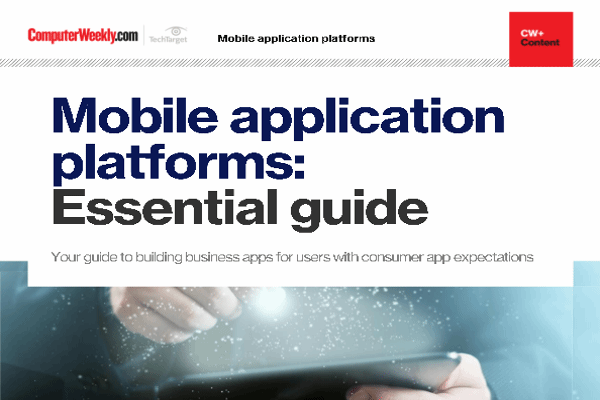 Building business apps for users with consumer app expectations
One of the mantras of modern enterprise application development is that business applications should be as easy to use as mass market consumer applications. In this guide, Computer Weekly examines the issues around mobile applications and the platforms emerging to help developers.
By submitting your personal information, you agree that TechTarget and its partners may contact you regarding relevant content, products and special offers.
You also agree that your personal information may be transferred and processed in the United States, and that you have read and agree to the Terms of Use and the Privacy Policy.
At first sight, the prospects for m-commerce look good. The huge number of mobile phone users offers a potentially vast audience for 3G services. Datamonitor predicts there will be 260 million mobile phones owners in Europe by 2003, while PC ownership lags far behind.
Another potentially big advantage for m-commerce is that mobile phones cost very little compared with a PC or interactive television. Even with full WAP capabilities, a mobile phone is still far cheaper than a PC.
But while many people would find it difficult to live without a mobile phone, many IT directors see no sound business reason for investing in services for mobile phones. Even companies that rely on the Internet to push information to users are holding back on investing large amounts in m-commerce.
It's not only the poverty of applications and dire bandwidth of the current technology that is a problem for m-commerce. The demographics are all wrong. The ownership of mobile phones and the usage of text messaging services are largely associated with young people. But the sort of m-commerce services that are being tipped as money makers involve offering highly personalised business-critical information - hardly the sort of service younger users will be queuing up for.
But the biggest obstacle of all to the take-up of m-commerce is that users have come to expect that information on the Internet should be free. As a result, many organisations do not feel they can make a success of charging for mobile phone services.
Take Thomascook.com, where ventures and futures director Bill James has been given £30m to spend on developing interactive content. The information the travel giant has started to make available on the Web includes currency conversions, weather reports and details from its travel guides along with the company's bread-and-butter business of helping people choose and then book holidays. James is planning to improve what the site offers to keep pace with start-up rivals. He accepts m-commerce merits investigating but sees it as no more important than other emerging sales channels such as interactive TV. "M-commerce has to be part of a multi-channel approach," he says.
Thomas Cook believes its customers go through three phases: dreaming, choosing/purchasing and holidaying. James sees TV as good for the dreaming and selection stage, and the PC/Internet for choosing and increasingly purchasing. The only stage m-commerce currently fits is when a user is on holiday. "We could fill those bits of a customer's journey with a mobile device. They could find late departure information or details of bargain prices and offerings once they arrived at their destination," he says.
But instead of charging users for receiving this sort of information, Thomas Cook gives it away. Snow reports will be made available this year to skiers with WAP (Wireless Application Protocol) phones - also free of charge. James says that at one point the company considered handing out Thomas Cook WAP phones but drew back because it would have been a move away from its core business, which is branded holidays not phones.
For the phone operators, hoping that m-commerce will lead to personalised services that users will be prepared to pay for, this sort of user strategy is a blow. With firms like Thomas Cook giving it away for free right from the start, they fear future attempts to introduce charges are being undermined.
Other IT directors share James' doubts about investing too narrowly in just m-commerce. Shawn Cohen, CTO at Bigsave.com, says users aren't bothering to take advantage of the current, limited technology. "We never expected a single WAP order from our customers," he reveals.
Although Cohen believes the technology will improve to support the widepread buying and selling of goods and services, he also thinks there will be a shift to interactive TV that will leave m-commerce fighting to stand out against other methods of buying goods.
Many businesses think phones are best just for talking through. Nigel Mockford, IT director at City Truck Group, says his company has already bought equipment for communicating with its drivers remotely and tracking them through satellite messaging technology. "If you're talking about using mobile phones to access the Internet, then that's not really something we'd be interested in," he says.
Although few IT directors are prepared to invest in WAP as it currently stands, better m-commerce technologies are on the way. Graham Tolhurst, interactive media director of Scoot, urges IT directors to look at the larger picture and see beyond the current limitations of the technology. He says that 3G devices (see box) will be able to handle video and sound clips and greater bandwidth, offering a productive business information platform. "We're only scratching the surface of what's possible," he says. "Handheld m-commerce will overtake the Internet and dwarf the volume of business currently done online."
So will 3G be the saviour of m-commerce? Possibly, but the packet-based technology could also act as a deterrent. With charging for packet-based information having to be done on a micro-billing basis, considerable investment would be required to set up systems that could charge for information.
In two and half years' time when 3G is a reality, the greater bandwidth should make m-commerce a more viable route for communicating and buying goods and services. Until that happens, though, IT directors will be understandably resistant to signing up for a dream that is being promoted by phone operators who have laid out £100bn across Europe in 3G licence auctions.
Not surprisingly, the average IT director might struggle to get funds from the board to invest in an m-commerce strategy. "I can see IT directors having problems when they go into a board meeting and say m-commerce is something they now need to consider so soon after spending so much on e-commerce," says Paul McCarthy, UK managing director at Brokat.
Generation Game
Current mobile phones are based on GSM circuit-switched technology, which offers a relatively low 9.6Kbps bandwidth.
In the next year the move to bigger bandwidth will gain momentum with packet-switched technology. This will involve getting used to the acronyms HSCD, GPRS and Edge. All three are stepping-stones to third-generation (3G) UMTS devices, offering bandwidths of 57Kbps, 171Kbps and 384Kbps respectively and are collectively described as 2.5G.
The third stage is what the phone operators were all bidding madly for, the 3G or UMTS level. This offers a leap in bandwidth capacity to 2Mbps. UMTS's packet-switched technology means it will always be on, leading to a new form of billing.
The 3G Funding Gap
The telcos that have ploughed so much money into 3G licences have only three possible sources of revenue for retrieving their investment: the suppliers, the users or the portal operators.
Advertising
E-commerce's attempt to make money from adverts has largely been a flop so there are doubts over whether m-commerce will have any greater success. However, as m-commerce is much more individually tailored, advertisers might be prepared to spend money knowing they will reach target customers
Shared Revenue
An example of this would be if a phone company teamed up with a product supplier and marketed its products and services. The costs would not be passed on to the user but shared by the suppliers.
Subscription
An option likely to be taken up by the business community that does not want to be sent a barrage of targeted advertising. The more money you're prepared to pay, the less spam you will get. The user bears the cost burden.
M-commerce in Action
Webraska Mobile Technologies provides users with real-time travel information including worldwide navigation, traffic information and maps Aspiro has developed a wireless transport management system allowing managers to communicate with drivers in real-time, sharing customer data, billing details and collection addresses
Distractions Mobile Entertainment offers DistractionsLive, a service designed for fans of music, sports, fashion and current affairs Soneras offers consumers the Pointer Guide, a service allowing travellers to log in and find accommodation, local activities, events, maps and city guides
InteliData and Noblestar plan to offer financial institutions integrated solutions for wired and wireless Internet banking, enabling wireless banking for PDAs, WAP-enabled telephones and SMS-based pagers
Read more on Business applications