Music giants' Internet step gives a boost to broadband
Early proponents of broadband services overlooked the need to consider why consumers might want it - the critical issue of...
This Article Covers
RELATED TOPICS

Download this free guide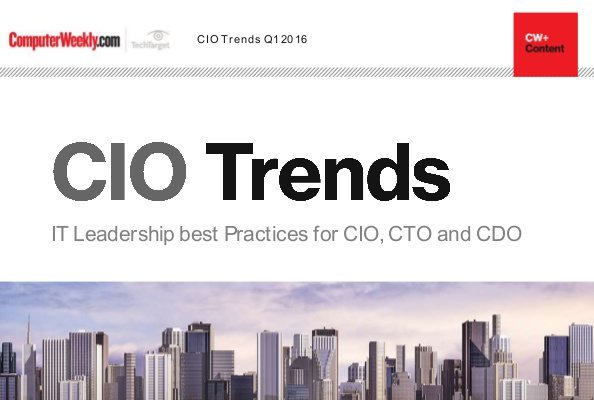 Your exclusive guide to CIO trends
A collection of our most popular articles for IT leaders from the first few months of 2016, including: - Corporate giants recruit digitally-minded outsiders to drive transformation - Analytics platforms to drive strategy in 2016 - Next generation: The changing role of IT leaders.
By submitting your email address, you agree to receive emails regarding relevant topic offers from TechTarget and its partners. You can withdraw your consent at any time. Contact TechTarget at 275 Grove Street, Newton, MA.
You also agree that your personal information may be transferred and processed in the United States, and that you have read and agree to the Terms of Use and the Privacy Policy.

Early proponents of broadband services overlooked the need to consider why consumers might want it - the critical issue of content. As music industry giants finally get on board, Daniel Thomas looks at the prospects for demand for fast Internet access finally taking off



The launch of the first legal Internet music download service involving major record labels has led industry experts to call for greater effort in telling consumers that broadband is about more than simply high speed technology.

Services such as sport and music, previously thought of as peripheral, will be vital to the success of broadband, according to Sandip Sarda, chairman-elect of the Broadband Content Coalition (BCC), a new industry-based lobby group.

"If broadband Britain is to become a mass-market reality, whether delivered via ADSL or 3G [third generation]-enabled devices, the availability and ability to distribute content has to be key," he said. "Expecting consumers to fork out hefty monthly subscriptions for a fast Internet connection alone is not enough."

Telecoms companies missed a trick when they marketed broadband simply as high speed access technology, according to Sarda. "The man on the street is not interested in the broadband pipe itself, but what it can give him," he said.

"The Far East approach to broadband shows it is a service people want and need - in only three years [Japanese telecoms firm] NTT DoCoMo has persuaded more than 50% of the country's population to sign up to [high speed service] i-Mode by focusing all its efforts on delivering decent content."

Making sure broadband strategies are centred on content is one thing, but who understands what content the man on the street is prepared to pay for? "Sport is always something people will pay for and music is going to pick up," said Sarda. "Being able to download music will help 3G to take off because streaming audio is much easier than streaming video."

Paid-for sports content will receive its first major test when the World Cup begins. Football fans will be able to view highlights from every game on the official Fifa World Cup Web site for a one-off price of £13.66, following a deal that was thrashed out last month between Fifa, the game's governing body, troubled German media giant Kirch, and Internet services group Yahoo.

"The World Cup will undoubtedly create an upsurge in interest in Web coverage," said Sarda. "If people feel they are getting value out of these services they will keep coming back."

A host of English Premiership clubs, including Manchester United and Tottenham Hotspur, also offer paid-for online highlights, and have the size of fan-base to make it viable.

Many music fans are also very loyal to their favourite artists and are prepared to pay for premium services, such as fan clubs and exclusive tracks. It would seem a natural progression, therefore, that they would pay to download music from the Internet.

However, one major stumbling block has prevented this vision becoming a reality - the free availability of music on file-sharing peer-to-peer Internet services such as Napster and Scour Exchange. These services have enjoyed wild popularity among music fans - so much so that they have affected overall music sales, said global industry body the International Federation of the Phonographic Industry.

Earlier this month the federation, the global industry body, said worldwide sales of recorded music fell by 5% to £23.4bn last year, the first time sales have fallen since 1983. It believes that the popularity of file-sharing services has encouraged younger fans to believe that they can get their music online for free.

The music industry's initial response to the file-sharing services was to use its financial muscle, in the form of numerous lawsuits, to force them out of business.

The move has had some limited success. Napster's operations were halted last year after a US federal court stopped it offering pirated music. The service was on the verge of filing for bankruptcy two weeks ago, after talks with German media giant Bertelsmann, which wanted to take a majority share, collapsed. However, the $8m (£5.3m) deal was revived at the last minute, meaning Napster could continue - as a paid-for service.

However, even if Napster does disappear there are still many similar services across the Internet which are harder to regulate because they do not rely on central servers to co-ordinate search requests.

The challenge that the multibillion pound music industry faces is to take advantage of the popularity of these services, without losing control of its music.

Many record companies have accepted that getting into bed with the enemy is the only way they will be able to do this. That Bertelsmann, owner of BMG, one of the top five record labels, was prepared to invest in Napster is an indication of this new approach.

Sony Music Entertainment, another of the top five labels, recently announced its intention to use file-sharing technology. The system was developed by Scour Exchange to promote some artists in the US, but Scour went bankrupt last year after it was sued by the Recording Industry Association of America. The service has been revamped to include multiple layers of security and digital rights management, according to CenterSpan Communications, which bought Scour's assets last year.

Sony said legitimate file-swapping can only help the music industry. "We have always embraced new technology that furthers our artists' reach and CenterSpan's delivery network will allow music fans to share the music that they love with their friends, legitimately," the company said in a statement.

Although the majority of legal file sharing and downloading Web sites are based in the US, moves are afoot to bring similar services to Europe.

Internet service provider Wanadoo, which owns Freeserve, last week signed a deal with digital music distributor On Demand Distribution - known as OD2 - to offer an online music subscription service to its 5.75 million customers in France and the UK. The service, to be launched this summer, will offer music from artists signed to labels such as BMG, Telstar and Ministry of Sound.

But with so many free file-sharing services still around, why should consumers pay to download music?

"This is the first time that the major corporate brands are getting behind the [European] digital music market," said Ed Averdieck, director of marketing at OD2. "We can offer access to exclusive tracks and the centralised servers guarantee quality, at a time when the quality of the pirate services is increasingly compromised."

A legitimate alternative to the illegal file-sharing services is "badly needed", said Averdieck. "The music industry cannot stop consumer interest in downloading tracks but what it can do is to create revenue streams from the services," he said. "The pirates have had it all their own way for too long but now it is the record companies' turn."

Being able to download music quickly and easily will drive demand for broadband services, according to Averdieck. "Freeserve will be marketing its broadband services with a big music hat on," he said. "Add this to its recent deal with NTL [which will see broadband and cable TV sold as one package] and the potential for growth is easy to see."

While it is clear that consumers are going to keep using the Internet as a source for music, it remains to be seen whether they will be prepared to pay for it. The music industry - and any company that wants to exploit the potential in broadband - will be watching closely to see whether the paid-for content model can work.

Further information
www.od2.com<
Read more on E-commerce technology