Move in on the mobile revolution
If you think m-commerce is one part reality to four parts hype, take a look about you next time you are on a train or a busy high...

Download this free guide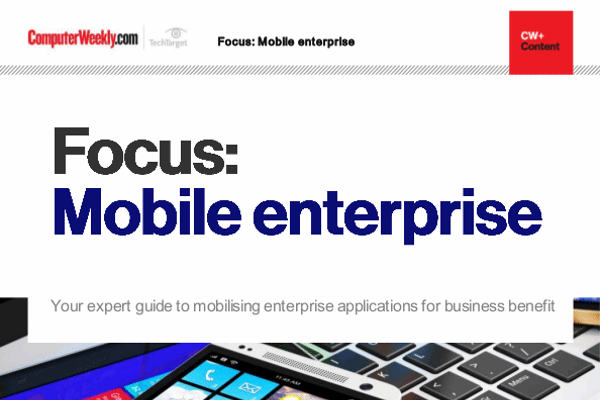 It's no longer a choice
Mobility is here to stay as part of enterprise digital transformation. Learn how to build a solid strategy for mobile enterprise applications.
By submitting your personal information, you agree that TechTarget and its partners may contact you regarding relevant content, products and special offers.
You also agree that your personal information may be transferred and processed in the United States, and that you have read and agree to the Terms of Use and the Privacy Policy.

If you think m-commerce is one part reality to four parts hype, take a look about you next time you are on a train or a busy high street. Mobile devices are everywhere, writes Ross Bentley



The beauty of m-commerce, as the Communications Management Association's Graham Marriner points out, is that it offers businesses the opportunity to target customers on a one-to-one basis - gold dust in these consumer-centric times. The trick now for mobile operators and service providers is to identify the killer applications that will open new revenue streams for UK business.

Of course, before the huge revenues that many IT watchers are predicting can start to flow in, there is the small matter of getting the basics right. Sexy concepts are all well and good; but the world is full of erstwhile dotcom chief executive officers who will tell you that they need to be built on foundations of strong business models, workable standards and robust applications.

Anyone operating in the mobile space that thinks creating m-commerce applications is a quick and dirty matter of migrating their Web-based applications is mistaken. The mobile client and the PC are very different beasts and care must be taken when migrating business into the mobile channel. The current generation of mobile phones and devices offer neither adequate functionality, nor a positive user experience. Despite the enormous amounts of money thrown at licences, the third-generation mobile operators are so far proving backward in coming forward with services.

There is also the question of security. As if safeguarding the security of your network wasn't hard enough five years ago, now it extends out around the globe, as the corporate road warriors daily sally forth.

If it all sounds like an uphill struggle, take heart: you need look no further than the Nordic countries for proof that there's money to be made from m-commerce, as Alison Classe points out

Computer Weekly's m-commerce special report has been written on a need-to-know basis. You'll find all the facts and tips you could need to forge into the m-commerce arena.
Read more on Mobile software