Microsoft Windows: an expert view
Latest news stories, features, podcasts, blogs and links on Microsoft Windows, Microsoft Office, Internet Explorer and Windows Media Player
Microsoft has taken the world by storm with desktop operating systems such as Windows 95, Windows 98, Windows 2000 and Windows XP, and server software such as Windows NT and Windows Server 2000 and Windows Server 2003.

Download this free guide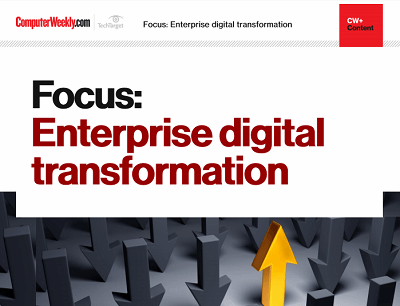 Are you digital to the transformation?
Digital transformation - the buzzword that we can't get away from. Enterprises need to accelerate their digital transformation journeys to avoid being left behind in an increasingly digital world. It's not an easy feat, but one that can be costly to get wrong. Join us as Computer Weekly takes a look at how businesses can stay on track through collaboration, innovation, and listening to user needs.
By submitting your personal information, you agree that TechTarget and its partners may contact you regarding relevant content, products and special offers.
You also agree that your personal information may be transferred and processed in the United States, and that you have read and agree to the Terms of Use and the Privacy Policy.
In May 2007, Microsoft Windows XP, which includes Windows XP Home Edition and Windows XP Professional, accounted for 82% of the desktop operating system market. Windows 2000 is being used on 4.3% of PCs, and the latest Windows Vista operating system holds 3.74% of desktop share.
In total, Microsoft Windows software now runs on around 93% of the planet's PCs, with desktop operating systems such as Mac OS X, Linux and Unix sharing the remaining 7% share.
Windows software has been a popular choice on the desktop since Microsoft first introduced its Windows software in 1985. At the time, Microsoft Windows was a revolutionary move away from command line operating systems like Microsoft MS-DOS.
As the Windows platform has evolved, Microsoft has added greater integration into internet and media-centric applications such as Internet Explorer , Windows Media Player and the Microsoft Office Suite.
For many businesses, the high levels of interoperability between Windows products have helped them standardise their IT systems. But the move has also caused law makers to call into question Microsoft's alleged monopolistic practices.
Nevertheless, Microsoft continues to develop Windows, adding greater integration, innovations such as Windows Update, and better security.
For example, the latest Windows Vista operating system comes with new graphical and security technologies, and Microsoft Windows now supports 64-bit processors with Windows XP 64-bit Edition.

Microsoft Windows news stories/features
June 2007: Microsoft forced to make Vista changes >>
June 2007: Big Microsoft Vista concerns for big pharmaceuticals >>
June 2007: Mobile devices software streamline food delivery >>
June 2007: Stephenson Harwood chooses XP over Vista for stability >>
June 2007: Specsavers sees benefits of open-source packages >>
June 2007: Microsoft outlines Windows server virtualisation costs >>
June 2007: New encryption options in Windows Vista >>
June 2007: Microsoft patches Windows Vista IE 7 >>
June 2007: Fullers revamps IT system >>
June 2007: Securing Windows: clients' top tips for summer >>
June 2007: Final judgement on Microsoft's anit-competitive behaviour >>
June 2007: Firms still struggle to share information, says Microsoft survey >>
June 2007: NTLMV to the fore in Vista >>
May 2007: Admins run into trouble with Microsoft updates >>
May 2007: Microsoft issues further guidance on exchange update >>
May 2007: Older platforms get the brunt of May patch activity >>
May 2007: When Microsoft Vista and VPNs don't mix >>
May 2007: Vista has had no major effect on PC sales >>
May 2007: Windows Vista: inside the new security features >>
May 2007: Security blog log: scrapping Patch Tuesday a bad idea >>
May 2007: Windows Vista's little surprises >>
April 2007: Inside MSRC Windows Vista security update explained >>
April 2007: UK businesses still using counterfeit software says Microsoft >>
April 2007: New Vista licences target large firms >>
March 2007: Windows Vista sales outstrip Vista launch >>
March 2007: IT pros eye Windows Server 2003 SP2 with caution >>
February 2007: Time has come to upgrade to Vista >>
December 2006: Zero-day flaw found in Windows Media Player >>
October 2006: Microsoft delivers 10 patches and tools update >>
October 2006: Microsoft unveils licensing controls for Vista and server >>
July 2006: Microsoft ends Windows 98 and me support >>
Other Microsoft special reports
Microsoft: after Bill Gates >>
Microsoft IT training: an expert view >>
Microsoft Windows Vista: an expert view >>
Microsoft Business Solutions: an expert view >>

Microsoft Windows on the rest of web
Microsoft Internet Explorer >>

Microsoft Windows blogs
Microsoft developer network blog >>
Microsoft Windows Vista blog >>

Microsoft Windows video
Microsoft Windows Start-Up Sounds >>
Windows 386 promotional video >>
Read more on Operating systems software